…and in praise of Antikvariat Faust, Geijersgatan 5, Göteborg.
Look what the post just delivered!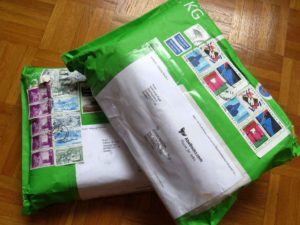 Here I am writing my historical novel, Elin's Story about a Swedish woman and Sweden in the mid-1500s. But I'm living in Brussels. I've previously had a huge amount of assistance from the library of Gothenburg University, but moving here I thought I had brought with me all the information, copies and references I needed. I hadn't. Suddenly realising I really needed some reference books, I also discovered… they're not to be found in Belgium.
Aaargh!
If I'm trying to borrow a book from a library that's also a sign it's out of print so I can't buy it new, and most often it isn't available in electronic form either. Buying books on line is easy enough, but buying second-hand books, especially ones not written in English and not available from an American supplier used to be really tough. But that was before ABE Books. What a fantastic resource. Yes, I've used them before, but not for a while and I'd forgotten how good they are. But here, now, let me go on the record and recommend them.
ABE Books
ABE allows me to search for the book I want by title, author, key word, ISBN, publisher, and a whole lot of other parameters. It does not confine itself to books in English or bookshops selling books in certain countries.
Through ABE I was able to find the main book I needed. More than this, though, ABE also allows me to carry out another search limiting myself just to the books available from this one bookshop. So I was also able to buy a couple of others I needed from the same supplier, Antikvariat Faust, in Gothenburg. (After all if I'm going to buy on-line I'd prefer to support a local bookshop back home.)
I placed my order, had it confirmed and saw "Delivery time: 25-45 days". That was a bummer – so I might get the book in time for Christmas?
Not a bit of it. They arrived – in two parcels as you see above – within a working week.
And here they are unwrapped…
The Vasa daughters

The book I was most keen to get a copy of was Karin Tegenborg Falkdalen's Vasa döttrarna. It's the only decent modern study of the five daughters of Gustaf Vasa. (Well, actually the only study, full stop.) But I was also pleased to get the other two volumes – Alf Sundberg's Svenska Krig, and Lars Eriksson's Johan III.
Now I can go on.
---
I originally published this article on the separate At the Quill website. Copied it to TheSupercargo main website 3 March 2017.