Welcome visitor!
Scroll down this page to explore TheSupercargo website, in particular the blog articles.
But if you're interested more in the overall idea behind the website, follow this link to the About page.
Or if you're more interested in the website and it's history of construction and development visit the Website Construction page.
And if you _subscribe_ to TheSupercargo you will receive copies of my roughly bi-monthly newsletter. _See back copies here._
Search
Use this search box to search the whole site for words – any words you think I might have used somewhere in all the 500+ articles over 10+ years!
Categories
Explore the posts by Category. The Categories list below includes all the Categories on the website – not just the ones that appear in the sidebar on most of the other pages.
Archive
Follow this link to the website's archive page where all the posts from the last 10 years are listed from the newest to the very first. Just scroll down!
Favourites 2009-2013
It's a little hard to say which of all the posts are my favourites. They all were, at the time I wrote them. But re-reading them as I've had to do for the re-vamping of the website, some strike me as being better written than others. Some have a more effective theme or more successful illustrations. Some have aged better than others. The following list is subject to change, but it collects posts from the last 10 years that I'm still well pleased with.
2008-2014

In 2008 This is one of the earliest pieces on the site. I wrote At the Quill originally for a private diary on my computer, but uploaded it to the website once it was functional.

In 2009 I wrote my first review of the first NTLive broadcast. Phaedre with Helen Mirren in the title role.

From 2010 I want to share my Artwicutale Two Taciturn Men. A story in 21 tweets, each including the word taciturn. (For more on Artwicutales and the Artwiculate game see The Artwiculate Round-up.)

From time to time my blog veers into personal territory. I generally categorise these posts as Memoir. This is one about my father from 2011. Dad – remembering my father.


To be even-handed I need to share a second Memoir now. This is one I wrote in 2012 about my mother. Mother's memories.

From 2013, here's another short story. The House that Grew. This was my first attempt at flash fiction with the Friday Fictioneers who I believe are still going strong.

Between 2012 and 2014, at a different address, I published a daily photoblog with pictures from Gothenburg, the Swedish city where I live. This article says more about that. Photography, it's Almost art, isn't it?
2015-2018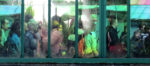 The Royal Greenhouses at Laeken. In 2015 Mrs SC and I decamped to Brussels for three years. This was the first proper blog post I published from there. (Categorised under Stops and Stories.)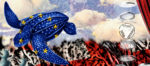 To represent 2016 The coin-toss seems to be a given. I wrote this post and published it two days before the Referendum on Brexit. Re-reading it I seem to have been remarkable prescient.

My choice to represent 2017 is From Putin to Martin in 13 stages – a reading quarter. Sometimes I publish reviews of single books, sometimes of a couple together, sometimes there's a reading diary entry. And sometimes, as here, there's overkill. But it's interesting, I hope.

Representing 2018, here's my Writing Diary entry for November 2018: iNaNoWriMo no no no.
No favorites for 2019. The website was resting. I was working behind the scenes, and wrote a few posts, but I didn't publish anything till the beginning of 2020.
Before I leave my favourites, though, here's a link to a sort of music video I made back in 2009 from material I filmed and photographed in 2008 on the German Baltic island of Rügen. It's my most successful YouTube video. Viewed more than 20,000 times. Prora, Rügen: Kraft durch Freude.
Popular
Here are ten posts that have been among the most popular since records began (in 2013 🙂 ).
And here are the ten posts that were most popular in the last twelve months. [Coming in the near future. May 2020]