As we roll on down towards the end of the year, I have a feeling I ought to be doing some stock-taking.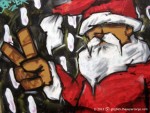 A year ago in December I was playing around with a new theme on this website and talking about Big Changes In Real Life. Well, they certainly made themselves felt. Since January my wife and I have been living most of the time in Brussels, following her job. I've scaled down my own work so I am only translating one day a week and for the rest I'm being a househusband and writing.
The first three months in Brussels were not so great. Before we moved I had an idea of myself as a cosmopolitan traveller, comfortable wherever. That may have been true of myself as a twenty-something, but it was a long time ago. Turned out I was not nearly as flexible and resilient as I believed. It wasn't easy to find my feet in the new place and it didn't help that I fell ill. But then something happened. I went home to Gothenburg at Easter, stayed for three weeks and when I got back spring had sprung and I felt much more in harmony. Since then life has been pretty good. Or at least I've been better able to ride the problems and remain cheerful.
May, June and July were good months. I was especially happy to complete my 52 weeks of blog entries At the Quill and to move on to a year of dedication to Stops and Stories. In both cases I have been participating in the Blogg52 challenge which is a Swedish-based blogging exercise where I am at present the only English participant. I'd like to join something similar in English, but I've not found anything. Suggestions welcome!
Looking back, I see that I started the year with the intention of publishing regular social network contributions on Ello. That didn't work out so well. I kept it up sporadically for six months or so, but I see my last entry there was four months ago. I'm also irregularly on Twitter. Facebook however still has my attention. Why? Ello is just so much work for so little return. None of the people I invited to start up Ello pages stayed for more than a few posts – one didn't even bother to set up a page – so all my invites were wasted. And though I tried to engage with a few people active on the network – and there are some very impressive visual artists displaying work there – it eventually didn't seem worth it. Ello have an app for iPhone, but not (as yet) for Android, so posting is made that much more difficult. Maybe I'll give them another shot in 2016.
Twitter is a similar problem actually. Once upon a time I spent quite a lot of time there playing word games and built up a network of contacts, nowadays though I am channelling my creativity elsewhere, so Tweeting is really little more than a chore. I don't post a lot on Facebook either, but I do follow a number of friends and family there, so though I remain very arms-length about Mark Zuckerberg's baby and what it does, I appreciate the lines of contact it affords.
In the summer my exploration of Word Press themes and coding bore fruit in the form of the front page I now have on this site. (Although the latest version of WP has caused my sites some problems and I've been wondering again whether I made the right decision. I hope you haven't noticed, but lately both this site and the photo site at GBG365 have crashed and recovered. I hope they are stable now. I'm not at all sure they are.)
As far as writing goes, my September rebooted writing attempt on Elin's Story, my long-running historical novel project, once again ran into the sand. Twenty-five thousand words or so. Disheartening, but it means I still haven't worked out what I'm doing with it.
In the meantime, I have started following an on-line course in scriptwriting lead by playwright and screenwriter Janet van Eeden. Janet also lectures at the South African School of Motion Picture Medium and Live Performance (AFDA) in Durban. The on-line course should take me 6-9 months. At the end I hope not only to know my way around a film or TV script but also to have a completed screenplay to submit to someone, somewhere. It probably helps me to have paid for the course and definitely helps to have a teacher giving me feedback. And let me add a quick plug for Janet's Indigogo crowdfunding venture to finance a feature film based on her award-winning short A Shot at the Big Time.
I've also committed myself to taking part in the NYC Midnight Short Story Competition in the New Year. I'm hoping that writing to a deadline and a word limit will help me actually to complete one or more stories. We'll see how that goes.
We have another year in Brussels – and then perhaps a further year beyond that, depending on Mrs SC's employers and the decisions she makes. Either way I have time to continue to focus on my writing without worrying about drumming up more work, and that feels good.
So I thank you for reading and wish you a Merry Christmas (or Merry Holidays if that's what you prefer) and a Happy New Year!
John Nixon, TheSupercargo