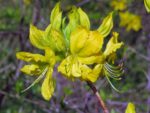 The Azaleadalen (Azalea Valley) of Slottskogen park was bright with flowers on 10th May 2014 when I took these photos. I published them on GBG365 seven days later because I had a little backlog of photos to go. Looking back, though, these are the pictures I want to make my photos of this week.
Back then, I couldn't choose between these three macros. Even now I find it difficult, but I'm picking the yellow azaleas as my featured photo because they are crisp and bright and I think there's a good contrast with the blurred background.
Colour blind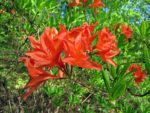 I'm slightly colour blind in the red-green bands of the spectrum. For a photographer – especially one who likes colour (and who likes red and green) that can make life a bit difficult. I can see the orange-red azaleas here are also crisp when I zoom in on them. Yet, for me, they don't stand out from the background in the same way as perhaps they do for you.
My colour blindness, out and about, can be a bit of a problem. Walking in the hills I can lose track of trails marked in red. And in the early autumn, when the Swedish forests are bright – so I'm told – with red lingon berries or red rowans, I just don't notice them.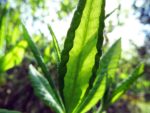 It's not that I can't see them. If I know the berries are there and I concentrate, I can pick them out. But they don't force themselves on my eye as they obviously do for the fully chronomatically sighted.
I get by, but sometimes my own photography surprises me.