A winter bare and dry convolvulous stem photographed in macro at Färjenäs on Hisingen, Göteborg.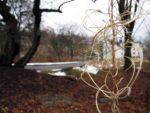 The photo of the week. I originally published it at GBG365 on 11th February 2014.
Out for a walk around Färjenäs with my camera this cold and frosty morning, I ended up taking a number of photos. Three made it to GBG365, I think. Färjenäs, which translates as Ferry Point, used to be a ferry station. People from this area of Hisingen used to travel from here across the river to Klippan on the other side.
My father-in-law, Lennart Gustafsson, was born here late in the 1920s. It was a relative, an aunt I believe, who owned the kiosks at the ferry stations on either side of the river. Lennart and his brothers and sisters used to ride the ferry across. Then they would see if they could use their relationship with the owner to pursuade the kiosk-keeper on the far side to give them sweets or candies for free. After that they would ride back and see if they could pull the same trick at Färjenäs.
Maybe this only happened once or twice – or maybe it was just wishful thinking. It was a story I only heard Lennart tell on one occasion, though other people have repeated it to me.
Lennart's family still had a house at Färjenäs that my wife remembers from her childhood. However, it was torn down when the Älvsborg suspension bridge was built. Now two streets with a mix of old tenement blocks and detatched houses are all that remain of Färjenäs. They huddle under the shadow of the bridge's northern tower.
The ferry carried on for a while, catering for working drivers with their lorries and trucks rather than passengers. It's been closed now for a good many years though. The transport café that catered to the drivers though seems to have survived and transformed itself. Now it serves visitors to the artist community that lives here.
In the last few years the construction of the new residential area over the other side of Färjenäs park at Västra Eriksberg has brought more people to the area and made it less isolated.