Dear friends and visitors
We are in the seventh week of the year as I write this and I think it is over time for me to write you a short newsletter. The year got off to a bang with the photos of fireworks I took and published as a gallery on 1st January. I used one of the fireworks photos as well to illustrate my first newsletter of the year.
In that letter I explained that I'm bringing my separate websites Stops and Stories, At the Quill and Articulations back under the umbrella of TheSupercargo. My ultimate goal is to convert the website to the more secure HTTPS format. That process moves forward slowly but satisfactorily. I've transferred several months of entries from all the sites so far. I'm working backwards from today, but also trying to add articles that link to one another.
Defying the laws of gravity
For example, the article "All the books I read in 2015" (from January 2016 At the Quill).
That article had internal links to six other articles, the earliest of which were my obituary for Iain M Banks and my review of Kim M Kimselius children's adventure Back to Pompeii. I copied both across as well.
Another article that "All the books in 2015" linked to was my review of the Chagall Retrospective exhibition here in Brussels. Re-reading about Chagall, I was prompted to go and look for my photos from the exhibition, not all of which I ended up using in the original article. I still liked many of them, so I've put them together into a separate gallery which you can visit here.
Burning through the sky
Bringing the older articles across to TheSupercargo.com, I'm also reviewing them and editing them. Officially that is to do with optimising them for search engines. (The ubiquitous SEO every webmaster will be familiar with.) I have to say it also means I spend a bit of time catching especially spelling mistakes that I made years ago and have left to moulder. Spelling is not my strength. When caught out by pupils in my days as a teacher I would sometimes pretend that I was testing them. Sometimes I'd take the opportunity to point out that even bad spellers could become teachers of English. I don't think anyone was ever fooled or impressed.
I've also started to go right back to the beginning of TheSupercargo to do the same job with my oldest articles here. This, for example, is my very earliest blog post: "A Few Opening Words" in July 2008. (I should perhaps stress that was my first blog post here. I've recently come across a little cache of other, older posts from an earlier blog. I may be transferring some of those here too in the future.)
The speed of light
The other thing I have to do with the older articles is to give them featured images. At the bottom of every article on TheSupercargo you'll find three "recommended" links to other articles on the site. Each of these should display an image – the featured image of the article they link to. Should. It's my ambition that each of these pictures will be a little jewel of colour, intriguing and leading visitors to click onward. At the moment, sadly, most of them are pretty dull.
The new look of TheSupercargo moves forward in other ways as well. Both Stops and Stories and At the Quill have become categories on this website. I'm working to give each of them a distinctive look that doesn't distract from the overall appearance of the site. This isn't as easy as it sounds, but I think I'm getting somewhere. Look at the category page for Stops and Stories, for example.
And if you read a Stops and Stories article (on a PC), you should see a column of other recent Stops and Stories articles down the right-hand side. (It comes after the article on tablets and smart phones, so it's not nearly as obvious there.)
On my way to Mars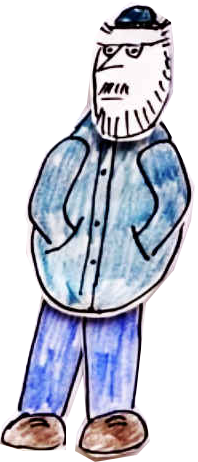 A new development for the year is my video blog – my vlog. (I'm having difficulties with that word.) So far I've published four vlogs – all technically a bit dodgy. I'm learning. The idea is to use the vlogs to document my learning curve. Not my learning how to vlog, though that's what's happening at present. Really what I want to do is document me learning how to animate drawings and illustrations for 50/50-ish, the poetry book I've been working on for the last 8 years. You'll find the vlogs on TheSupercargo here. They are also on my YouTube channel here.
The other new development of the year is my efforts to build contact networks beyond the website on the social media. I've had a Facebook page and a Twitter stream for a number of years. I was very active on Twitter for a period, but that has rather fallen off in recent years, and I was never very busy on Facebook. I've decided to try to reactivate both these streams.
Twitter
Facebook
At some point I'm going to close down the Facebook Page called My Gothenburg Days and replace it with an "author" page for myself. I'm also going to try out some other channels. (The YouTube channel being a case in point.)
Call me Mister Fahrenheit
Since the beginning of the year I have started to publish daily (more or less daily) pictures on Instagram, Ello, Ipernity and Google+. The pictures – usually – link back to TheSupercargo in some way and hopefully lead people I do not know to discover the website. I'm going to try to keep this up for a year and see where it takes me.
Beyond all this, I'm keeping up regular blog articles on Stops and Stories (mostly Wednesdays). And I'm still publishing a Photo of the Week from GBG365, the Gothenburg daily photoblog-that-was (usually on Fridays).
Having a ball
The work rolls along and I'm enjoying it. It's good to be reminded of just how much I've written (and photographed) over the years
OK, That's where I'm at in February. I'll be back sometime in March to report on developments then.
Cheerio!
Tip of the hat to Queen for not always appropriate subheadings drawn from their song "Don't Stop Me Now".