On Friday afternoon the boiler failed in the block of flats where we live in Brussels. No heat, no hot water. The outdoor temperature was below freezing and set to remain so for the weekend. The people responsible for maintaining the block couldn't do anything to fix the boiler, not before Monday, they said.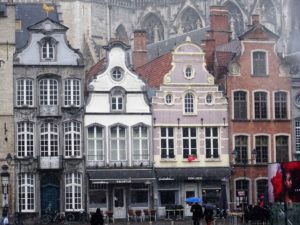 It wasn't so cold indoors to begin with, but overnight the temperature dropped. We added blankets and coats to the bedclothes, pulled on socks. I wrapped my head in a pillowcase. In the morning our noses were the only things that were really cold. Still, getting up wasn't fun, and washing in cold water less invigorating than you might think.
We had already planned to travel to Mechelen on the Saturday. Now we thought – why not take a hotel there? Which is what we did.
Cold, cold, cold
It was a good decision, not least because when we reached Mechelen we found the weather deteriorating and I think hypothermia might have set in if we'd come back to our cold flat in Brussels on the Saturday evening.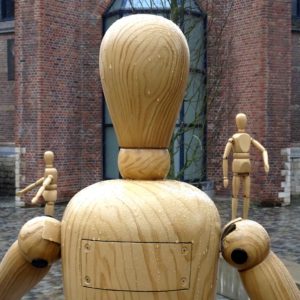 Today's post is more of a gallery of photos from the Saturday than I'd originally intended. The boiler wasn't fixed on Monday, and not on Tuesday until around 5pm. It's fascinating how thick-headed (not to mention finger-clumsy) cold can make you. I tried to write something intelligent on Monday and again on Tuesday afternoon, but I was too cold. I decamped to a library on Monday and the café of the Scandic Hotel Grande Place, but I didn't really get comfortable in either place.
Today, I ended up spending most of my time processing the photos from Saturday and thinking about what I might write. I have material for two or three posts in fact, but I'll carry most of that over. Instead I'll just take you briefly along on our wandering route through Mechelen on Saturday.
Mechelen
Mechelen (or Malines, its French name) isn't a large city – about 84,000 people. Nowadays it seems more of a commuter suburb for Brussels and Antwerp, which it is about half way between. However, it wasn't always so insignificant. Mechelen Cathedral is dedicated to St Rumbold a sixth (or seventh or eighth) century Irish (or Scottish) martyr. For centuries it was the senior episcopal site in the area. But 1962 St Rumbold was obliged shift over and share honours with Saints Michael and Gudula in Brussels. (I imagine he's been rumbling on about it ever since.)
There is a tradition in Mechelen, it seems, to toss the figure of a doll in a blanket, and this figure – called "Opsinjoorke" – is the symbol of Mechelen. There are various representations of him around town. You see him on the signpost in the main market square, that decorates the head of this article.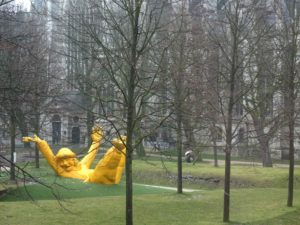 The biggest, though, is just behind the Cathedral where it looks like he's fallen from the tower. In fact, until I tracked it down in the Dutch Wikipedia, I was convinced I knew the real story. I decided Opsinjoorke was in fact Rumbold, who fell from the tower – or jumped – when he was forced to shift up for Michael and Gudula. The locals caught him in a blanket – or perhaps let him crash to the ground behind the Cathedral.
But I was wrong.
Mechelen also claims to be the place where the Renaissance started in the Low Countries under the governorship of Margaret of Austria (1506-1530). Like several of the rich trading cities of the area, Mechelen also spent time as the de facto capital. It's still pretty wealthy, as you can see by just walking around the inner city. Even on a day of mist turning to rain and snow.
Tapestries and bells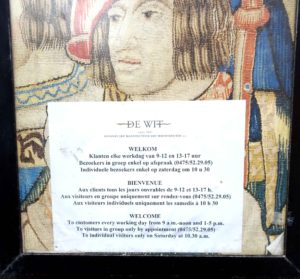 The De Wit Royal Tapestry Manufacturers, for example, are housed in the House of Refuge of Tongerlo Abbey. Mechelen tourist information will encourage you to believe that it's possible to visit the manufacturer to see their "prestigious collection of antique and modern tapestries." In fact, they really only let in potential customers. The rest of us are directed to come "at 10.30 on Saturday morning".
One free pleasure is the carillon of bells in the Cathedral tower. There are two sets of 49 bells in each carillon and together, Wikipedia informs, me they weigh more than 80 tonnes. While we were there we heard the bells playing. Forget chimes; forget even the peals you hear in England. These bells play complex melodies. Beautiful and amazing.
The Beguinages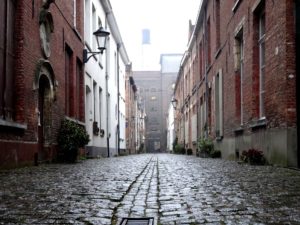 Another free pleasure – as so often in Belgium – is the architecture. We spent about three hours walking around the areas of the city called the Groot and Klein Begijnhof (the Large and Small Beguinages). I plan to write about the Beguinages later in another post, so I'll just mention them as a peculiarity of the Low Countries. Co-operative, semi-religious housing associations for women of all ranks, but mostly the middle and lower classes.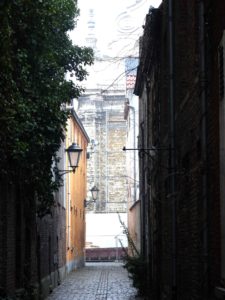 The Beguinages no longer exist in their original form, but many of the houses – or the street-plans in the Beguinage districts – are still here.
Apart from the Cathedral, there are a lot of churches in various states of repair. We tried to visit a couple on our way, but they all seemed to be shut up and under renovation. That was certainly true for both the Beguinage churches – the main one in the Large Beguinage and little St Catharine's in the Small Beguinage.
Eventually we managed to visit the Church of Saints Peter and Paul, with its collection of remarkable Baroque carved confessionals. Unfortunately a service was just about to start when we got in, so, no photos. Another day perhaps.
From Princess to pub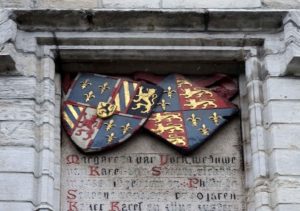 Next door to Saint Peter and Paul is the remains of a Palace that once housed an English Princess, Margaret of York. She was the widow of Charles the Bold of Burgundy – and more of her too in a later post if I manage it.
By now we were pretty tired, so we found pub and ducked inside, and that was the end of our explorations for the day.
---
And I just discovered that the Mayor of Mechelen, Bart Somers, has just – yesterday, 14th February 2017 as I write – been named "best mayor in the world" by the City Mayors Foundation. Congratulations to him!
I wrote this article for the #Blogg52 challenge.