TheSupercargo has fallen by the wayside the last few months. I didn't plan it, it just happened. But I have a blogging plan to pull things back in the New Year.
I'm with Douglas Adams
This year, 2022, my resolution was to publish posts weekly for 50 weeks, and I did fairly well. In the first eight months of the year I published 38 posts. After the middle of September, though, it became more and more difficult. Time – and creative writing time in particular – has been restricted because I've been writing copy for money. I'm not complaining about getting paid for my writing, but I'm sorry the blog had to take a back seat.
My forward planning for the blog went to pot and I found myself writing desperately for the weekly deadline – which I then missed. (There are several part-written posts on my computer that I never completed in time.) The Michael Finnegan post on 8th October was my last attempt to get back on track, but it didn't work.
Realising I had to give myself a break from the blog, I decided to join Douglas Adams and enjoy the sound of deadlines swishing by. It was a good decision, but it was organic rather than organised. This year has ended very raggedly, and this post is a last attempt to close it off as neatly as I can. (I find myself thinking of burning the end of a ribbon to melt the fibers and keep the material from unravelling.)
The new blogging plan
When one plan breaks down, rather than give up – if you don't want to give up (and I don't want to give up blogging) – you need to learn from the experience and put the learning into practice. So, for the coming year, I have a new resolution and a new blogging plan. The resolution is to publish a "proper" blog post at least 26 times in 2023. (So, half of last year's ambitious plan.) This means that by the end of the year I ought to have published a post fortnightly on average over the whole year.
I don't expect to be publishing every second week, though. This is where the new blogging plan comes in. Sometimes I'll published weekly and sometimes there might be a longer gap between posts than just one week. My intention is to take shorter breaks from blogging now and again, but to plan for these and signal them in advance. To this end I've written a boilerplate post which will allow me to announce a break and give regular readers (I have a few!) some links to older posts or blogs at other sites by authors I admire.
We'll see how that works out.
In the meantime, in January, I'll have a few posts lined up (though not yet written). Looking back at 2022, at the books I've been reading, my writing resolutions and my Bullet Journal. Also a post about the items on the site that attracted most interest during the year. These last will also appear in the sidebar, changing the look of the front page a bit.
That's the plan.
I hope you have been able to enjoy the holidays and celebrate the season, and I wish you all the best for the coming year.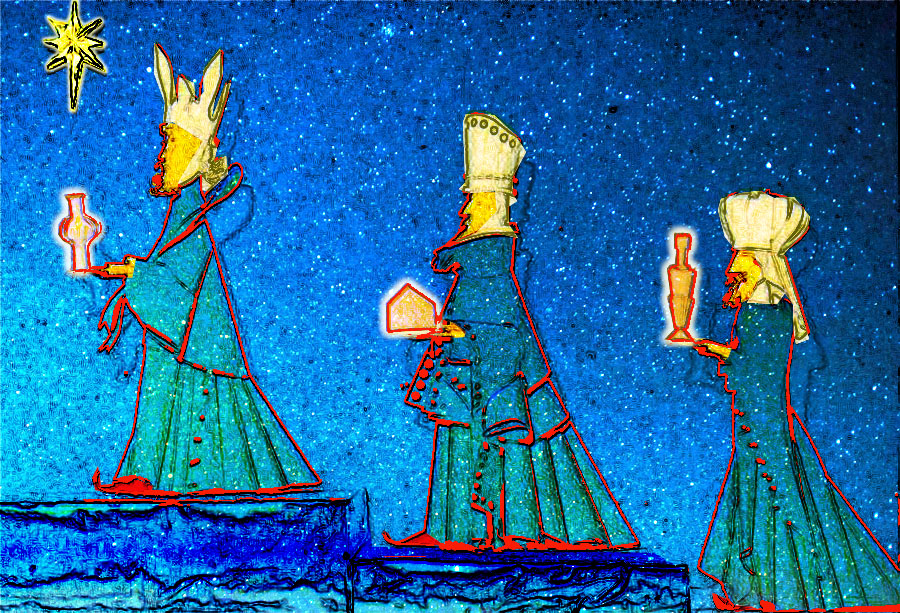 New Year Greetings from PATW
The illustration for this post is a digital greetings card I made for the Pens Around the World website. It's from an original photo passed to me by fellow PATW member Gill Tennant.
Pens Around The World is my online writers group. We are going into 2023 with 13 members, but we'd be happy to welcome new faces and new voices, if you are a writer and feel you might fit in. Do check out the website and maybe subscribe to us for a while before sending us your membership application form.
---
Read more …