I've been planning to start with a "real" podcast for some time. Despite what I write below, this isn't it!
A real podcast needs to be hosted on a server designed for the purpose and to have a specially written RSS feed link which can be read by podcast aggregators like iTunes and Juice. I've not (yet) been able to make that happen. In the meantime, dear reader, please treat the following as another essay towards a regular podcast.
[And this solution didn't really go anywhere. The place I chose to house the voice recordings has expired and the recordings along with it. The following is the transcript and nothing more.]
For months now, I've been looking for a theme for a series of recordings that might become podcasts. This week, this weekend just gone in fact, it struck me that I've been staring at a good theme without seeing it the whole time.
I'm an Englishman, I live in Sweden: why not make that the theme?
Actually, there are reasons why not.
For example, I've lived here so many years now, I'm not sure I can any longer certainly see what is unique or peculiar about the place. Of course, I'm full of arcane facts about Sweden. Did you know, for instance that suede, the soft almost peach-fuzzy leather, gets it's name from the French pronunciation of Sweden? Suède. Originally, the leather was used for gloves, which were called gants du Suède, "gloves of Sweden".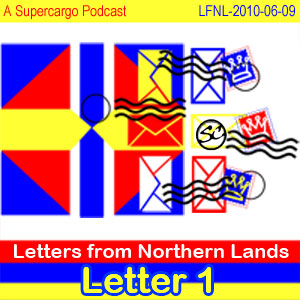 I don't know anything about the process of making suede, but having spent, now, more of my life in Sweden than in Britain, I fear I may have become Suèdifé. Or Suedifized. A bit like becoming fossilized, only softer.
On the other hand, having lived here so long, I've enjoyed (if that's the right word) an extensive immersion in the Swedish experience, and that should count for something, surely?
Sweden is experiencing international star status at the moment in a way it has not for many years. Popular musicians like Robyn, music video directors like Jonas Åkerlund, films like Thomas Alfredsson's Let the Right One In, and above all, the detective stories of Henning Mankell and Steig Larsson have suddenly raised Sweden's international profile. I'm wondering if I can catch this wave and ride it a little.
Did you notice what I did just then? Those five references, they were very carefully chosen to ring your Swedish bells.
Robyn says she will be releasing three albums this year starting this month, and is planning a tour with the American singer Kellis (and I still remember – and hope some of you will too – her appearance on David Letterman's show a year or so ago when he couldn't let go of her hand).
Henning Mankell was one of the international profiles on the Ship to Gaza convoy that made headlines around the world recently when it was bloodily hijacked by an élite Israeli commando unit. And his detective, Kurt Wallander, has featured recently (and no doubt will feature again) on British TV screens, in the Swedish language version with Krister Henriksson, and the English language version with Kenneth Branagh. (By the by, in the Swedish language version Wallander lives and works in Ystad, but in the English language version, he seems to come from Uschtadt. Somewhere in Austrian Alps?)
Thomas Alfredsson's romantic horror vampire movie, Let the Right One In, or Låt den rätta komma in, written by John Ajvide Lindqvist, is currently re-filming (as Let Me In) in an American English version for all the Anglophones who can't manage to read sub-titles.
And for a similar audience, Steig Larsson's three novels are also to be re-filmed in English, though we don't yet know who will play Lisbet Selander. Whoever it is will have the unenviable task of out-acting Noomi Rapace in the Swedish language films.
Unless you are a music video geek then I suppose Jonas Åkerlund's name was the least likely to ring your recognition bells. But in his field he is very well known and has worked in particular with Madonna.
Instead of Åkerlund, and because he has worked with Robyn, I did think to mention Thomas Kleerup, but then I'd have to make a joke about his name and reference another Swede in the news, Carl-Henric Svanberg, Chairman of BP, who certainly needs all the help he can get clearing up the mess his company has caused in the Gulf of Mexico.
But I don't want to do that. Only positive references to Sweden in this first recording, podcast, letter, what have you!
When I was in my late teens and twenties, whenever I could, I tried to hear Alistair Cooke's "Letter from America". I think it was broadcast on Saturdays with a repeat on Sunday afternoons. For ten minutes, or it may have been fifteen, Cooke and the BBC gave the world his easy, urbane weekly update on American events, politics, daily life and morés. Wouldn't it be nice to be able to do something similar?
Well, that's not going to happen. I'm not Alistair Cooke, I'm not reporting from the USA and nobody is paying me to make these recordings (which may anyway turn out to be a very short series). But Cooke's "Letters" are one of my sources of inspiration, and a part of my title is a nod of acknowledgement to his memory.
In the rest of the title, "from Northern Lands", I'm deliberately trying not to be too specific. A few years ago I started a blog, now languishing, called "Observing Gothenburg". I live in Gothenburg, which is Sweden's second city, and I thought it would be a good title. However, I realised after quite a short while, that I didn't just want to write about Gothenburg and my title felt like a constraint.
This time around, I'm trying to learn from that experience and think ahead. Of course, as you've realised if you've listened thus far, my material is going to be mostly about Sweden, but I want to have the option to speak also about other northern lands, about Denmark and Norway, perhaps about Finland and the Baltic States, and possibly even about Iceland. And, of course, there is always the chance that I might find myself talking about that furthest distant archipelago of islands off Scandinavia's west coast, the British Isles.
I said at the beginning that the theme for this series of recordings came to me at the weekend.
Sunday the 6th June was Sweden's national day and we had good weather for it too. Here in Gothenburg my wife and I joined what the media reckoned to be about 25,000 people in the town's main park, Slottskogen, to hear the Gothenburg Symphony Orchestra conducted by Gustavo Dudamel, and a wind ensemble from the visiting Simon Bolivar Youth Orchestra. (It's some of their music I recorded at the time that you can hear occasionally in the background of this.)
The concert was introduced by the leader of the city council who took the opportunity to welcome people who have newly received Swedish citizenship. There was a compare who joked (I think he was joking) about how Sweden is the norm by which the rest of the world is judged. The GSO played, the young Venezuelans played. We sat with friends and listened, talked, applauded, ate a picnic lunch and had a fine time.
And I thought, this, this is something I could talk about! But, I really don't want to find myself doing Swedish Tourist Authority spadework (and for free), so there has to be more.
One of my Twitter buddies, Dramagirl Kate, when I asked her what she thought was the attraction of the Wallander and Selander films, said that it was the window they opened on Sweden. "The minutia of everyday life". I've been turning that over in my mind as well. I can do minutia, but how interesting is it if Swedish minutia turns out to be pretty much the same as minutia most everywhere else?
That's a risk I'll just have to take.
So now, coming to the end of my first recording. I'm planning to make one of these podcasts once a month, though hoping to be a little more frequent. I'm aiming to make them like this one, about 10 minutes in length. I've no idea if they will appeal to many people – or even to anyone – but they are a way for me to include an updated sample of my voice on my home page as a form of advertisement.
If you like my voice and want me to read something for you commercially, or to participate in a pod radio discussion for example, or if you are interested in using these letters in some way, please get in touch. Use the contact form on my homepage. The address is coming right up!
---
[And indeed the address came up, but there doesn't seem much point in including it here.]