I'm not going to pretend that Tintin was a significant feature of my childhood, but I was aware of him and his adventures. Mrs SC feels much the same, although I think her childhood exposure may have been greater than my own. I have come across some of the Tintin books (along with one or two Lucky Lukes) among the pile of well-thumbed Asterix albums in my wife's childhood home. It makes me think she and her siblings had a more French-oriented experience than my sister and I.
National hero
Here in Belgium Tintin is something of a national hero. You soon realise (if you didn't know it already) that Tintin's creator, Georges Remi, was Belgian. Remi's initials, reversed (RG) and spoken in a French accent become Hergé, which is how he signed his cartoons.

There's even a Hergé museum, which is where Mrs SC and I found ourselves on Sunday.
Like many places in Wallonia it is at one time not that far away, yet not the easiest place to get to. Located in a town called Louvain-la-Neuve. It's a fairly short train journey from Brussels, but for us at least finding the train wasn't straightforward. The museum has a website with instructions for "Localization", and it advises train travellers to visit the SNCB website – this is the website of Belgian Rail.
Your input is ambiguous
Belgian Rail has a search function where you can input your departure point and destination ("station, stop, address"). In theory this will get you information about your train. However, you do have to know exactly where you are going. The Hergé museum advises you to choose destination Louvain-la-Neuve, but do so and the search engine replies: Your input is ambiguous. It then gives you about twenty options to choose among. There are a lot of stops at Louvain-la-Neuve, but none of them is the Hergé museum.

Our first attempt to visit the museum was scuttled by this confusion. However, we persisted and the next time we were in the Brussels Central Station we asked a young man with "Student" printed across his Belgian Rail sweatshirt. "Ah, no. What you want is Louvain-la-Neuve-Université because the museum is located next to l'Université de Louvain." And so it was.
Creepy film set
Louvain-la-Neuve is a rather disturbing place. It appears to have been built completely new, sometime in the 1970s, solely to house the French language, Catholic University of Louvain. On Sunday morning it was giving a good impression of a film set for a rather creepy science-fiction/horror movie. One of those films in which most people have been stolen away by aliens, or turned into nocturnal zombies. The few people who remain go about their lives apparently oblivious to the population disaster that has struck their town.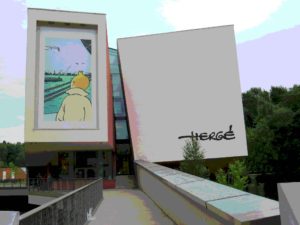 The Hergé museum is housed just a short walk from the echoing centre of Louvain-la-Neuve. It is a purpose-built, architecturally designed edifice that sits like a ship in a grassy dry dock, reached by bridges from a couple of sides. It's an interesting building, odd angles and white with big windows. The entrance (as you can see from the photo) gives a passable imitation of an open book. One that's been well-read and has pages coming loose. Sadly, the architecture is a wonderful shell for less inspiring contents.
One of the greatest artists of the 20th century
I can't say the Hergé museum is the most overpriced and boring museum I've ever visited. (That record is still held by a museum of natural history on Malta.) But at €9.50 per adult it isn't cheap and though I wouldn't call it boring, I wouldn't call it exciting either. It certainly wants to be exciting. It gets very excited about Hergé. "One of the greatest artists of the twentieth century," it calls him. It seems Hergé had a bit of a chip on his shoulder about being a commercial artist. The museum responds to this by going out of its way to praise him for his innovation and success in the field of commercial graphics. He was a "[g]raphic designer, caricaturist, cartoonist, illustrator, storyteller… a multi-talented artist who was a perfect reflection of the twentieth century."
Yeah. Right.
Seriously, the only reason Hergé is widely known – the only reason he has a whole museum dedicated to him – is because of Tintin. The tension between the man and his creation is palpable throughout the museum, and the curators are aware of it. At the very beginning of the audio guide one recorded voice demands to learn about Tintin. Another voice promises Tintin but insists there is so much more.
But there really isn't. Not here, anyway. And actually there's not a lot of Tintin either.
Not for children
Perhaps that's unfair. There is a lot of Tintin, but so many opportunities are missed. Considering museum's star attraction is not Hergé but Tintin, a beloved children's cartoon character, the museum is absolutely not designed to appeal to children. In fact, I think the only people who might find the Hergé Museum truly gripping would be the sort of adults who collect comic books and memorabilia.
Despite the museum's attempts to enter the digital age with an audio guide on a smartphone, the material it has is presented in a crushingly traditional way. Glass cases display objects Hergé owned; framed pictures of original strips hang on the walls… and that's about it. Beautifully lit, spacious, architecturally designed gallery after gallery with glass boxes and framed pictures. For variety there are occasional video screens. There's almost nothing to do but walk, look, read, listen. The relief when we found Hergé's collection of stereoscope images and were able to operate the machines to switch pictures. It wasn't much, but in the desert of monotony one learns to be grateful for even a little variety.

More than this, after a short while you begin to suspect the museum is presenting a highly edited account of Tintin and Hergé's lives. So highly edited that the same information, the same pictures, the same video clips are recycled in the galleries and the audio guide over and again. We gave up listening to the guide during what seemed to be the third run-through of Hergé's biography. We gave up on the museum itself after the fourth or fifth gallery.
Catholic propaganda
Some of the information you don't get from the museum you can find on Wikipedia. For example, while the museum tells you Tintin started out in 1929 as a weekly cartoon strip in the children's supplement to the Catholic newspaper Le Vingtième Siècle, Wikipedia tells you the earliest Tintin strips were right-wing Catholic propaganda for children. The first strip (1929-1930) was Tintin in the Land of the Soviets. (It is the only story Hergé seems in later life to have been embarrassed about. He never redrew it or republished it in colour as he did all his other early Tintin stories.) [Edit: But it's available now, two years since I wrote this.]
The second story was not an improvement. Tintin in the Congo (1930) with its caricature Africans and paternal colonists still attracts criticism. (Most recently in Sweden – there was a big row about whether or not copies of the album should be displayed in libraries and loaned out to children.)
Ligne claire
Hergé, who was in his early 20s when he came up with Tintin, did grow more serious and more sensitive with the passage of time. Later stories, starting with The Cigars of the Pharaohs (1932) and continuing with The Blue Lotus (1934), began to introduce more complex storylines. More relatively sympathetic characters. He also developed a cleaner, more direct drawing style which came to be known as ligne claire. (This is presented in the museum.)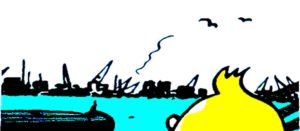 A blunderer rather than a traitor
Although the propaganda was toned down, Tintin continued to be imbued with conservative values. The fact that Hergé went on to publish Tintin stories in approved publications during the German occupation of Belgium (1939-1944) led many to conclude he was a collaborator if not a committed Nazi supporter. He was certainly identified as a collaborator by the Belgian resistance. However the fact that he was "only" drawing cartoons for children seems to have counted in his favour. Though blacklisted for a time after liberation, he was never put on trial. Eventually his wartime activities were officially described as those of "a blunderer rather than a traitor". He was allowed to resume a professional life. (This is glossed over in the museum.)
Hergé's Catholicism also took a beating. His first marriage seems to have been less than happy and a consequence of social pressure at Le Vingtième Siècle. His first wife was the secretary of his editor at the newspaper. A series of affairs, with the inevitable accompanying Catholic guilt, was followed by a divorce and eventually a second marriage. According to Wikipedia, towards the end of his life Hergé may have been more of a Taoist than a Catholic. (None of this is in the museum – at least not in the first three reiterations of his biography that I listened to. Possibly because his second wife was responsible for establishing the museum after his death. And possibly because the museum is in the grounds of a Catholic university.)
Overpriced memorabilia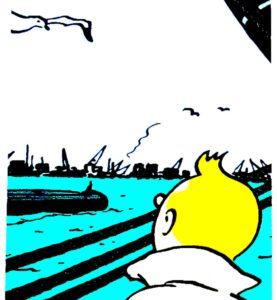 The museum shop and "café" between them show the that the museum has clearly identified the economic group it appeals to. The shop is packed with overpriced memorabilia – mostly plastic resin models of Tintin and other characters from the albums. Want a Tintin moon rocket? It comes in sizes from a few centimetres high to one taller than a full-grown Belgian man (1.786). You can also buy Tintin albums in various translations. (So there is something for the kids after all). You can probably get a fizzy drink or a cup of coffee in the café too, if you ask really nicely, but you wouldn't know it from reading the bill of fare. Three course meals are what they want to sell you. We decided the museum had already got enough of our cash and went looking for something else.
We ended up eating largely tasteless but faintly savoury waffles at a Belgian fast-food establishment in the by now slightly more awake Louvain-la-Neuve. Hardly a culinary delight, but not nearly as expensive as the food in the Hergé Café. And after that we took ourselves back to Brussels.
So that was our Sunday.
(By the way, the museum is very protective of Hergé's copyright and forbids photography – which is my excuse for the paucity of illustrations this week.)
---
This article was written for the #Blogg52 challenge.
I originally published this article on the separate Stops and Stories website. Transferred here with a little polishing for SEO and a new featured image 8 November 2017.