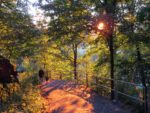 Autumn sunrise. The rising sun through turning leaves on the path up to Keiller's Park from Kvillesta'n, a dog and its owner. About 7:30 in the morning.
I took this photo and originally published it on my now slumbering daily photo blog GBG365 on 28th September 2013.
The autumn isn't quite so far advanced here yet, but it can't be far behind. Also the long hot dry summer caused at least some trees, especially the birches and rowans, to start shifting to autumn colours much earlier than usual. Most of the trees in this photo are beech, I think, with some sycamore and oak. They didn't seem to be as affected by the drought, and actually we seem to have a bumper crop of acorns this year.
This path is a switchback between Keiller's Park and Kvillesta'n. Older locals (including my mother-in-law) tell me they called it "S-banan" – the S-track – when they walked it to school, back in the day. It's popular with dog walkers and joggers. I think, if I were to make it a regular part of my morning walk, it would probably do me good to climb it daily. Not to go down it though. My knees no longer think exercise like that is fun.
Reading the boks
By the way, the Swedish word for "beech" is bok. The same as for "book". Beech tree bark is particularly easily cut with a penknife and many of the beeches in the park on the way to Ramberg's Junior School are marked with the names of kids. As the trees grow the inscriptions grow too and climb far above the head height of the little children who once carved them. Above even the head height of the adults they have become, I guess.
Peering up at the trunks, trying to decipher the names and declarations of love, I call it "reading the boks". Somewhere I've got some photos – but I couldn't find them to add here. Maybe later.
Looking through GBG365 for the photo of the week this week I realised, for 3 years between 2012 and 2014, this week was mostly given over to photos from the Book Fair. Göteborgs Bok- och biblioteksmässan – the Gothenburg Book and Library Trade Fair – takes place this week. Perhaps I would have better represented the season with one of those pictures – but I like this autumn sunrise. (But here's one Book Fair related post I made on this website in 2011.)