The Supercargo's Fifty-three-year-old Birthday Blues Podcast Script
Greetings, my name is John Nixon, also known as TheSupercargo, of www.thesupercargo.com
Happy birthday to you
You were once fifty-two
Now you're just a year older
So why're you so blue?
Last weekend I turned 53. It wasn't something I wanted to do and it wasn't something I was really prepared for, but there is no controlling these things. I don't suppose I'm alone in going through a minor depression every time my birthday comes around – in fact I know I'm not. As chance would have it, the day after my birthday no less than three cartoon strips in my local paper made fun of ageing, or the worries of those growing reluctantly older, and made me feel like a walking cliché. But, it's my birthday and I'll cry if I want to.
Happy birthday to you
Happy birthday, happy birthday –
In the process of preparing this script I took the trouble of checking up on the song "Happy Birthday to You", which is still under copyright. It's one of those stories that bring discredit upon the whole concept of copyright law. The original melody it seems was written down and used for the first time in the 1890s by a couple of schoolteachers, the Hill sisters, in the USA. Originally it had nothing to do with birthdays, but at some point soon after, somebody unknown composed the lyrics which we know today, and the song became popular.
In the 1930s, the company that owned the copyright to the melody (they'd published the Hill sisters' songs) managed to establish copyright in the lyrics as well, though I really don't understand how. But then I'm not a lawyer. The Hills themselves were all dead and gone by the end of the 1940s, but the copyright lived on.
After a series of mergers and sales, the copyright ended up in the ownership of AOL Time Warner who apparently defend their rights in this song to such an extent that every time it's used in a film, a television programme, on the radio or in a public performance, they receive a payment. Reputedly the copyright holders once tried to sue the Scouts and Guides organisation for singing the song – without paying a fee – at their jamborees (but backed down in the face of the bad publicity that generated).
Supposedly, "Happy Birthday to You" is worth $2 million every year to Time Warner. Think about that next time you sing it – and note how I'm cleverly not singing it on this podcast – the melody alone is no longer in copyright. (And besides, let's face it, you only know it's the melody I'm singing because I told you.)
Happy birthday to Warner
Happy birthday to Time
Happy birthday America
They'll screw you On Line
I'd like to point out that by the phrase "screw you" in that last verse I meant, of course, "screw every penny they can out of you" and nothing else.
I digress.
Birthdays were fun when I was a child. I'm sure they were, weren't they? The anticipation, the birthday cards, the presents, the family party – I shared my birthday with my grandmother, so we always had a joint family party. And then when I was young at least, there were parties in the garden for me and my school friends, with paper hats, paper tablecloths spread over a wonky old table, paper plates and sandwiches and fizzy pop in plastic mugs and a cake with candles. And games: musical chairs, blind man's buff, hide and seek in the whole house; when we had a house, when we had a garden, before the move to the flat and before my parents separated.
Happy birthday to you,
Squashed tomatoes and stew
Bread and butter in the gutter
Happy birthday to you.
That little rhyme used to appear as a regular feature in a morning programme on the radio when I was a kid. I wonder if Radio One ever paid the copyright holders – no dammit, of course not because those aren't the lyrics. And nor are these:
Happy birthday to you
You belong in a zoo
'Cause you look like a monkey
And you smell like one too!
And that rhyme, by the way, long predates its use in the film Madagascar, so I'm absolutely sure I don't need to pay copyright to DreamWorks either.
To get back to my birthday, childhood joy has rather given way to middle-aged curmudgeonliness. I don't really enjoy being reminded year after year of how close I'm getting to the end. On the other hand, I would feel terribly let down if my nearest and dearest were to let the day pass unmarked.
What can I say? I have a complicated psyche. Fortunately, my wife knows this and copes with it by organising me into action year-on-year.
This year we went out to the islands, the southern archipelago of Gothenburg, and stayed at a little hotel on the island of Styrsö (which means "Steer Island" because sailors used to use it to steer by). We were extraordinarily lucky with the weather, despite predictions for rain the sun blazed down from a clear sky for much of the time. The only fly in the ointment was it was too hot. Still, I got in a lot of time reading, sitting in the shade of various trees and buildings.
We also went for some longer walks, me with my camera at the ready. There were a lot of butterflies, though most of them immediately fluttered by and buttered off, or closed up their wings and turned their backs, when they saw me pointing a camera at them. Not all though, and I have one or two nice pictures which will be appearing on my homepage in the near future – technology permitting.
We finished our "mini break" at Vrångö. Vrångö translates as "Wrong Island", and we went there to hear the first Wrong Island Blues Festival. My sister-in-law plays bass in a blues band, RagBag, and they were one of the acts performing. There was a kind of family decision that blues music would suit my mood. I was in on the decision, I don't mean to suggest otherwise. I quite like the blues, and the musicians I heard at the Blues Festival were certainly worth listening to.
Well, I woke up this morning – found I'd turned fifty-three
Said I woke up this morning, realised I was fifty-three
Tell me how's it possible I still don't know what I want to be?
(Perhaps I should say that I know my attempt at a blues refrain bears little resemblance to real blues?)
Seems like not long since I was young, just twenty-two
Seems just yesterday I was glad and twenty-two
My life ahead of me, then I woke this morning old and blue.
(It doesn't bear any resemblance either to anything at all that was performed at the Wrong Island Blues Festival. I said, didn't I, that they were good musicians?)
Mrs Supercargo and I arrived at the very beginning, at two in the afternoon. While the Festival got underway – and my wife and her sister found somewhere to bathe in the sea – I sat on the grass behind the stage (where the volume was a little muted) and chatted to some of the other festival-goers while I drank an illegal glass of beer. The beer was illegal not by virtue of its brewing, but by virtue of its consumption. Behind the stage turned out to be outside the licensed area, but I didn't realise that till after I'd drunk it.
The beer tasted good, and the memory of it was not soured when I discovered that I had broken the law. Am I becoming a criminal in my old age?
Happy birthday to you
Now drink your Irn Bru
It's made out of girders so …
It'll keep you stood to!
I have a feeling that last verse should have been sung with a Glaswegian accent. Glaswegians – and indeed everyone listening – will probably be happy I did not attempt that. Parenthetically, I would like to state that the claim made in the verse is a complete falsehood. I've tried it. The only things Irn Bru makes stand up are your taste buds. (It's all the sugar.)
Back behind the stage at the Wrong Island, Mrs SC and I ate a meal off paper plates and drank some (legal) coffee from plastic cups, and later still we had ice cream.
No cake, though, and no candles. I'm just saying.
RagBag played between six and seven, and I took some photographs, but then I decided five hours of blues was enough. The Festival itself was scheduled to carry on till the wee small hours, but we took the seven o'clock boat home to the mainland.
I was quite cheerful by the end of that day, but the blues caught up with again me soon enough and I spent the first couple of days of my 54th year moping about the place, counting my aches and pains.
They only want you when you're seventeen
When you're fifty-four
You're a bore.
They take a photograph and have a laugh
Show you their chronograph –
That's the score.
(Do you think Ladytron will let me get away with that?)
It doesn't help I suppose to be living in a country where age segregation is so blatant – though of course illegal; as illegal as drinking a glass of beer in the wrong place, but much less likely to be prosecuted.
It's not that I've only suddenly realised that Sweden is an age segregated society, not that my own advancing years have heightened my sensitivity. It's been obvious for as long as I've lived here. I remarked on it soon after we moved here from Finland in the mid 80s, noticing how in every Swedish social group there tended to be a similarity of ages. I noticed it because it was different from what I had experienced in Finland, and very different from what I remembered from my year in Bulgaria before that. Different even from the norm at home in England.
Oh yes, you see families here in Sweden, you see mothers and fathers with their children and you see grandparents with grandchildren, but the overall impression is of people congregating in groups defined by the age of their members. It's as if the division into year groups that happens at school is carried on into later life, into working life, into old age. Friendships across age barriers are unusual and surprising and there is a wealth of category names – often used denigratingly – for different age groups from "fjortisar" meaning young teenage girls around the age of 14 (over 1 million hits on Google!) to "gubbar" meaning old men, like me.
And of course in Sweden there's no hiding your age as the first six digits of the ten-digit number on your identity card identify the year, month and day of your birth.
This reminds me of a story about my mother that always delights older Swedes.
Once upon a time the legal retirement age in Britain was 60 for women, though it was 65 for men. I think the idea was that men would tend to marry younger women and if they both retired at about the same time the wives would be able to take care of their husbands and not be a drain on the social services. Well, that's changed now since some women took the British government to the European Court of Human Rights, but back in the day, when Mum was coming up on the big Six-Oh, it was still the norm.
Now, British society then may have been less age segregated than Swedish society today, but it was still a place where the retirement age meant the age you retired, and Mum knew that when she turned 60 her employers – a firm of loss adjustors – would shake her hand and show her the door.
She was divorced, in an uncertain financial position, she liked her work as a senior secretary and she had no interest in retiring. What to do?
It happened that the small local firm she worked for had recently been taken over by a big London-based loss adjusting company. Head Office asked her, as senior secretary, to send them all the employment details – including the dates of birth – of the local staff. She put the details together and, after a struggle with her conscience (for she is an honest woman), she lopped five years off her own age. The details were never questioned, and she was able to work five more years and retire at 65.
When I told it, this little story always used to create a frisson of delight among Swedish listeners who were old enough to appreciate my mother's dilemma. Undermining the system like that here just wouldn't work – well, not without an advanced ability to hack into the central identity registers and corrupt your personal identity number.
My mother, incidentally, will turn 90 at her next birthday, which motivates me to share the following:
And may she now live
And may she now live
And may she now live
For one hundred years!
Yes she will live,
Oh yes she will live,
Of course she will live
For one hundred years!
(Which is my effort at a singable translation of the Swedish equivalent to "Happy Birthday to You".)
The British have managed so far to scupper plans to introduce identity cards in line with the rest of the European Union, so I guess Mum's little back-room sabotage might still be possible today, but probably not for much longer. The IT revolution is making this sort of thing increasingly difficult, and despite the reluctance of Brits to accept ID cards, they (along with the rest of the world it seems) are perfectly happy to share all manner of personal information on social media sites.
The social media also delight in gathering such information – for example about users' birthdays – and reminding people about them. My sister tells me that my Skype profile cheerfully announced that "I am 53" until I removed my date of birth from the information I'd made available to them.
Facebook does it too. When I got around to opening my Facebook page a couple of days after my birthday I found a dozen or so friends and acquaintances had sent me greetings and good wishes.
Of course I was pleased that people had remembered my birthday, but since everyone with whom I am a "Facebook friend" got a heads-up from Facebook about my birthday, does that mean that only 12 people wanted to wish me a happy birthday? What about the other 56?!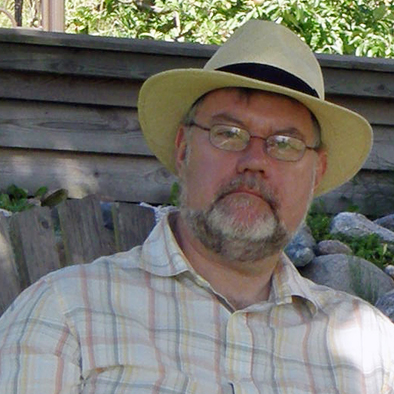 Heigh-ho, it's on with our life we go. (And no, I'm not going to pay Walt Disney for their copyright in that.) Let's finish with something I wrote on Styrsö.
Happy birthday to me
Sitting under this tree
Composing this jingle
I turned fifty-three.
Thank you for listening!
This recording is licensed under the Creative Commons attribution / non-commercial / share-alike license by me, John Nixon, The Supercargo. You may freely download this recording for your private use. You may also freely redistribute all or part of this recording for non-commercial purposes, provided you acknowledge me as the author and include a link to my homepage at www.thesupercargo.com.
If you wish to make use of the recording for commercial purposes, please ask. Likewise if you'd like me to record something specifically for you. Use the contact form on my homepage. Something can be arranged!
---