Between the summer of 1988 and January 1998 Mrs SC and I lived in Sundsvall in Swedish Västernorrland. We moved there following her job and we left for much the same reason. Although we've been back a few times, we've not been there together for at least fifteen years. I've not been there on my own for even longer.
To Sundsvall's Stenstan and Hotel Knaust
After the recent Year of Social Distancing, as restrictions and recommendations relax with the coming of the vaccines, we've been cautiously doing some of the things we've missed. Our visit to a Baltic island in July was our first trip away from home, but it was with two friends on an island. Also we travelled there while public transport was still keeping passengers few and at least two metres between. Since then we've been gradually exposing ourselves to larger and closer crowds: open air concerts, art exhibitions, restaurants, cinemas. Now we agreed it was time to try something more adventurous. Why not visit Sundsvall?
We booked into Hotel Knaust. The old centre of Sundsvall, called Stenstan ("Stone town"), was constructed more or less as a piece in the 1890s. At the time Sundsvall was an industrial city and an important lumber staging port. Built of wood, in 1888 it burned down. But the timber barons, and the merchants and bankers of the town spent lavishly. They rebuilt in stone (and brick). And in the middle of Stenstan, Adolf Knaust built his hotel. Knaust's was the classic hotel of its day and one hundred years later, the whole time we lived in Sundsvall, we heard stories about it. Only stories, because it was closed and in poor shape (we heard). Now, though, it is servicing the town again as a part of the Elite Hotels chain.
Mitthuniversitetet – The University of Mid-Sweden
Sundsvall is still a city with interesting architecture. A new district since our day is the campus of Mittuniversitetet or the University of Mid-Sweden. It is built in a bend of the Selångerså, the small river that runs through the centre of the city, and we think ground had just been broken the year before we left. Now it's an impressive collection of buildings with (to my mind) a Dutch feel about it. On the curve of the river is the tall, round library building. This is a feature of the site and features in the pictures of the site painted on the side of one van we saw.
Sundsvall's Kulturmagasinet
I love libraries, and Sundsvall has another, fine library in another architectural pearl. This one does date from our days in town. Down by the harbour is Kulturmagasinet (The Culture Warehouse). Four Stenstan vintage warehouses have been linked together with glass walls and skylights to create a space for the public library and Sundsvall's museum. We spent many happy hours here in the 1990s, so it was good to see it's still in use and in good shape.
Sundsvallsbron
Our last day in Sundsvall we chose to spend partly crossing the harbour over Sundsvall's Bridge. This is another new feature from more recent years. A magnificent curving motorway bridge. The engineers thoughtfully provided a bicycle and pedestrian path on the inside.
First we had to find the way onto the bridge from the south. We took a bus to the Skönsmon district and then, in lieu of any signage, followed our noses. (OK, we had a maps app on our phones too, but they really aren't reliable for walkers.) We found it, though, and it wasn't all that difficult in the end. Then we walked, in the freezing wind, from the southern end to the northern in about half an hour. With photo pauses along the way.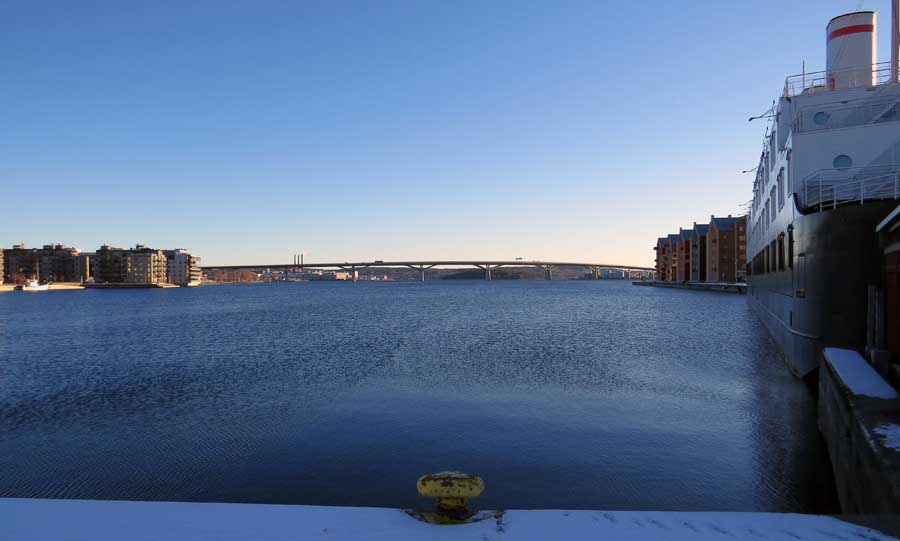 Not the end…
OK, actually this is the end … of this post. But we did so much more in Sundsvall. We met old friends, colleagues and neighbours and visited the places we used to live. We ate out and ate in and witness the turning on of Sundsvall's Christmas lights. We adventured on the buses and were driven around by car. Between us we took over 500 photos, which I whittled down to 94, and then to 27 for this post. Maybe some of the other photos will put in an appearance illustrating a later post here, but for now, enough. I leave you with this picture of Sundsvall's founder (who is also Gothenburg's founder) King Gustaf II Adolf, a.k.a. Gustavus Adolfus in the history books. Silhouetted against the facade of one of Stenstan's grand buildings, reflecting the light of the setting sun. At about 4 in the afternoon.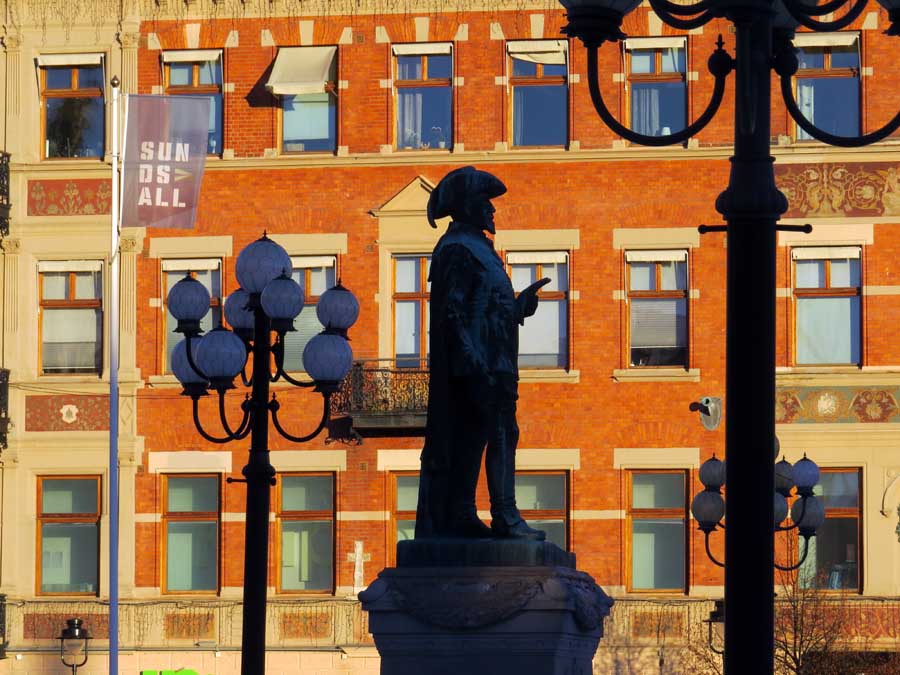 ---
Read more …