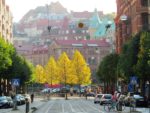 A misty morning hung on late, but was just breaking up to allow an early afternoon sun through when I took this photo. I'm looking up Linnégatan from Järntorget. The sun is spotlighting an alley of young trees along by the side of the tram tracks. Behind the trees is the red-brick bulk of Haga skolan (now housing the arts co-operative cinema Folkets bio). Beyond, the roofs of Linnéstan are still in a haze of mist.
I took this photo on 5th October 2014, at just about 3 o'clock in the afternoon. But I never published it.
It's not often, making my choice for the Photo of the Week, that I find a better version of the picture I chose than the one I originally posted on GBG365. But today I did.
Looking through the roll* of photos I took that day I realised the picture I originally posted had barely any figures in it. This one, taken seconds earlier has the cyclist up the road to the left and the colourful jacket and white helmet of the woman wheeling her bike across the road to the right. Also, if you look carefully, there's what I take to be a vintage SAAB 96 turning the corner down by the hot-dog kiosk near the trees.
So much more interesting!
---
*Am a revealing my age, writing of a roll of film? Probably. 😉