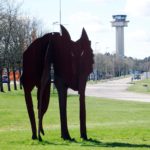 The Landvetter wolves occupy a roundabout just by the Gothenburg-Borås airport at Landvetter. I see them every time I fly in or out, and there's been quite a lot of that these past few years. But I'm never in a position to actually get up close and try to photograph them. In the run-up to the Easter weekend, though, I took myself out to the airport to meet Mrs SC off her plane as she flew in to join me. For once I wasn't passing through, so I managed to give myself half an hour for a photo shoot.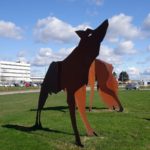 During April I've been on my own in Gothenburg to oversee the renovation of our kitchen. It's been an opportunity to revisit my photography habits from 2012-2014 when I published a daily photo on my GBG365 website. Instead of restarting the old photoblog, though, I've been publishing pictures on Instagram and Twitter. (And to a lesser extent on Ello.) Here is a little collection of these photos. None have previously appeared on the website.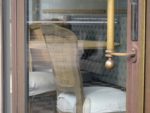 Since the beginning of the month I'm sleeping in the guest bed and eating on the balcony. It's glassed-in so not open to the worst of the weather, but I wouldn't call it comfortable. A few days after I started camping here, I decided I would treat myself to breakfast at Café Kanold on Grönsakstorget. The link there goes to their Facebook page, which still seem live – sadly the same cannot be said about the café itself. I hung about hopefully for several minutes and looked for some sort of sign that they were opening despite the mess inside, but eventually I had to accept the sad truth. Café Kanold has folded. The best I could come away with were a few photos through the windows.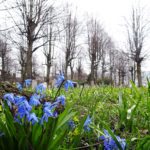 It's been a cold and not always very bright spring so far, but the days are clearly getting longer and the trees are stubbornly putting on a haze of buds even if most of them have not yet risked opening up fully. There were little blue flowers around the roots of some of the old trees in the cemetary by Stampgatan when I passed by. A promise of spring.  (And there are little forest anemonies – Anemone nemorosa, vitsippor – in clumps all over the place where the sun falls and there's shelter from the wind.)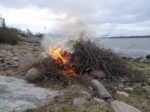 At Easter, after Mrs SC came home, we celebrated in the usual west coast way. Out by the sea with a bonfire of driftwood, prunings and seaweed. It flared up really well to begin with, but the cold north wind picked up and blew stronger, threatening not to fan the flames but to blow them out. We tried shielding the fire with a parasol, but despite our efforts it went out. Fighting with the Easter bonfire is long-standing tradition on the west coast, though in my 30-odd years of experience, it's usually driving rain that's the problem. Anyway, this photo commemorates when this year's fire at it's best.
In my little article about the photo of the week last Friday, Vice face, I wrote about the way at least a part of Gullbergs kaj is under demolition to make way for the new river crossing. Obviously, a bridge has to have two landfalls and work is going on on the oppostie side of the river too. I took this photo of a spaghetti tangle of expired concrete reinforcing from the pedestrian walkway along the old bridge. There was a machine with an arm that was clipping through the iron, breaking it down into more mangeable pieces. I took pictures of that too, but I liked the tangled iron best.
It looks as though the kitchen work is going to go on for another week or so yet, so I may come back with another gallery of new photos later. In the meantime – if you want to get my pictures more regularly, you can always follow me on Instagram or Twitter.
---
I wrote this article for the #Blogg52 challenge.