London green: green is perhaps not the colour one first associates with London. Red, perhaps, or black – but maybe one should think about green.
If you ask someone what colour they associate with London, I guess most people would say red (thinking of London's buses); or red, blue and white (the colours of the London Underground); or perhaps black (thinking of the black cabs). The colours of the Greater London Council are red and yellow, blue and white. The City of London's coat of arms show the red cross (and sword) of St George on a white ground.
Green is one colour people don't usually associate with London. Perhaps they should.
Last week Mrs SC and I were in England, partly to visit my family, partly to snatch a very brief break for the two of us in London. It's many years since we were both together in Britain in spring. After a long, cold, grey winter it was wonderful to be greeted by London under the sun. We only had two days, but took the opportunity to walk through five of London's parks to enjoy the London green.
Densification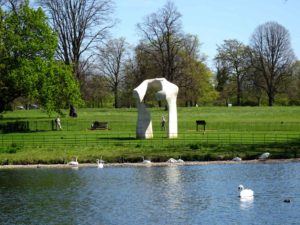 London is such a tourist magnate, with all its sights, museums, events and buildings that it can be easy to forget just how much green there is in the city too. I've grumbled here before about "densification" (in Swedish, förtätning). This is the distressing behaviour of modern city planners and developers who believe the best thing to do with an open space in a city is to build on it. Preferably something monstrous.
I presume such planners and developers don't actually live in the cities they are keen to make more dense. I imagine they have their family homes or vacation houses in the open countryside somewhere. People who actually live in cities – especially densely populated ones; people who don't have a second home to flee to – perhaps have barely the one home they can afford; for these people the city's green parks and open spaces are an essential amenity.
They're not bad for tourists either.
In fact, according to this article from The Independent a couple a years back, 47% of London is green space. Mrs SC and I only visited a very small part of London green, but it was very enjoyable.
Hampstead Heath to Highgate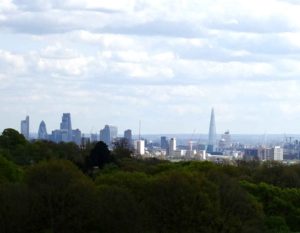 Our first day, we walked from our bed-and-breakfast hotel near Finchley Road up into Hampstead village. Then we crossed Hampstead Heath to Kenwood and Highgate, taking in this view across central London. There's a bit of a haze in the photo, but you can see the City of London's financial centre and the Gherkin building, and the Glass Shard at London Bridge. Just in front of the Shard you should be able to make out the dome of St Paul's Cathedral.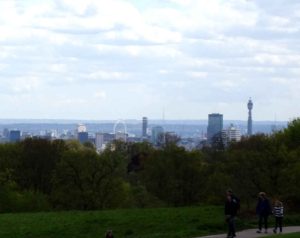 In the second photo you should be able to make out the London Eye. The BT Tower is the spindle-shaped building to the right. (It used to be called the GPO Tower when I was a boy. In the days when Britain had a General Post Office that also ran telecommunications.) Between the two, on the horizon you can also see the radio and television mast at Crystal Palace. Unfortunately the resolution isn't good enough to make out the tower that houses Big Ben at Westminster – but take it from me, it's there. (For a much more detailed – and zoom-able – version of this view, visit Will Pearson's London Panorama project.)
The Royal Parks to Parliament Square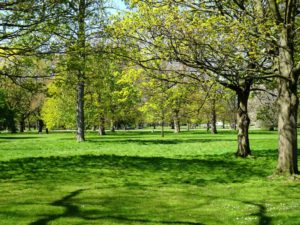 Our second day we entubed to Queensway and then walked through the chain of Royal Parks down to Whitehall. Starting in Kensington Gardens, we walked south and east to the Serpentine, the lake that snakes its way through Hyde Park. We followed the Serpentine along past Princess Diana's fountain and the Lido – the Serpentine's bathing beach – all the way down to Rotten Row.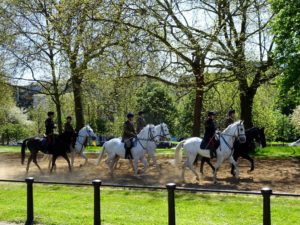 Rotten Row is the ride that runs along the south side of Hyde Park. It's where the Queen's guard cavalry regiments exercise their horses. One team cantered past, kicking up the dust.
From the far corner of Hyde Park we crossed into Green Park and walked on to stand near the front of Buckingham Palace. The Queen was home (the Royal Standard was flying), but she didn't come out to say anything indiscreet to us.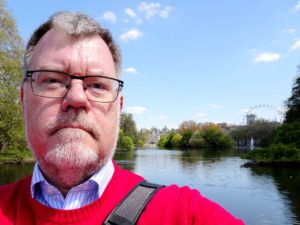 We crossed into St James's Park, paused for selfies on the bridge over the lake and then walked on to Parliament Square.
The whole walk took about 2 hours. (We weren't pushing it.) At Whitehall we caught a number 11 double-decker bus to St Paul's and enjoyed sitting down on the top floor as the bus edged its way through the traffic. When we finally reached St Paul's, we had a sandwiches sitting in the sun on the steps of the Cathedral with all the other tourists.
That wasn't all we did in London, but I think it's enough for this blog entry.
---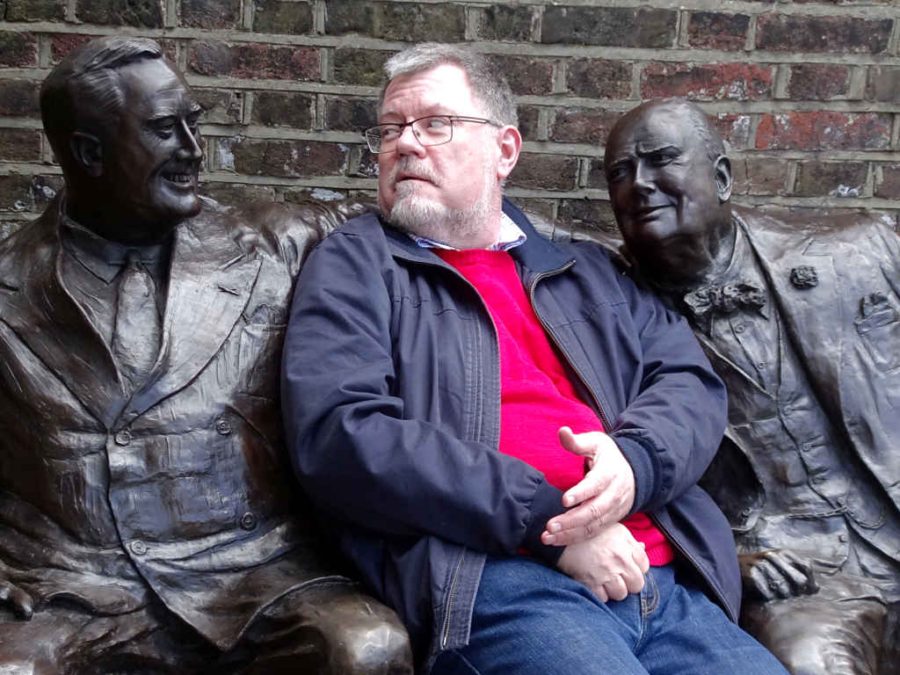 ---
This article was written for the #Blogg52 challenge.
I originally published this article on the separate Stops and Stories website. Transferred here with a little polishing for SEO and a new featured image 22 June 2017.