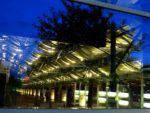 The waiting hall of Gothenburg's Nils Ericson bus terminal at about 10 o'clock at night, seen from outside. I published this originally at GBG365 on 5th August 2014.
There's something very special, I think, about transport terminals of all sorts. Whether they are train stations, airports, bus stations, harbours – they are all of them places where people meet and mix. Where people come and go. Everyone at a terminal is engaged in a journey, engaged in a story. It doesn't matter whether they are starting or ending, travelling, planning or dreaming. This is also true of all the people who work in the terminals, from the administrators to the cleaners. They may not be travelling just now, but they are surely thinking about it.
Even the guy in the cafe, with his cup of coffee, his notepad and his camera. All human experience is here, and he'll witness it, he believes, if he just waits long enough. In the meantime he'll dream about the journeys he might yet take himself, or the ones he made long ago.
In the evenings, when the terminals are almost empty, there is still a touch of restless magic about these buildings. It helps when they have been formed with an eye to beauty as well as functionality, like the Nils Ericson terminal. It was designed by the Norwegian architectural company, Niels Torp Arkitekter and won the annual Salin architectural prize as the best building built in Sweden in 1996.
Here below is another photo I made the same evening – reflections in time.