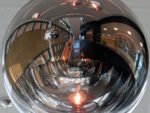 Planet library, this week's photo, shows part of the new wing of Gothenburg City Library reflected in one of the half-mirrored lights hanging over the stairwell. I originally published this on 28th April 2014, a day after I photographed it.
The library stands on one side of Göta Square, the city's cultural centre. (It's near neighbours are the city theatre, concert hall and art museum.) The original building dates from 1967. (I should say original on this site. The library itself can trace its history back to a public library – folkbibliotek – opened in 1861.)
Renovated and re-opened on World Book Day
Between 2012 and 2014 the city carried out a renovation and extension that cost SEK 240 million. That's about €25 million at the present rate of exchange. The library officially re-opened on World Book Day (23rd April), a few days before I took this photo.
Gothenburg is served by a number of really good libraries. The city library has a number of branches out in the different parts of the city – usually attacjhed to schools. But as a consequence of shutting down for the renovation, the city opened a number of temporary libraries in available spaces around the centre. These proved so popular that they continue to serve Gothenburgers three years after the main library re-opened.
The new spaces that were added to the city library include a lecture hall and exhibition space, a children's area and a café. The library appears to make very full use of the physical space as well as being active on-line with a website and blog and a presence on Facebook, Instagram etc. Towards to end of GBG365 my daily postings included a number of photos from and around the new library buildings.
There's no English language Wikipedia page for the library, which is a bit of a surprise to me. However, here's the Swedish language entry.