To cut to the chase, this is all about a scriptwriting course with Janet van Eeden that I've been following since last November
When the path you're walking on doesn't seem to be getting where you want it to, it seems sensible to try different path. Last October, I started looking for something to do that involved creative writing but was not my historical novel. By chance I saw an advertisement on Twitter that one of my Twitter friends, Janet van Eeden, had posted. It read: "Master the art of screenwriting: Cut to the Chase: Scriptwriting for Beginners." Why not? I thought.
Janet is a scriptwriter and playwright, journalist and lecturer in Durban in South Africa. Among other things, she is the author of A Shot at the Big Time. This is an award-winning short film that she produced after a successful crowdfunding campaign. She is currently involved in another campaign to finance and produce a feature length film version. Janet teaches at AFDA Durban, but the online course is a very reasonably priced one-to-one interest course. It doesn't lead to any qualifications, but gives a practical introduction to scriptwriting for complete beginners – as it says on the label.
It's a nine module course which rolls on at a speed to suit the participants. I started in November last year and have just received the material for Module Four. The course gives four things. An introduction to scriptwriting theory (which includes story creation and character creation – things which are useful to anybody trying to write creatively in any field of fiction). An opportunity to view (again) some great films and analyse them to see how they work. Encouragement to write a film script from the initial concept to (what I hope will be) a satisfactory completed version that can be submitted to a film production company or a film director.
The fourth thing, of course, is that it gives a personal contact with Janet. She is not only very competent, but comes across also as a very nice person.
Module Three, just completed, took me into the three act structure that films follow or bend to their own ends. I wrote an analysis of Alfred Hitchcock's Rear Window (which very strictly follows the three act structure). Then I looked at Batman Begins and Pulp Fiction (which both follow the structure quite faithfully despite not appearing to do so). And finally I visited American Beauty, which turns out to play fast and loose with the structure (though it is there if you look).
My own script now has a fairly decent structure for Act One but the bulk of it is still vague. I decided I need to get away from historical fiction and so chose to write a contemporary story. Janet's initial exercise was to write a monologue as spoken by a newly invented character and find a story in that. I enjoyed the exercise so much that I may have gone a little overboard. I've now written four other monologues for four other characters in the same story. (One ran to 5000+ words.) They each have different perspectives on the events that the first character described.
The story – script – is set in my imaginary Aeyland archipelago, which occupies a space in the North Sea roughly where the Dogger Bank lies the real world. I created Aeyland about four years ago, but the story I'm writing now is new and most of the characters also. It's a lot of fun, and Janet seems pleased with my progress. (Though she does occasionally wonder if I'm really writing a novel rather than a film script. This makes me think that I'm probably overdoing things.) But it doesn't matter; if at the end of everything I have a film script and a novel, I won't complain. (I also seem to have a spin-off short story in the works as well.)
I've been meaning to write this up for a month or more, but other considerations – Christmas, the New Year, private life and the NYC Midnight Short Story Challenge, (not to mention all the time spent analysing films for the course) – have got in the way. Anyway, here we are at last. And having written this, it will feel easier to write updates as the course continues.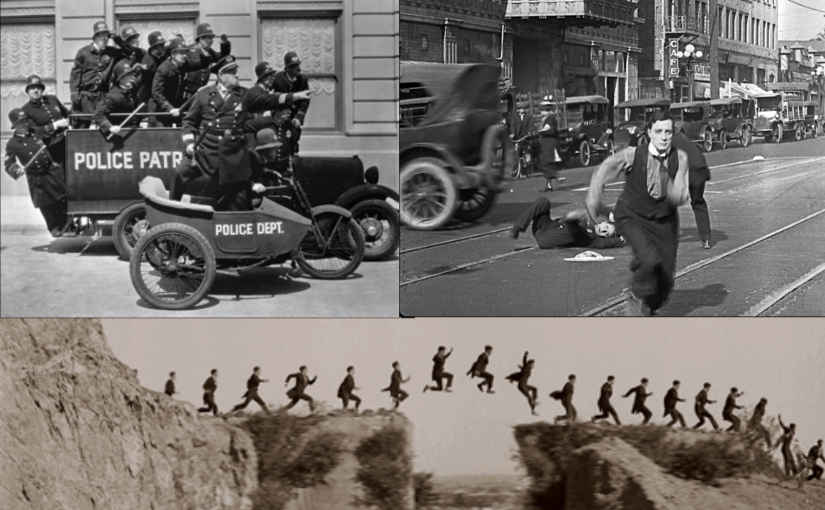 The illustration shows cut to the chase sequences from silent movies (from various places on-line). Top left is the Keystone Cops, top right is Buster Keaton, bottom is (I think) Harold Lloyd.
---
Originally published on the separate At the Quill website. Revised for SEO aand copied to TheSupercargo main website 31 Jan 2017.