For techincal reasons beyond my ability to comprehend, I can't post the whole picture in the same post as the details. So, here are the poem and picture one more time.
Together in Cordoba – 2008

The light like
honey-fire
and the night warm-scented

In the Cathedral-Mosque
walking among the columns,
together
among the ancient columns
like palm stems
under arches
like palm fronds
and the windows of stone-lace

In the golden light before the door
the young couple
Greeting? Parting?
They clung to one another.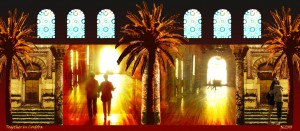 Back to the main entry for this: Click here!