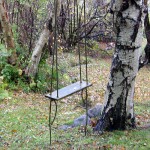 The book was stuck in the mud, I was still feeling sorry for myself after a bout with the flu and suspicious the germs were coming back for another round, and my good lady wife was determined to give the flat a major dusting.
"Why don't you go out to the cottage?"
Why not? The cottage is actually owned by my sister-in-law, but it's been my wife's family's seaside retreat for decades. Mostly used in the summer, though I've had writing retreats there before when the snow has been piled high. Now it was cold and raw and rainy.
I packed my (non-Internet connected) laptop, a change of clothes, my sleeping-bag, some food and set off.
So that's where I've been, with no Internet, no TV or radio, no other people. Just the sound of the sea breaking on the beach, the rain on the roof and the wind in the trees. Me, a computer, two electric heaters and a disturbingly large number of dead woodlice.
The afternoon after I arrived and early on the morning of the second, I took the camera and went for a couple of walks in the rain. Otherwise I worked. Wrote about 3500 words, so I was pleased.
The pictures were not terribly good. Not really enough light and the rain kept spotting the lense, but I think they'll do at this resolution. I liked especially the blue light in earliest of the early morning pictures. I hope you do too!