I sat up till after midnight on Friday sketching out a front cover for another putative book. This is one I've only been thinking about for a couple or three weeks. (A tip of the hat to my fellow #Blogg52-er Eva Ullerud.) But Adventures in Crowd Funding seems like a good idea.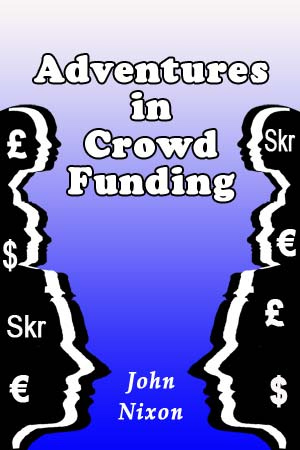 At the moment it seems like a good idea.
(In three months, I'm sure I'll be wondering whatever possessed me to start a second self-publishing project while still working on my first.)
The Logic of Adventures in Crowd Funding
The logic is this. In the process of crowd funding My Gothenburg Days/Dagar I mitt Göteborg I am learning a great deal about crowd funding and the campaigning that goes with it. I am, in effect, marketing my book before it has been printed and published. Quite a lot of people have expressed an interest in knowing more about what I'm doing and how I'm doing it. There doesn't seem to be a road-map. (Though having said that, I'm now expecting people to bombard me with titles of other books on the subject.)
Howsomever, this is my journey and my adventure and it doesn't seem unreasonable to document it.
I'm now going to be launching the campaign to fund My Gothenburg Days at the Gothenburg Book Fair. I'm going to be displaying my wares at the stall run by Egenutgivarna, the Swedish Indie Authors' Association. For this occasion, I was preparing a text about myself and My Gothenburg Days. This for a brochure, and to loop as two slides in a longer slideshow on screen at Egenutgivarna's stand. No matter how I worked on it, I couldn't cut down sufficiently the number of words I felt I needed. Then I realised I was trying to say something both about the projected photo book and about the crowd funding process.
Swedish text
The solution, I decided was to include a third slide, but that would mean a second book. Thus was Adventures in Crowd Funding born. I'm not quite sure what it will have in it yet to be honest. I'm thinking, a combination of little stories about what I'm doing and discovering (hopefully amusing) and some useful checklists and "things to think about". (That is to say – things I wish I'd thought about for longer than I did before I got myself into this.) Perhaps also some interviews. I'm thinking to make it only as an e-book – and at the moment I think it'll only be in English. Because trying to write in Swedish would guarantee 1) that it never gets written or 2) that – if written – it never gets read.
Ah! Swedish, my Achilles heel!
My short Swedish language texts for the Egenutgivarna's brochure and slideshow have been passed by my Swedish editor. (Mrs SC.) The first version I produced with the help of Herr Google. This caused her first to hide her face in her hands and then to slowly lower her head onto the kitchen table where it lay for a while cradled in her palms. It wasn't quite the reaction I'd been hoping for.
The new version has been passed as "still a bit odd, but it'll do".
Cover picture
Once I'd got the text the next thing was to find a picture to stand in for a front cover. A slide with just text is a guaranteed turn-off. Almost any picture is better than none, but of course a picture that is actually relevant to the text is even better. (A picture that conveys everything in the text in an impactful and memorable way is best of all – but I am trying teach the perfectionist in me to cultivate an acceptance of the good-enough.)
I tried three times. The result (which you find illustrating this blog entry) is the best I could come up with. It's not perfect, but there's a crowd (of sorts), there's money (kind of), and the title and author text has a (more or less) effective contrast with the background. Good enough – for a late night effort anyway.
So, after last week's dip, here I am sitting back up and feeling hopeful again. (Do you think I'm going to keep it up?)
---
This article was written for the #Blogg52 challeng