Dear friends and visitors
Three months into the year and I'd hoped by now to be setting up this website as an HTTPS secure site (see here). Well, that's not happening just yet. I'm still duplicating content from the separate websites. It takes time. Although I'm averaging a couple of blog entries a day at present, I'm not more than half way there. There are 76 posts At the Quill, 78 at Stops and Stories and 40 or so at Articulations.
As I wrote in February, I'm also revisiting my older posts on TheSupercargo to polish them up and match them with the new theme. I've delt with 120-odd by now, but there are about 250 still to go.
A new kind of tension
It's actually quite interesting to go back and read some of the older posts, both here and on the separate sites. I'm pleased by the way some of them have aged – I mean not aged. Just this morning I duplicated my 2014 post about hay fever from At the Quill. I think it holds up pretty well. Last week I delt with The Great Dragon Tattoo Giveaway two-parter – one of my earliest Blogg52 offerings – which again seems still to work. (Though if I were to write it again, I would probably have it as one long article. Here's part two.) In the latter case, revisiting the post I was able to add a footnote updating the info on the Dragon Tattoo publisher, Quercus, and it's founders. A couple of weeks back I also duplicated The Tiger of Lemonnier from Stops and Stories. I re-edited it a little and improved some of the illustrations. I'm still pleased with it, though unfortunately the Soundcloud recording no longer seems to work.
At present neither of the categories At the Quill and Stops and Stories appear in the front page menu. They will, eventually. But if you follow the links under each of the post summaries on my New page – or the links given here – you will be able to scroll down through all the posts in both categories from the newest to oldest. You may see something you like. If you open one of the full articles on a PC or tablet (landscape), you'll also see a few of the more recent items under each category in the bordering column. To the left under At the Quill, to the right under Stops and Stories. (In a smartphone, or a tablet in the portrait orientation, the columns ought to appear below the article.)
Redneck agenda
For those of you working with WordPress, the lists of recent posts are provided by a new plug-in called Recent Posts Shortcode & Widget. I think it's rather elegant. At the moment it's also supplying the links at the foot of all the pages, but that may change as I figure out what else I want to have there. In related news, I've also started using another plug-in called One Click Close Comments that allows me to selectively open and close comments in articles all the way back. For example, I've re-opened comments on the older posts mentioned above, and I'll keep them open for a couple of weeks.
One thing I haven't done yet is to copy the older comments across from the separate sites. That task was waiting on my finding One Click Close Comments. Now I've got it, copying them across is now another but of housekeeping I need to get on with.
Age of hysteria
The website theme I'm using, GeneratePress (which I'm still tailoring to my needs), calls for wide, shallow featured images for each articles. Many of the older blog posts especially on TheSupercargo don't have featured images at all, so I am also creating them as part of my refurbishing. I'm quite pleased with the pictures I'm producing, so I'm planning a future post – perhaps a series of posts – presenting featured images in a gallery. One should come up this week.
Although there's been a break in the sequence of Wednesday blogs for a couple of weeks now, I have managed to keep up the Photo of the Week posts on Fridays. I'm back home in Gothenburg at the present which means I have access to the original photos from GBG365. I've taken the opportunity to replace all the Photo of the Week pictures published since January with higher density, crisper jpegs (1920×1440 at 96dpi). I hope to be able to keep that up now through to the end of the year.
Dreams of tomorrow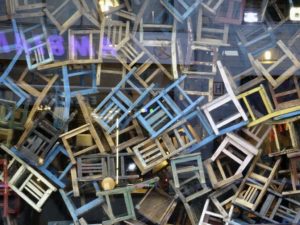 The reason I'm back home is because Mrs SC and I are having our kitchen remodeled. I'm home to oversee the work – and I'm camping out in the flat while it's going on. The place looks and feels like a building site and probably will continue to do so for a month. Still, it's an opportunity to focus on one or two tasks. Not just remodelling the website. I have some translating and writing jobs to do – and the annual pleasure that is my tax declaration.
I'm also still trying out social networks and I'm going to be posting about that soon. In the meantime I've set myself the goal of publishing a Gothenburg photo a day on Instagram, Twitter and Ello. Check them out!
Calling out
So that's the state of play now, at the beginning of April. I'll be back in a month or so to report on new developments.
Cheerio for now!
This time I'm tipping my hat to Green Day for the not very appropriate subheadings drawn from "American Idiot". And here's a video I've been enjoying recently – a version of the same by Robyn Adele Andersson and Postmodern Jukebox.