The Comic Strip Festival in Brussels has become an annual event that attracts comic fans from across at least the Francophone world.
Mysteries revealed
If you hang around long enough, mysteries will be revealed. Apparently.
Back in the spring I visited the Atomium here in Brussels (and wrote in May about the time-slip I experienced there). Entering the Atomium building I was accosted by a mascot and a photographer and paid my €7 to be able to share this photo. I wrote after: The mascot doesn't appear anywhere on the Atomium web site, so I'm guessing it was all in aid of advertising something else – but I have no idea what.
Spirou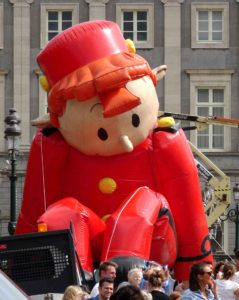 Well, now I think the mascot was supposed to be Spirou. Spirou is a Belgian comic strip character and protagonist in the comic strip series Spirou et Fantasio… He also serves as the mascot of the Belgian comic strip magazine Spirou.
OK, I know this because I've just looked Spirou up on Wikipedia. But I was prompted to look him up by meeting him in various guises all over the place at the weekend.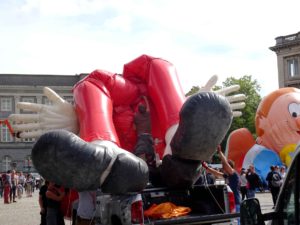 Spirou was big at the Brussels Comic Strip Festival. I'm not just talking about the Spirou-shaped balloon whose crotch the young man is groping in the photo. There was a whole section in one of the festival tents dedicated to this intrepid bellhop-come-boy-reporter. Every other person seemed to be wearing Spirou pill-box hats.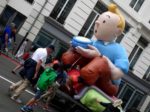 (And I've just gone through all my photos and found not one to back up that last statement. Not one!)
Mind you, I'm still no wiser about what Spirou was advertising at the Atomium in May.
Fête de la BD/Stripfeest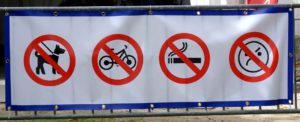 The Fête de la BD/Stripfeest as the Comic Strip Festival is called locally is pretty big. I don't mean it can hold a candle to Comic-Con in the USA (judging by all I've seen on YouTube), but in Brussels, it's an event. It spreads over the whole weekend, it occupies the big park opposite the royal palace, it attracts comic fans from across at least the Francophone world. And on the Sunday a parade of inflatable characters winds through the city to the sound of walking bands.
For all these reasons it seemed appropriate to take myself and my camera off to the park on Sunday.
Inflation problems
According to the programme I found on-line, the parade was supposed to leave the palace courtyard at 2pm. When I arrived at 1:45, though, it was obvious some of the characters were suffering inflation problems.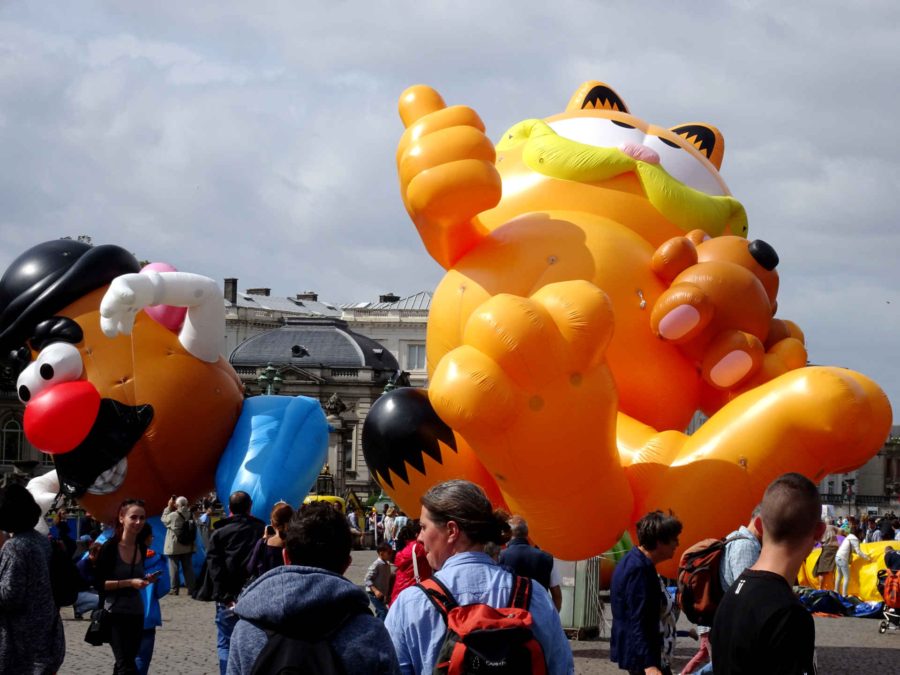 Garfield lay on his back and Le Chat was face down, levitating a metre over the cobbles. A gusty wind wasn't helping.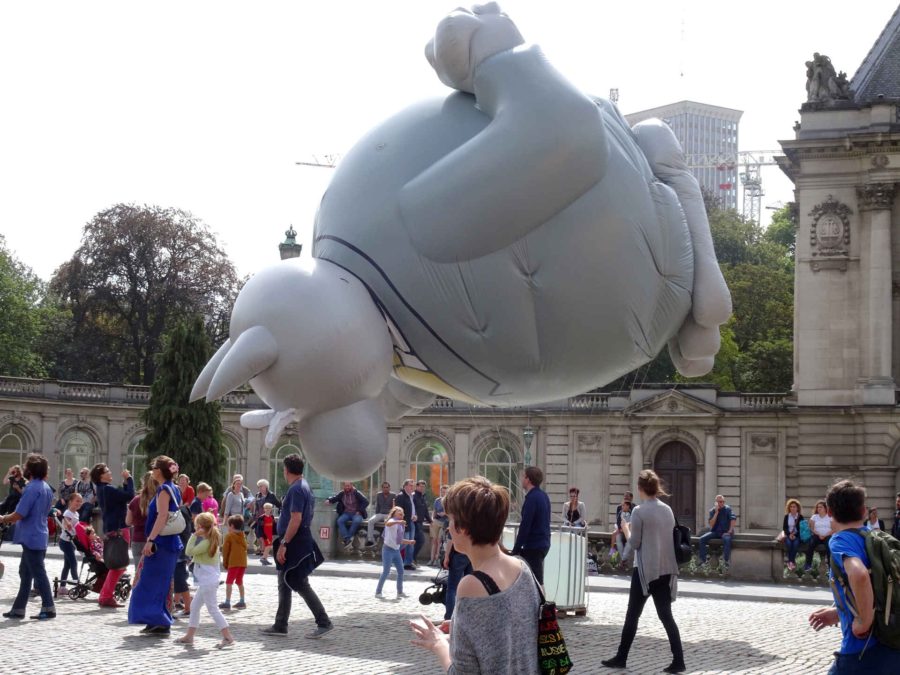 I'd seen ads for volunteers to help manhandle the balloons through the streets and I suppose most of the inflation teams were also volunteers. I could have waded in to help, but, nah. They would probably manage better without my interference.
I think these soldiers below would have liked to help out too. (Sadly, we've become all too familiar with scenes like this over the last few months.)
In the festival ground
So I went for a walk through the festival. Four long tents occupying avenues through the park, each filled with stalls dedicated to cartoons. You could buy vintage cartoons and new; vintage "merchandise" and new.
Or you could meet cartoonists and stand in line for an autograph. Or join a master class.
You might meet characters in costume for a photo op.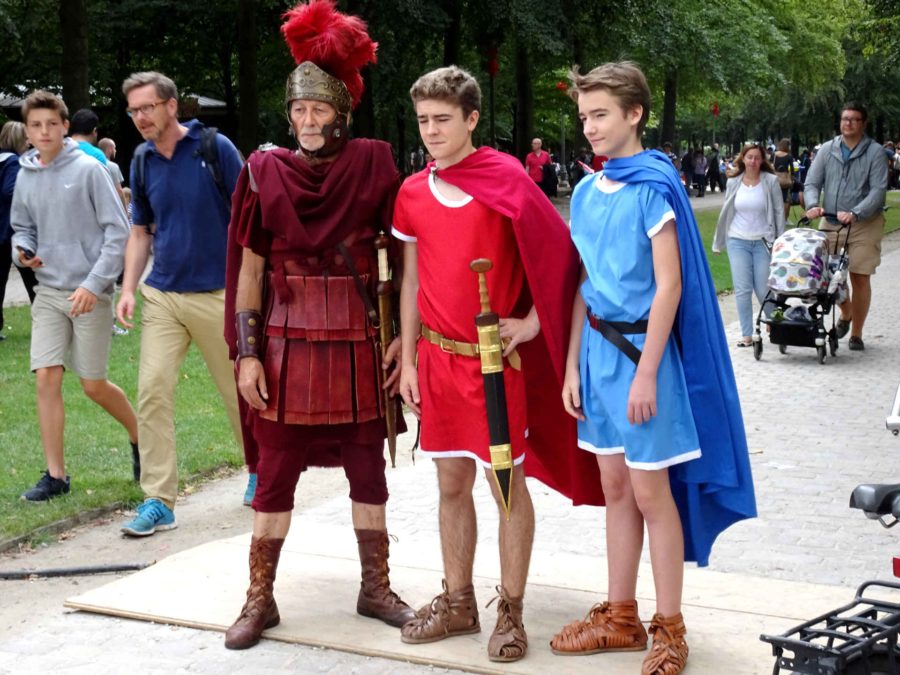 (I think that's Alix in the middle with Julius Caesar and Alix's sidekick Enak from The Adventures of Alix.)
And you could read – read – read – read…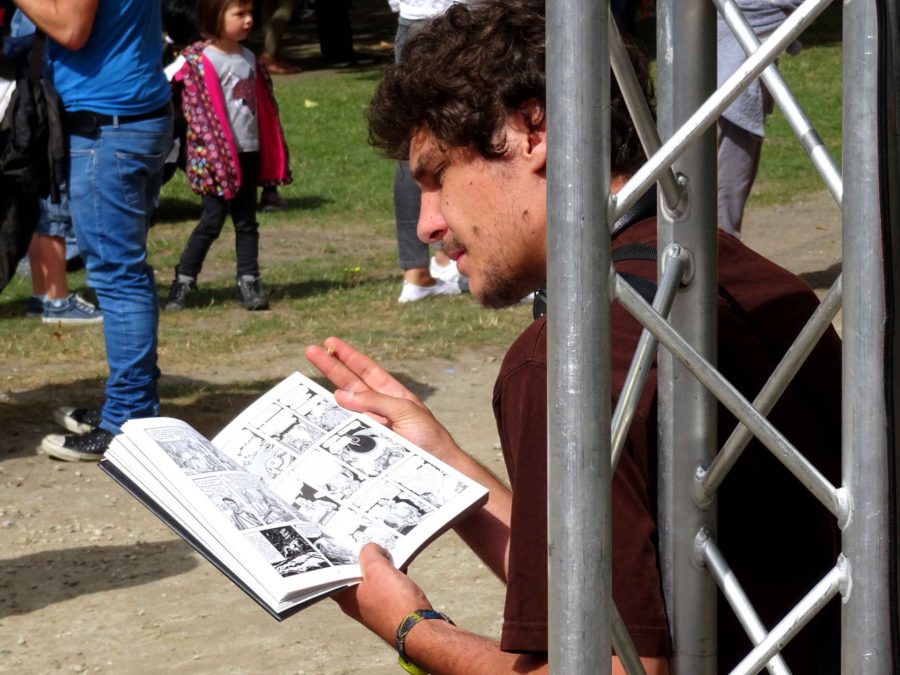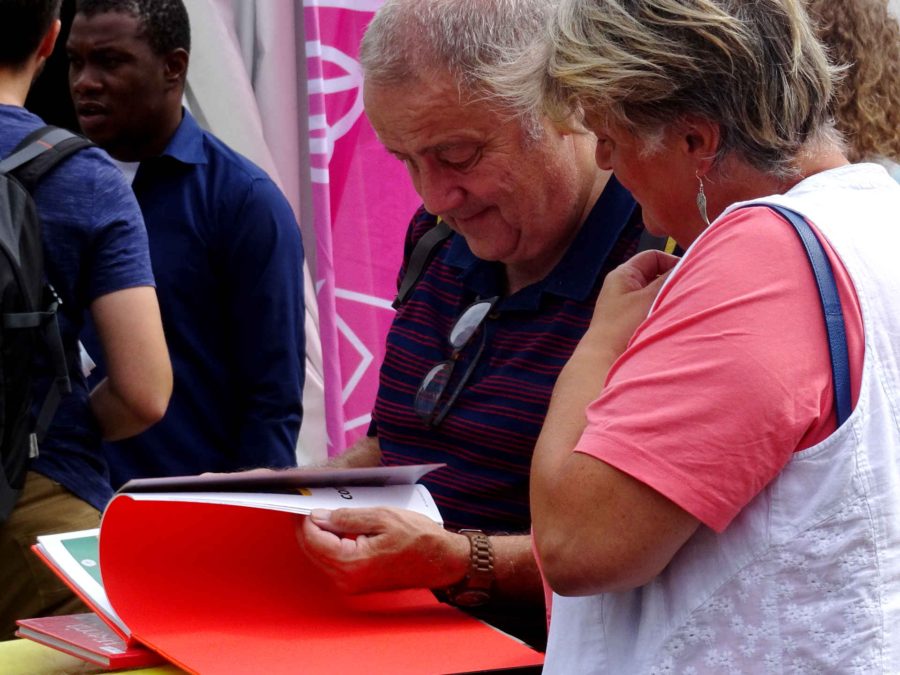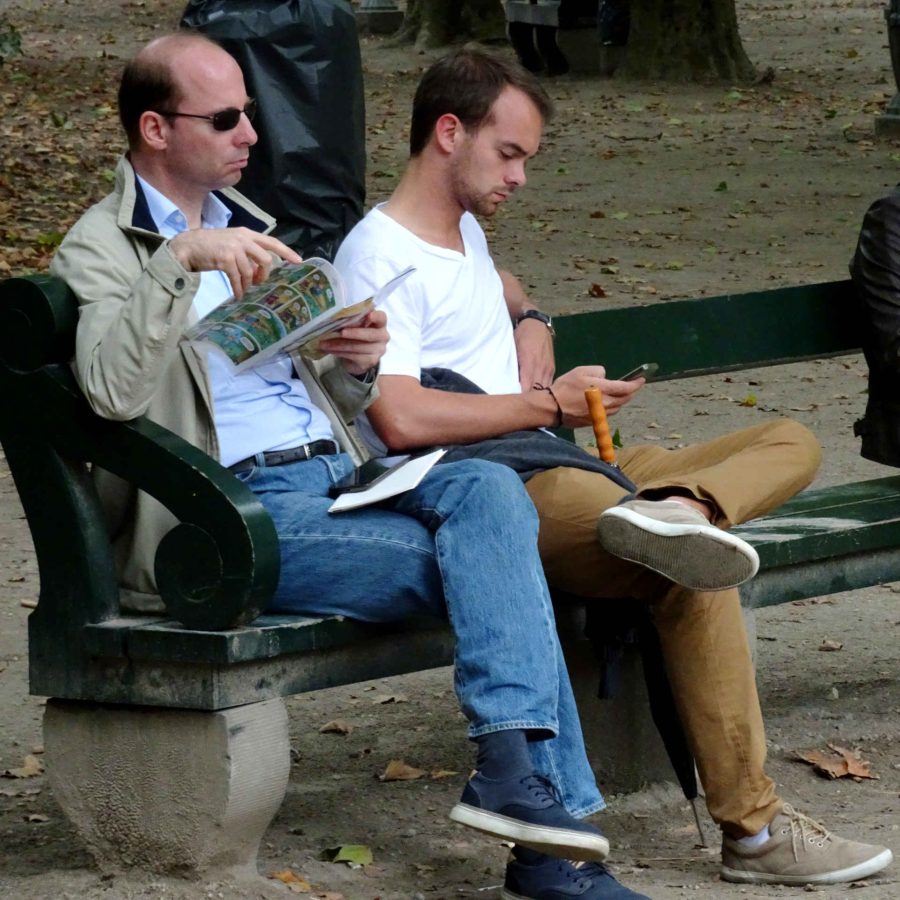 I don't really know what was going on below here – although at a wild guess it had something to do with Marvel Comics.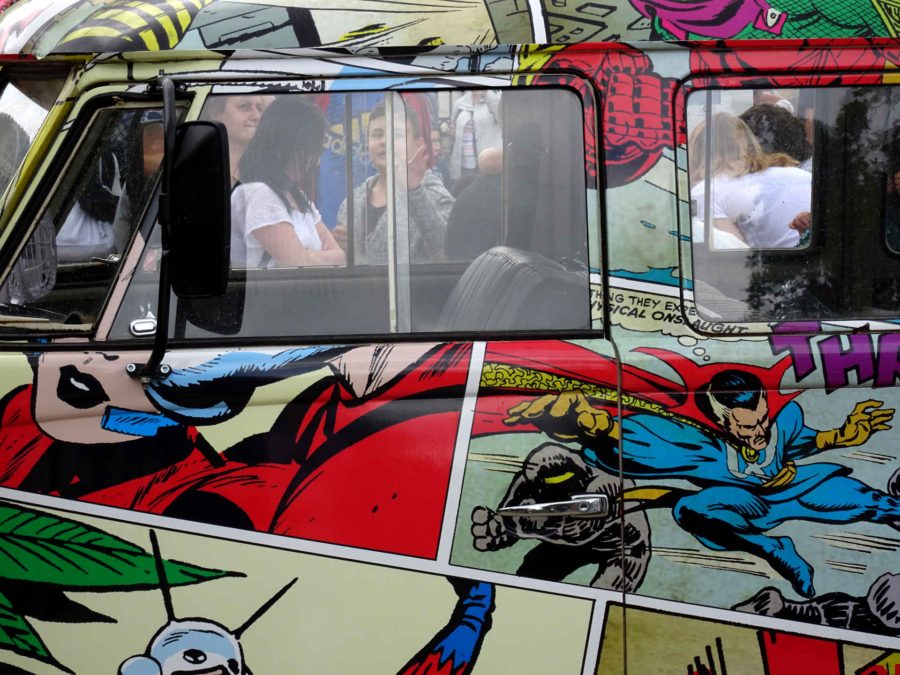 Absent friends
There were noticeable absences. Apart from the van above (if it really was from Marvel), almost nothing from the world of English comics. (Nothing till the parade anyway.) Nothing obviously from Japan or South Korea either. I came away with the feeling of having seen a world that was at once familiar but alien. Which is kind of what you want from a festival that predominantly celebrates fantasy and science fiction. But it's kind of disturbing too.
I wonder if French speakers get the same frisson visiting English language conventions.
The Comic Strip Band
The photographer in me was also a bit disappointed that there were so few people in costume. Cosplay is such an eye-catching feature of Anglophone events nowadays. Fortunately there was this band of pirates. They played first to keep people's spirits up at inflation square, and then walked in the parade.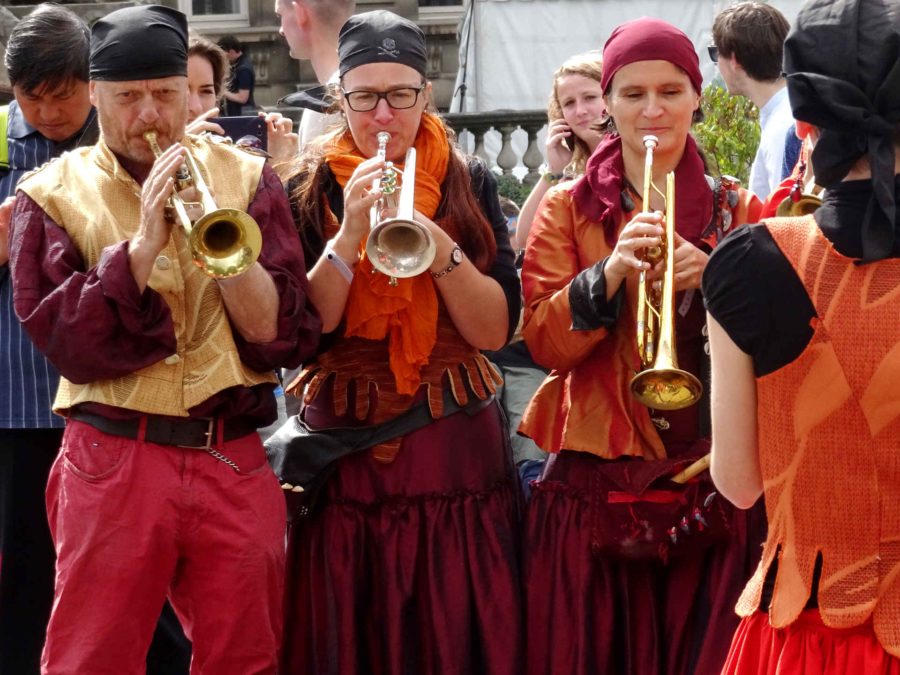 At last the parade got under way, and finally here were a few familiar faces. From Star Wars: BB-8,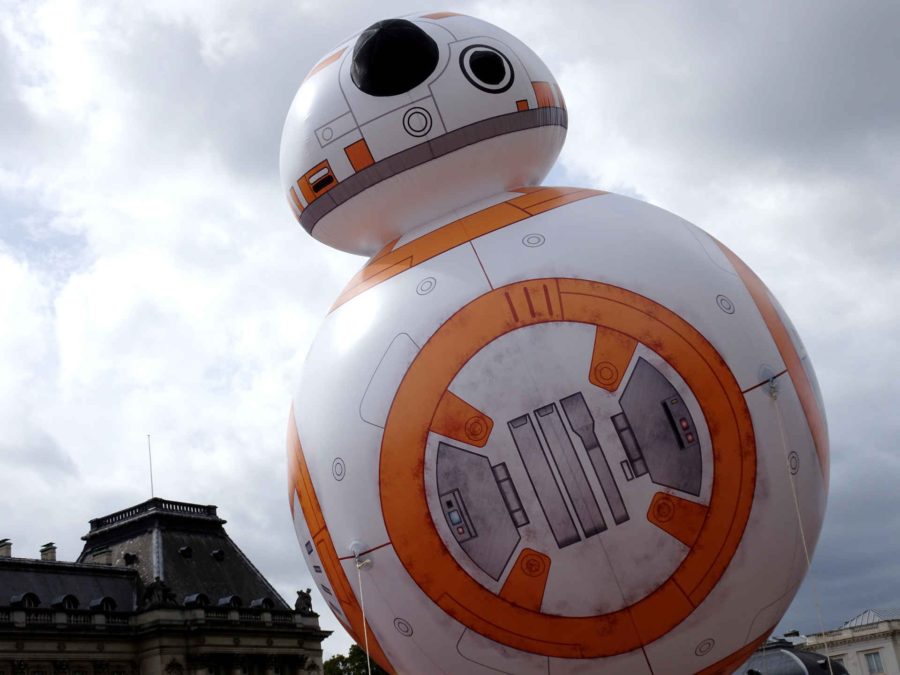 Rey,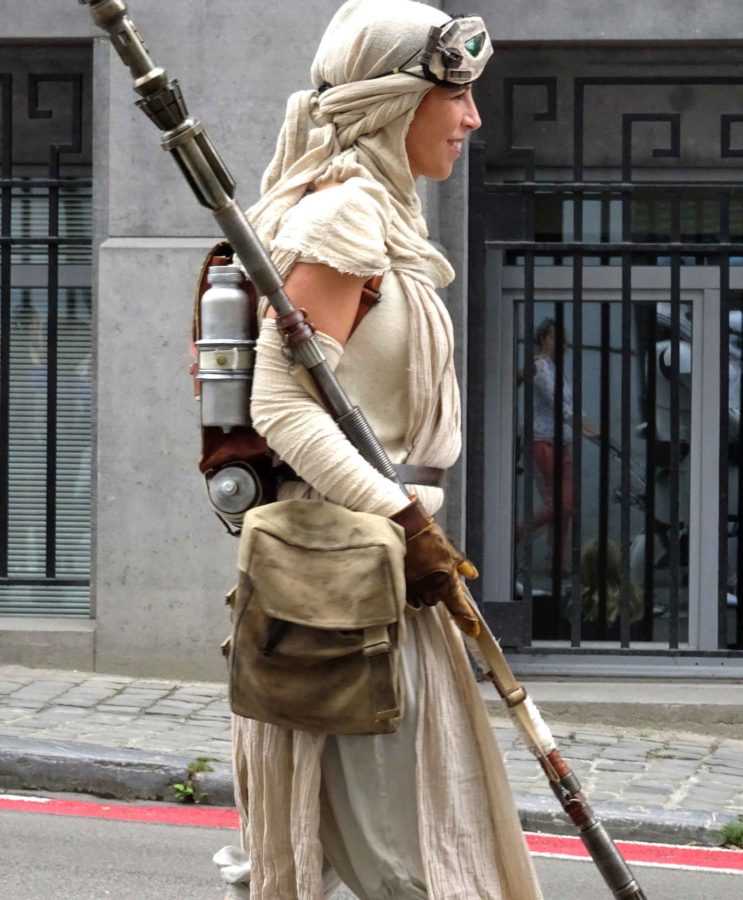 … and Darth Vader.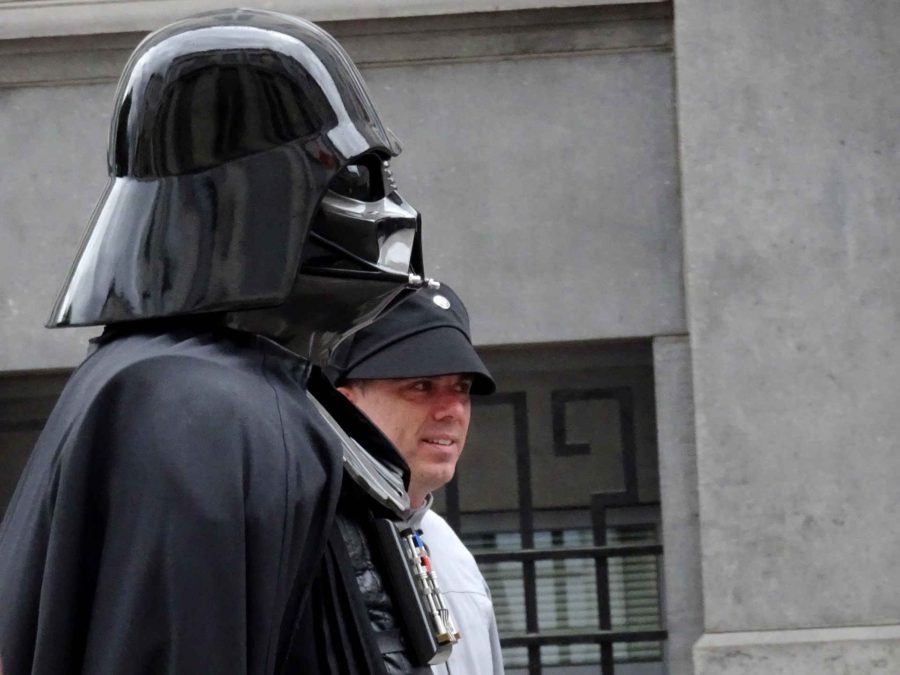 I think Darth Vader is a little like Father Christmas. It's amazing how he can get around and be at so many events in so many places all over the world. (And the galaxy.) Not a lot like Father Christmas, of course. Just a little.
And look below here, from Tintin – Thomson and Thompson.
There was a real problem getting the balloon characters out of the park and across the road into town. The electrified tram lines were a serious barrier.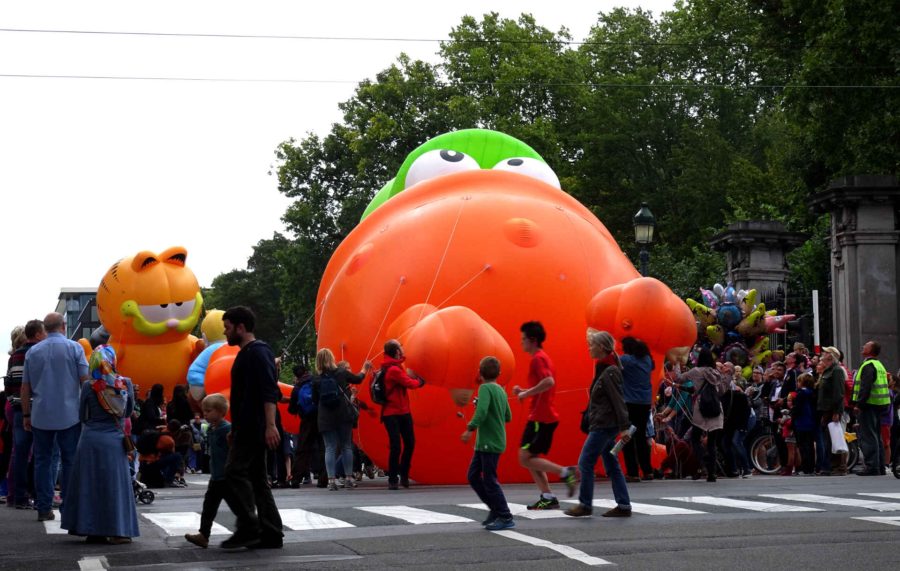 But once their wranglers had wrestled them down and under, the parade could proceed.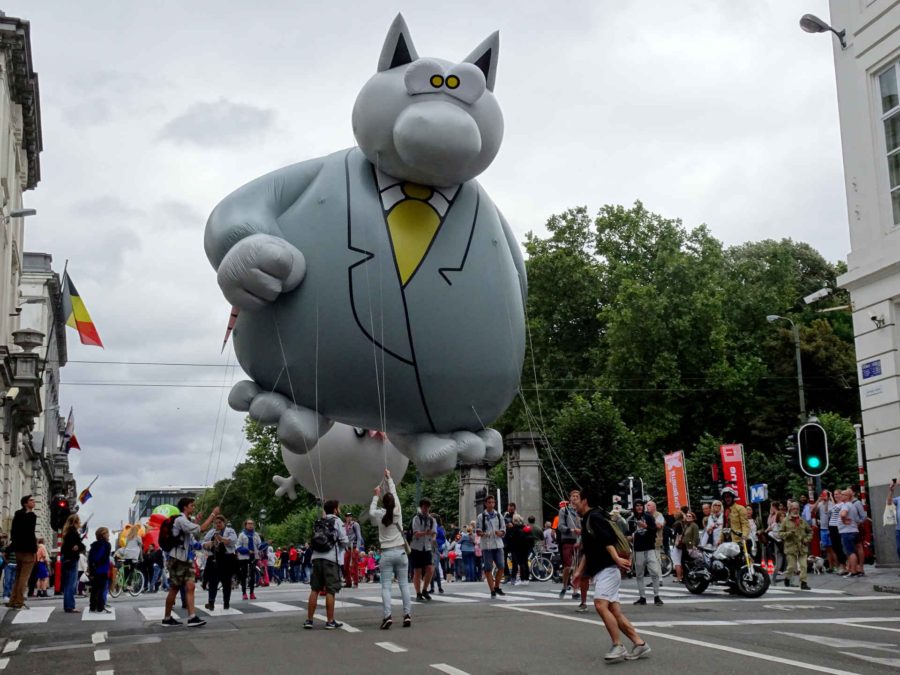 And I think the wranglers felt a real sense of achievement.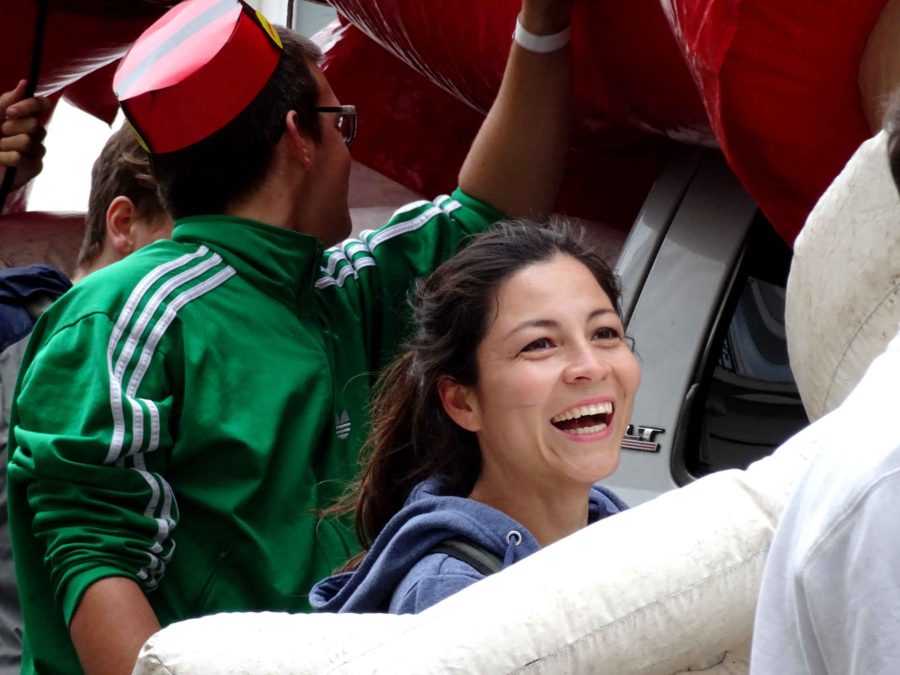 Ah! Look! That guy to the left above is wearing a Spirou pill-box hat! You see, not fibbing.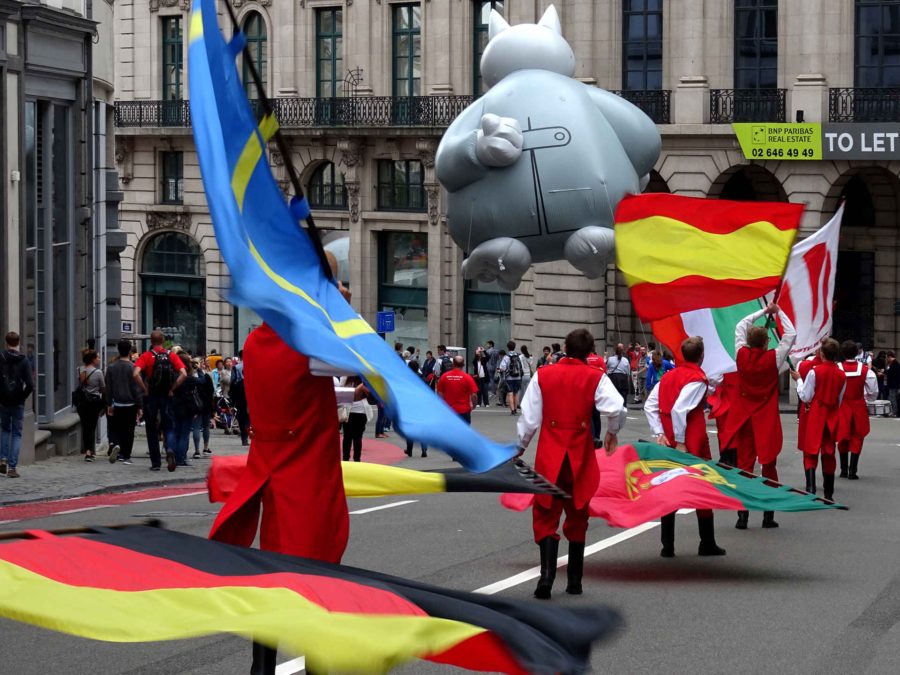 ---
I wrote this entry for the #Blogg52 challenge.
Originally published on the separate Stops and Stories website. Transferred her 21-23 February 2017.