Erasmus House in Anderlecht: a guided tour of the house gives an introduction to Erasmus of Rotterdam – Renaissance scholar, Christian humanist, key figure in the pre-Reformation – and kicks up some questionable facts
Chère Madame le guide,
I want to thank you for your recent guided tour of the Erasmus House and Gardens in Anderlecht. It's an interesting building and a wittily and appropriately designed garden. I agree the municipality of Anderlecht seems to be over-reaching itself a tad, calling the place "Erasmus House". After all the great man only stayed there as a guest of the actual owner for five months in 1521. But then, as you explained, Erasmus barely stayed anywhere for very long. He was the quintessential wandering scholar. It's highly appropriate that he has given his name to the EU's student exchange programme.
Erasmus House
Your tour of the House, Madam, was by turns fascinating, confusing and entertaining. (Even if it wasn't your intention to confuse. Nor, perhaps, always your intention to entertain.) At the beginning you repeatedly warned us that we only had an hour and a half for the tour. This was something you seemed resentful about, though you must see it wasn't our fault. But then in your generosity, you ended up giving us nearly three hours of your time.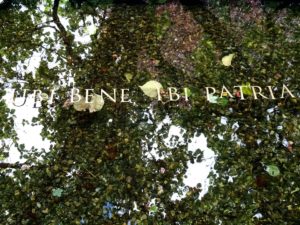 You love your subject, that's clear. Erasmus is your hero, and there was so much you wanted to say about him. Still, I think you could have tried to prioritise a little better. It would have been easier to follow what you were telling us if you had spoken a little more slowly. Perhaps with more pauses between the sentences. And with, dare I say it, just a single thread to your narrative?
The way your story did leap about! Much like Erasmus himself, you travelled from the Netherlands, to Germany, to Italy, to Switzerland, to England and back. From printing and editing you skipped to the attributes of saints, then on to Ancient Greek. You touched on the effects of rye ergot, the eating habits in the Hapsburg Empire, the Salem witch trials and St Elmo's fire…
Interruptions
Standing in the stream of your outpouring, I for one felt at times I was losing my footing. As if I might slip and drown in the current. I wanted to say: Take a breath! But I fear you would have not appreciated my interruption.
Well, of course we both know you don't appreciate interruptions.
Chère Madame, if you don't want to be interrupted, perhaps you shouldn't invite people to ask you questions? To invite questions is to invite dialogue. It is possible to talk about your subject while answering questions, but only if you're confident of your material. And you always have to be open to the idea that you may be wrong. If you get caught out in an untruth, learn how to graciously back away from the mistake. Don't insist on being right.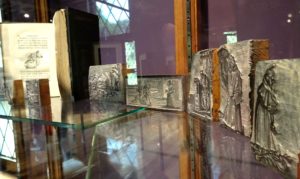 It might also be a good idea, when you start future tours, if you don't inform your audience of your unrivalled expertise in the subject. By all means tell us of the years you have spent studying Erasmus and his times, but don't pooh-pooh all the sources of information you have not seen. And don't imply that the little your audience may know about Erasmus must be gleaned from Wikipedia and so is bound to be wrong. To do so is just a bit rude. And also like a red rag in the face of any historians (even if amateur historians) in the company.
Erasmus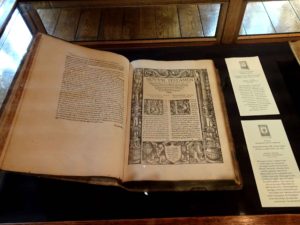 To be fair, I think you were generally very accurate about Erasmus himself. Though I don't think you ought to be repeating the story that Erasmus was really baptised as Geert. That seems to be a myth. Erasmus's Dutch Wikipedia page says it's a legend from the 17th century. Now I know how little you think Wikipedia is worth, but the electronic debunking references a (printed) essay by Hans Trapman. He's a professor at the Erasmus Centre for Early Modern Studies in Rotterdam. Maybe a reliable source?
Nevertheless, as I say Madame, I think you were pretty accurate about Erasmus the man. My problem was more with the information in your tour that came by-the-by. For example – and I am sorry to labour the point – but the English word pen does not come from the name for a female swan. I don't care what you think you've read somewhere in a printed book.
Pen
The word pen comes from the Latin penna, meaning a feather and as an English word it dates from the 1200s. The names for male and female mute swans – cob and pen – refer to the physical features or the behaviour of the swan. The male's large cob or knob on the top of its beak, the female's practice of penning or holding in her closed wings together over her back. Pen as a name for a female swan (then written penne) dates from the 1500s.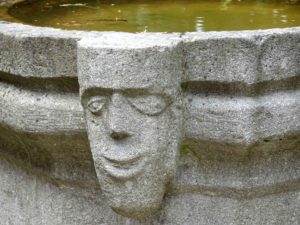 It's not even a remote possibility that female swans were called pennes because people used their feathers as pens. People simply didn't use swan feathers as pens – or not commonly. The standard pen at the time of Erasmus and for hundreds of years before and after was a goose's quill. Those are goose quill pens on display on the writing desk at Erasmus House.
You were kind enough, at the end, to thank us for not interrupting you "very much". For my part – after that first time – I chose to bite my tongue. I did not want the tour to take even longer. (Mrs SC standing on my toe whenever she saw me flinch at one of your "facts" may have helped.)
One thing more
But, here we are, and as I doubt we'll meet again – or even that you will ever read this – let me just get one more thing off my chest.
The Emperor Charles V, Lord of the Netherlands and Duke of Burgundy – and a student of Erasmus – did indeed inherit the Hapsburg jaw. The famous underbite is prominent even in the portrait of him as a young man in Erasmus House. But it really wasn't so pronounced that it made it "too difficult for him to eat". He lived to 58, which doesn't happen if you can't eat. And his deformed jaw wasn't what eventually killed him. He died of malaria.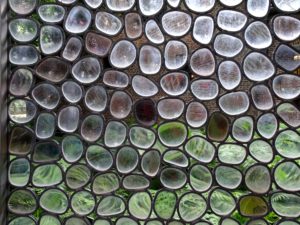 In the Erasmus House garden, I liked several of the sculptures especially perhaps the open gazebo made from hundreds of pairs of eye-glasses. It was a witty reference to Erasmus who artists often drew checking printer's proofs with a pair of eye-glasses. It also played with the Christian humanist concept that each one of us perceives the world through the distorting lens of personal prejudice. All the while we are open to the all-seeing eye of God above, who we can also see from the gazebo – if we choose – simply by looking up.
A distorted image
In the technical and scientific revolution of the 15th and 16th centuries – the period we call the Renaissance and Reformation, Erasmus was a key figure. Think of philosophy, of enquiry, and of the dissemination of knowledge, and sooner or later you must come around to him. Yet we tend to view Erasmus through the distortions of our limited knowledge – and prejudices. Through the lens-walls of our personal gazebos.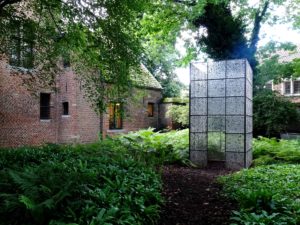 What would Erasmus have made of Wikipedia? I'm sure he would have tried to verify its assertions and correct its errors, but I don't think he would have rejected it out of hand. On the contrary, I think Erasmus would have been delighted by it. I think he'd have embraced the Internet.
Chère Madame, it is very easy, enthused by history, to forget that the people of the past thought of themselves just as we do. As living in the present. As looking to the future. This was a perspective on Erasmus I missed in your otherwise exhaustive, exhausting presentation.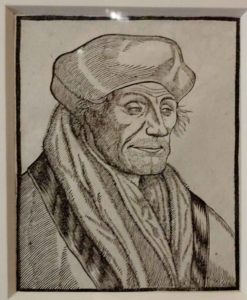 As I've mentioned, despite your warnings about limited time, the tour took nearly three hours. With what relief we applauded you at the end! With what relief we were able finally, without appearing rude, to go our separate ways. Mrs SC and I collapsed at the first bar we came to.
Erasmus was no ascetic. I think he would have approved – perhaps even joined us.
---
Written this entry for the #Blogg52 challenge.
I originally posted this on the separate Stop and Stories website. I moved it here, and edited it for SEO purposes, 20-21 February 2016.