Epiphany was the word of the day on Artwiculate – three days before the Epiphany of January 2011. As good an excuse as any for revisiting St. Callous of Acrimony.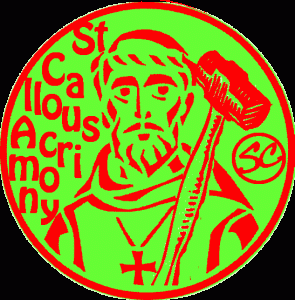 The Epiphany of St Callous
The First Epiphany of St Callous of Acrimony occurred on 3rd January 1573. On this day the saint appeared in a dream to Cosima de' Medici.
Cosima, illegitimate child of Grand Duke Cosimo, is said to have prayed for an epiphany whilst visiting Acrimony at Christmas in 1572.
Cosima inherited the Medici penchant for drastic measures to overcome life's problems. But after the epiphany, she usually blamed the saint for "putting ideas into her head". (Though it is remarkable how a holy epiphany came to inspire events such as the defenestration and subsequent impalement of her first husband. Or the epiphany-commemorative poisoning of her second.)
Occidental Orthodox apologists
Why did St Callous chose 3rd January for his epiphany? This question has exercised the minds of theologians and Occidental Orthodox apologists down the ages.
There are 3 schools of thought.
The School of the Subordinate Epiphany holds that St Callous chose to appear three days before the Catholic Epiphany not to upstage the Messiah.
By contrast, followers of the Superior School argue St Callous chose to appear earlier deliberately to attract attention.
Followers of the School of the Erroneous Epiphany, for their part, claim that St Callous just has an ethereal sense of timing.
---
On 3rd January 2010 Artwiculate gave us Epiphany to play with – three days early. So it seemed a good excuse to resurrect St Callous of Acrimony.
Revisited and revised for spelling and SEO fine-tuning. 28 Jan 2017.