Our first visitor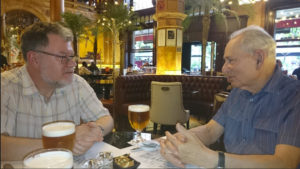 The weekend just gone Mrs SC and I entertained our first visitor. As a matter of fact Michael didn't stay with us but in a hotel in town, but he probably wouldn't have chosen Brussels as a destination if we hadn't been here. Also we spent a good deal of time with him. I think he counts as our first visitor.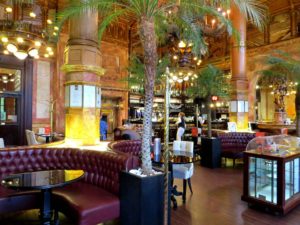 To acquaintances here in Brussels and out on the Internet, I've been describing Michael as "my cousin" but that isn't quite true. He's my mother's cousin, the son of her mother's younger brother. I think that makes us first-cousins-once-removed (and his son is my second cousin). I admit I had to look this up on-line — see here.
Exactly what that would be in Swedish I'm not at all sure. Michael and my mother are kusiner, Michael's son and I are sysslingar, but what is Michael to me? What am I to him? Suggestions, my Swedish speaking friends! 🙂
Anyway, Michael is all of 85, and if I am as spry, clear-headed and adventurous when I'm that age, I'll be very happy. He made his own way here (by train and taxi) and was so curious and active we forgot how old he was. I'm afraid we may have encouraged him to do more than he really ought to have done. However, he seemed happy enough with his visit when he left. Though he was, he said, looking forward to a good rest when he got home.
Café Metropole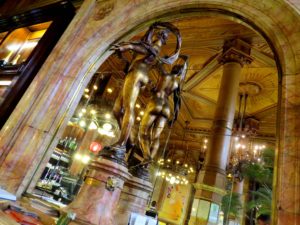 On the Friday when he arrived (26th June) we took him to the Café Metropole. (Where all he photos up to this one and the next were take.) It was recommended by one of Mrs SC's colleagues. It is the cafe/restaurant attached to Hotel Metropole and I'm told is the oldest continuously operating hotel in Brussels. The décor is Art Nouveau, dates from the 1890s and has been lovingly preserved. The food and drink is good and the staff were friendly, helpful and multilingual.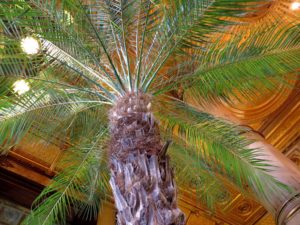 Afterwards, we tried to walk back to Michael's hotel, but that was a step too far. We contented ourselves with a look around the Grand Place before getting a taxi. When we got there, with my eye on the electronic display by his side, I tried to pay the taxi driver €104. The "104" turned out to be tuning frequency for the FM radio station he was listening to. The journey actually cost €5.40. Everybody but me thought this was very funny. (I have just looked it up – the taxi driver's radio station of choice was Bel RTL "the most widely listened-to radio station in the French Community of Belgium" according to Wikipedia.)
van Buuren House and Gardens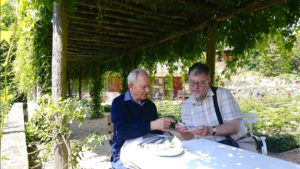 On the Saturday Michael came to us by taxi and we took him to the Van Buuren House and Gardens, our third visit. We know the house quite well by now, but the gardens are ever-changing. We sat in the shade under a vine trellis and talked of many things.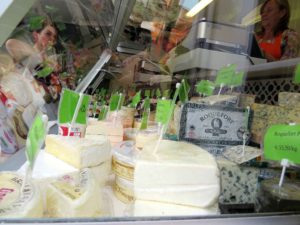 Michael's first visit to Brussels was with his Scout troop in 1946. He was 16. The troop took the ferry to Ostend and walked and camped their way south to the Ardennes. Then they made their way back to Brussels where at last they stayed in the homes of a local Scout troop. They even visited Antwerp before returning home to London.
One of Michael's abiding memories is of the butter, cheese, bread and fresh vegetables that they got to eat in Belgium. In Britain these were still being rationed.
Place Flagey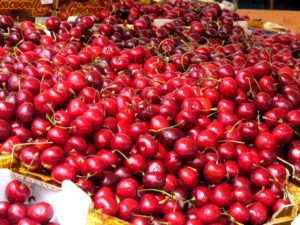 On the Sunday, for a complete change of scene, we took Michael to the open-air market at Place Flagey. Here we walked around the stalls and admired the fruit and vegetables and all the other goods for sale.
The oyster and champagne bar was doing a roaring trade, but we decided that wasn't for us. Instead we had coffee and great wedges of baked cheesecake. Then we took ourselves off to the Café Belga in one corner of Place Flagey for a beer.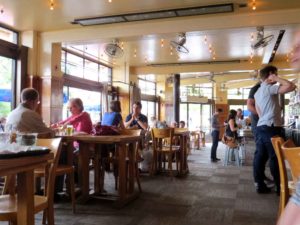 This watering hole is described in the French language Wikipedia as one of the city's "trendy bars" (at least this is how M. Google translates "un des bars branchés de la commune"). I'm sure if we'd known we'd have felt very trendy. It is also in the ground floor of an art deco building from the 1930s that used to house the Belgian National Radio Broadcaster and is still home to a Dutch language commercial station.
We finished the day off — but hopefully didn't finish Michael off — by visiting the European Parliament area and the Park Leopold before an evening meal on Place du Luxembourg.
---
Thanks to Mrs SC for the two photos of Michael and me.
This article was written for the #Blogg52 challenge.
I originally published this article on the separate Stops and Stories website. Transferred here with a little polishing for SEO and a new featured image 10 July 2017.