Last weekend I attended the SWF22 – the Stockholm Writers' Festival 2022. I'm still digesting it, so what follows here is just a series of impressions.
X marks the Six
It was a hot weekend out and about in the Swedish capital. Stockholm can be a beautiful place in the summer, with sunlight on the water, the old buildings and the new ones crowding with trees on all the islands, and all the summer-happy Swedes. (These are the same people as the winter-depressive Swedes, just in the manic phase of their bi-polar spin.)
But it was sufficiently hot for all the SWF22 attendees, I believe, to be cheerful about spending most of the time indoors at the AC'd festival venue. This was Hotel At Six, which mysteriously fails to advertise itself with a name over the front door. There is a big X where you'd expect a hotel name. Do the people running the hotel think "X marks the spot"? I guess they forgot that X is the Roman numeral for 10. I found myself going into the hotel next door – Hotel Hobo – for directions. From the sigh the Hobo receptionist gave me, I wasn't the first.
This was the fifth Stockholm Writers' Festival. The first and second (2018 and 2019) were in-person events. Covid drove the 2020 and 2021 editions on-line. I don't know, but I suspect the committee of volunteer who between them worked thousands of hours to make SWF22 happen live again, were on tenterhooks about whether it would actually take place. But it did. The birthday celebrations for the 5th anniversary, which kicked the Festival off on Friday 12th August, were joyful and probably buoyed up even more by relief.
5 Star Alumni talked a lot
Attendees received a lanyard and Festival ticket to hang around our necks. We could primp this with stick-on ribbons proclaiming "First Time Attender" or, in my case, "Alumni". (I was there at the first Festival in 2018, and again at the 2020 on-line event.) Later on I added "Bought a Book", because I did, and a ribbon with five gold stars just for the heck of it. The tickets handily listed all the break-out activities I'd signed up for. Handily because it was so long since I signed up I'd forgotten what I'd chosen. Turned out I wasn't alone in that.
At the 2018 event, I remember that I spent a lot of time wandering around hoping someone would talk to me. I'd got it into my head that everyone knew everyone else and I was the only outsider. This was at the beginning. After a time I realised most people were in a similar state, but by then the festival was more than half over.
No, I decided, I won't make that mistake this year. I still found it a bit difficult to start talking, but I pushed myself and found, after a bit, my natural tendency to talk too much took over and then I had to monitor myself and shut up to let other people speak. It went fairly well. I don't think I talked over too many people. I hope I didn't.
Networking – not so much
I regret being inadvertently rude about self-publishing to a self-published writer. I have nuanced ideas and complex feelings about self-publishing, but ignored all that for a glib joke. Unfortunate. I was also, at one point, dismissive about romantic formula fiction to someone who turned out – of course – to be a writer of romantic formula fiction. But I think I got through the festival without upsetting too many people.
Last time I went with a pocket full of business cards that I never managed to pass out. This year all those cards turned out to have a best before date long in the past, so I didn't take any this time around. Catherine Pettersson, SWF Founder and President, set everyone the goal of networking with at least two other people at SWF22. Well, I certainly talked to many more than 2 other people, but after the event I realised I'd almost entirely failed to make a note of anyone's name – let alone their e-contacts. So networking? Not so much.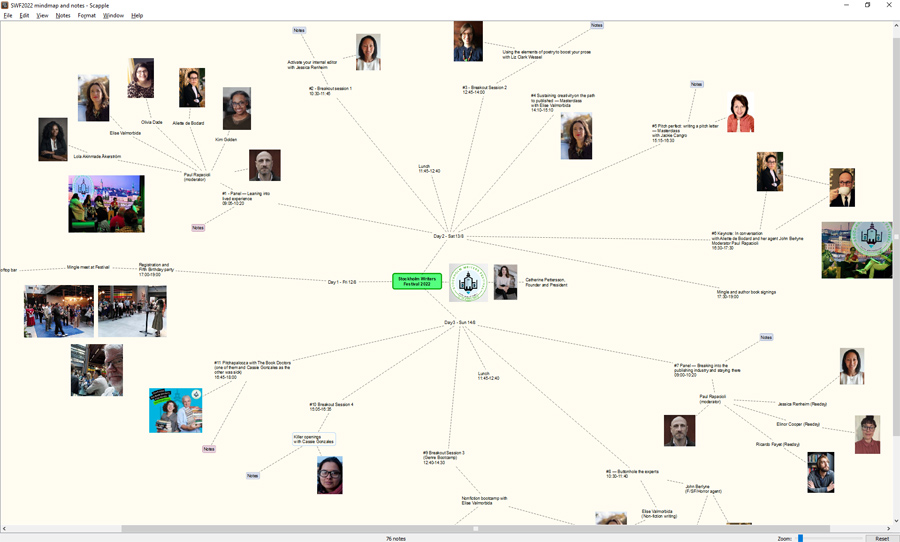 SFW22 Sessions
Setting aside the Anniversary Party, the lunch and fika breaks, and the early evening book signing, I reckon I attended 11 sessions. Panel discussions, Seminars, Masterclasses, the Plenum keynote and the final Pitchapalooza session. I got something out of all these, but a few stand out.
On Day One (Saturday 13th), Liz Clark Wessel's session "Using the elements of poetry to boost your prose" was right up my street creatively. Jackie Cangro's Masterclass on writing a pitch letter was systematic and practical and satisfied the how-I-wish-I-was-better-organised part of my soul. Jessica Renheim's session "Activate your internal editor" was also very practical and applicable. The Keynote interview with F/SF multi-award winner Aliette de Bodard and her agent John Berlyne, conducted by Paul Rapacioli, was a good end to the day.
On Day Two (Sunday 14th) it was fun to talk with John Berlyne from the Zeno literary agency during the "Buttonhole the Experts" session. The "Non-fiction Bootcamp" with Elise Valmorbida was excellent for the side of my brain that wants to me to write memoir. And I really enjoyed Cassie Gonzales' session on "Killer openings", which had us composing enticing openings for our work.
The final session was given over to Pitchapalooza. Basically, a reality show pitch your book at speed. I thought it was terrifying when I saw it on-line in 2020. It wasn't quite so frightening to watch a second time, and knowing I'd not put my name forward to take part, but still. I'm not at all sure I'd have the guts to do it, and was very impressed by those who did. And felt huge sympathy for the people whose nervousness showed the most.
Homeward bound
And finally it was time to take myself back to my hotel and, the following day, to travel home.
Those who follow me on social media (Twitter or Instagram) will have shared some of my mounting awareness, during Monday, that I was taking part in a journey directed by Jacques Tati. If you've ever seen his last feature film, Trafic, you'll have some idea what I mean. One unlikely failure after another with difficulties compounding. But I'm not going to go into it here. I got home in the end, thank goodness. And I'm almost recovered now!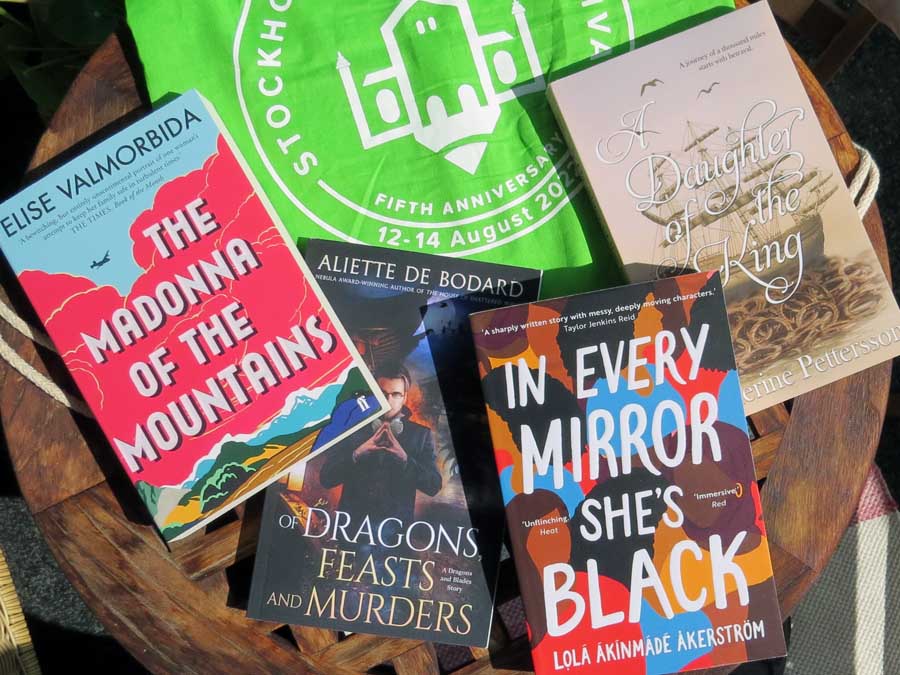 ---
Read more …