This was my fourth week and fourth vlog episode. I'm still learning by doing. This episode takes me east and a little bit south of Brussels to Liege. French-American artist Gwenn Seemel was exhibiting some of her paintings at the Point Culture there. I had recently discovered Gwen on YouTube when she released this video "Beautiful Belgium" about the exhibition. The 26th and 27th November would be the exhibition's final weekend. It seemed too good an opportunity to miss.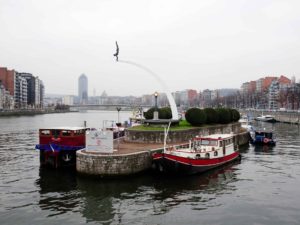 I travelled to Liege and on the way there and back filmed with my camera. The filming was an experiment – a series of experiments as it happened – testing the camera (a Sony Cybershot DSC-HX90), the camera's in-built microphone and my own ability to film myself and talk at the same time. (I am clearly the weakest link.)
It was also an experiment in finding my way around a city I had never before visited, both to the Point Culture and back to the station again via the River Meuse.
---
This is Gwenn Seemel's YouTube Channel: https://www.youtube.com/channel/UCvYApH4Acb2RK3ZLpQPcxIw
This is the French language website for "La Nature contra-nature" of which Gwenn's exhibition was a part: http://www.naturecontrenature.org/
And here is an interview with Gwenn from which I have borrowed one photograph of her with a mural she painted: https://www.jacksonsart.com/blog/2016/03/22/interview-artist-gwenn-seemel/