A little spring song


I'll decorate the cottage, then pick some curly mint
To wind it in my hair, out in the fresh spring air.
Then when the sun is low, down to the plank bridge go.
So green and still the forest, and lovely as the sun sets.

Karin Boye
(En liten vårvisa: Trans. John Nixon, TheSupercargo)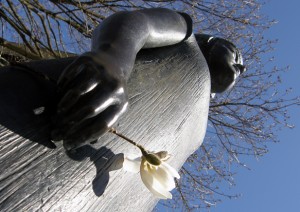 Karin Boye (1900-1941) was a Swedish poet, novelist and Gothenburger (well, she was born here and lived here her first 9 years). She's commemorated by this statue outside the city library. Much loved still, people keep the statue clean and she always seems to be holding a fresh flower. I took this picture on Saturday (24th April 2010).
You can read the original Swedish version of this poem here, visit the English pages of the Karin Boye Society here, and read the Karin Boye Wikipedia page here.
---

Revisited for spelling and a little spring cleaning and SEO polishing 13th April 2017.