A critical mass of Scouts
Brussels has been undergoing what the press are calling a "lockdown". One of the terrorists from the Friday 13th Paris attack – the one who failed to blow himself up – comes from Brussels and had reportedly returned here. Possibly with a suicide belt of explosives still attached to his body. The city filled up with military and the metro and all tram routes that go underground were closed. Public buildings where people congregate (schools, libraries, sports facilities) were shut.
Some workplaces allowed staff to work from home and the authorities encouraged Brussels residents to stay and not congregate in groups. In one announcement I saw and think I translated correctly Scouts were encouraged not to get together in groups of more than 100 individuals. (Why is 100 a critical mass of Scouts? Well, I suppose you have to set a limit somewhere, but, still, I'm puzzled.)
Brussels Lockdown cats meme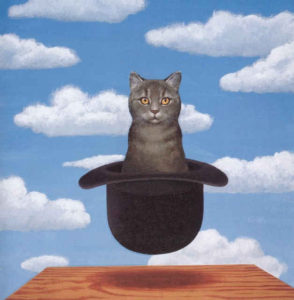 The Belgian authorities also asked people not to share on social media information about the whereabouts of police and military as this might help terrorists. The response was phenomenal with Belgians and others sharing instead a deluge of cat and kitten pictures hashtagged #BrusselsLockdown. The idea (I think) is that any "serious" information with this hashtag would be drowned. Fair enough (and some of the photos and GIFs are very funny), but other hashtags (for example #Brussels) were carrying quite a lot of information undisturbed by cats. Still, if you've not seen them, do take a look. Search on Twitter, Facebook or Google for #BrusselsLockdown or "Brussels Lockdown cats meme".
The object of the military and police hunt, Salah Abdeslam, still hasn't been caught at the time of writing. I'm guessing he is being hunted not only by the military but also by his terrorist masters. Suicide bombers are supposed to commit suicide, not run away with a live bomb vest. A bunch of people said to be terrorists or terrorist sympathisers have been arrested in different Brussels districts. We are being told there was an attack planned that has been thwarted. Hopefully thwarted. Also that there is a further terrorist from Paris on the loose here. Maybe.
A walk through town
A
fter a three days cooped up at home, yesterday morning I decided to take a walk through town just to see what I could see. Foolishly, I didn't take my real camera, but relied on the "camera" built into my tablet. The light was poor and the wind was strong and that's my excuse for the quality of the illustrations this week.
Breakfast at a café at Ma Campagne on the Waterloo Road seemed a good place to start. Not busy, but not by any means empty. Hot chocolate was a good choice this morning as it was a nast chilly day. It wasn't till I was leaving that I realised I was the only person sitting by the window. Everyone else (about 10 other customers) remembered and followed advice to stay away from the windows. I see no point in photographing meals, so no pictures of my steaming hot mug of chocolate. You'll just have to imaging it.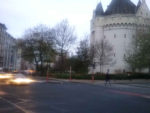 I walked down to Halle Port/Port de Hal, This is the only remaining Brussels city gate from when the old town was surrounded by its medieval wall. From here, I took photos more or less every 150 paces. (Don't worry, I won't subject you to all of them.)
Christmas is coming
Brussels was quiet this morning, not deserted, not by any means, but not its usual bustling self. In particular there were a lot of city workers out and about. I don't mean "city types", but men and women in heavy clothes and bright vests doing essential work like street sweeping and rubbish collection. The people of Brussels clearly expect their rubbish to be taken care of lockdown or no. There was every sign their faith was justified.
The city workers were also busy erecting Christmas trees.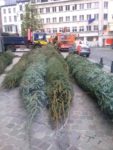 I walked along the Rue de la Chapelle which is usually a pretty busy thoroughfare, but not so much yesterday morning. At Bozar (the Palaise des Beaux-art) – the art centre of Brussels – I crossed downhill and walked to the Central Station. Then through the Agora market to the Grand-Place.
The Agora was the only place I saw any sign of the military. A couple of trucks and handful of soldiers and police. A German news reporter and his cameraman had also found them. They were setting up a shot and recording a report.
Spookily empty
There were very few tourists, so the Grand-Place was spookily empty. At the same time it was busy with people putting up huts for the forthcoming Christmas market. The tree was already up and decorated.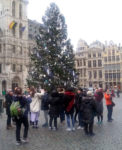 One group of Japanese or Korean tourists appeared while I was there and seemed very happy to have found the market and the tree. They gathered in an excited, laughing, v-signing group for photos and selfies. Generally, though it seemed as though tourists were staying away and many of the tourist shops and restaurants were closed. Those places that were open were rather empty.
In the galleries the Christmas lights were already up and the shop windows decorated, but customers were noticeably absent. The "lockdown" is hurting the tourist trade – if not already, then soon, the longer it drags on. In the meantime, it's certainly easier to take yourself around the centre of Brussels now. Who knows – it might even mean you will experience quicker than usual service if you visit before the crowds come back. (A touch of sarcasm there. Anyone who has ever tried to order something in a Brussels pub or restaurant – or pay – will understand.)
Desolé
Although public transport on the city was in operation above ground, not all the bus lines were running. On Saturday, the first day of the "lockdown", signs at all the bus stops promised that all the bus lines were operating normally. They weren't. But it's a consolation that buses out of service are all Desolé about it. Desolé sounds so much more unhappy than Sorry, don't you think?
---
This article was written for the #Blogg52 challenge.
Most of the cat pictures circulating on Twitter and FB seem to have been ripped off from other sites. The Cat Scouts though is a postcard by Swiss artist Eugene Hertung for the publisher Alfred Mainzer. The cat in a hat is inspired by Belgian surrealist Rene Magritte. The cats at the window seems to be a genuine photo shared on Twitter by Matteo Albania
I originally published this article on the separate Stops and Stories website. Transferred here with a little polishing for SEO and a new featured image 13 November 2017.