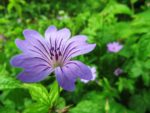 A Midsummer flower – midsommarblomster – in macro to celebrate the northern summer solstice and the Swedish Midsummer holiday. This flower is called the Midsommarblomster in Swedish (= Midsummer flower) because it first blooms here around Midsummer. In English it's the wood geranium – Geranium sylvaticum. Depending on soil acidity the flowers come in various shades and intensities between blue and lilac.
Midsummer
The summer solstice – the longest day of the year – falls in the northern hemisphere around 21st June. The closer to the north pole you are at this time of the year, the more obvious the length of the day is. Above the Arctic Circle the sun doesn't set at all. Gothenburg is about 1000 kilometers south of the Arctic Circle, even so, dusk is followed so quickly by dawn that the night is never really dark. At this time of the year. At the opposite end of the year, of course, everything is reversed and we "enjoy" long nights and short days.
Naturally, Midsummer is a big deal in this part of the world. It's celebrated enthusiastically with all sorts of folk traditions across the north. Here in Sweden, among other things, people dress up in traditional costumes and weave garlands of flowers to wear as crowns. I took the photo of the flower on 21st June 2013 during the annual Midsummer celebrations in Trädgårdsföreningen park. The same day I got permission to take the portrait below of two happy ladies celebrating in traditional style in the park.

Everybody hopes and plans for the weather to be perfect, sunny and warm with no rain. But this is the Swedish west coast and honestly, you never know. We hold our thumbs for good luck but carry an umbrella just in case.