Min käraste morkär, My dearest mother dear (Helena wrote in Swedish), I write with news I hope to send when all the current storms and seas of trouble are passed and I sail on under clear skies. We shall see. At present I am in good health and fair spirits and carry my first child who will be, if God wills, your grandchild. To be sure my spirits rise and fall and my sickness is hardly a pleasure, (so that I truly feel myself out on foreign waters!) but otherwise all is well enough. However, I am no longer at Court and the Queen's favour has been taken from me. My husband Thomas is separated from me, I know not where, under circumstances, I know not what, and I am confined and held in his house in the White Friars, which is the Freedoms of London, just without the walls of that city.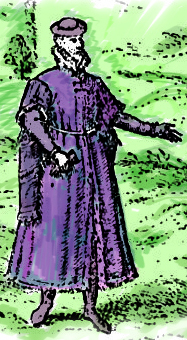 When I wrote before to tell you of my wedding to my new husband, I was not completely truthful. I did not lie to you, mother dear (you raised me better than that) but I did not tell you all. I shall try now so to do. All that I wrote about Thomas, his features and lineaments, his voice and his kindness, his intelligence and his courage, all those things were and remain true. Since the death of my good husband the Marquis, I had been most lonely, though in the midst of so many folk and so much activity around the Queen. Thomas always showed me consideration and friendship. He made me so many small gifts, rarely anything of great value, but always something of much worth to me at the moment, a rose on my name's day, a poem on my eyes, a tippet of the softest lambskin, got up to look like a marten, to wear about my neck when I complained of a draught. He took every opportunity he had to see me and talk with me. He brought me news of home, of Sweden, when he could, going to the seamen in London or Southampton or Yarmouth or Dover wherever he was on the Queen's business, questioning any who had recently sailed in our waters. At banquets and entertainments he kept by my side, and he danced with me. He dances well, mother. His legs are well-shaped and he is athletic and graceful and dancing with him, he can make me fly! He has a fine deep-toned singing voice, too, and when he speaks with me he can make even English sound sweet. Almost as beautiful as Swedish. Oh, he won my heart! He is strong too, and vigorous, he rides for sport as well as for the hunt. (Gentlemen race one another on horses here, it is a new fashion.)
Though he is but the son of a country gentleman, something his enemies tell against him, yet he is also a kinsman of the Queen. His grandmother was a Howard, one of the noblest families in Britain and a cousin of the Queen's grandmother who was also of that family. They say I am too high for him by virtue of my title as Marchioness, though it is mine only by marriage, but I say I too am the child of a country gentleman, though kinswoman to some of the greatest of our noble families, and I recite the names Bååt, Lillie, Bonde and Snakenborg. When she saw that we had a liking for one another, the Queen gave us every encouragement. She saw to it that we sat with one another at table sometimes, or rode beside one another when the Court was on progress. She suggested Thomas to me as a dancing partner and praised us as a couple on the dance floor. She chose to send me to Thomas to carry her particular instructions for him. We believed she smiled on our liking for one another and came to believe she would approve and sanction our marriage.
You should know, Mother dear, that here in England the law is very strict. All who are related to the Queen must have the Queen's permission to marry. I suppose this has always been so, but it has a special significance now as the Queen has chosen (thus far) to be married, as she says herself, with her people. She takes no husband, but lives chaste. The question of who shall succeed her if she has no child of her body to inherit her crown is one that greatly exercises many at the Court and in the country. You may know, one person with good claim is the queen of the Scots, who is held here in the country since she fled from her own people. But this queen of Scots is a follower of the Roman religion and so all true Christians in England fear what would happen were the crown to fall to her. They have still in fresh memory the torments and executions inflicted by the Papists when the country was ruled by Queen Mary, my Lady the Queen's sister. If not the Scottish woman shall inherit, then the crown may go to another of royal blood, but who? The Queen has no close relatives. It may be that any who can claim kinship could become the focus of a faction, and factionalism is something the Queen hates above all else. Recently, just a few years ago, the Duke Norfolk, the leading man in that Howard family, was involved in a plot and a rebellion to wrest the crown from our Queen. The rebellion failed, thanks be to God, and the nobleman rightly lost his head for his treachery.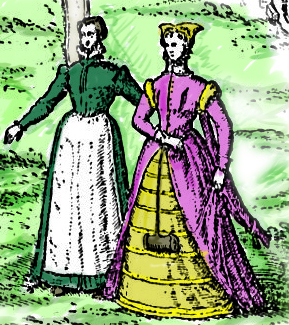 All these high matters of state seem so far from my Thomas and I, yet have we become enmeshed in them. The Queen, who had earlier seemed to us so eager for our union, when she saw that it might truly come about, became colder to us and more distant. Suddenly whatever things we did or said seemed to vex her inordinately. Thomas had asked me to be his wife, and I had accepted, but now we hesitated to go to the Queen for her permission. We did not really fear her refusal, though if she were very angry at something else she might let that anger go out over us. What we feared most was that she would simply put off answering us. This has happened before, on many occasions. Ladies and maids at Court have been told to wait. They have waited and waited until the ardour of their suitors has cooled and the gentlemen have turned elsewhere for solace. You will say, perhaps the Queen is wise, perhaps the men were not serious and revealed themselves in their impatience, and perhaps you will be right, my dear Mother dear. But there have also been times when lovers have plighted their troth and made their vows in all secrecy. Their breach of the law becoming known, they have been punished and exiled from court. But after a time the Queen has forgotten her justified ire, has remembered rather the good services they performed for her before and has become reconciled to their marriage. And they have been reinstated at Court.
To shorten a tedious tale, it is for this we hope. We married, as I described it to you in my earlier letter, (though it was a smaller ceremony and under more privy circumstances that I suggested). The secret came out. The Queen has sent us from Court. I am confined to this house here in London while Thomas is held elsewhere. Our time of exile has lasted nearly a month now as I write and every day I look for a sign from the Court that the Queen remembers me. Every day I pray she will find it in her heart to forgive an act that was committed not to provoke her anger, but out of our love for one another. Every day I hope for news of my Thomas, that he is well and of good cheer. He does not yet know that I carry his child.
Min allra hjärtans käraste morkär, eder hälsa och sundhet och
lycksaliga välfärd … önskar jag av allt mit hjärta gärna eder.

Part of salutation from letter held in
Copenhagen Rigsarkivet: Opsnappede Svenska Brev
Modernised by Gunnar Sjögren & quoted in
Helena Snakenborg (Stockholm 1973)