Right worshipful and most beloved Husband (where you may be), I hope you know it is not my practice to seek to overhear what others are saying, but the fat man standing hands on hips and legs astride in our open gateway was hard to ignore. His voice (much like my father's, now I think on it) was more used to addressing troops on the battlefield or hallooing on a hunt. It may also have been recently lubricated with wine or strong ale.
It was the first time I have seen the man Walter agitated. Clearly, he was not happy to be shouting his business across the courtyard. So, Walter is known as Pardieu! A soldier's name if ever I heard one, though he does not blaspheme in my hearing and I had developed an idea of him as a god-fearing man. Doubtless this eke-name comes from an earlier stage in his life.
I sat here at the window of the bedchamber, overlooking the court, as now, as every morning (as I wrote before). With paper before me and a pen in my hand I was scratching out notes for one of my letters. It was impossible not to transcribe the conversation.
The big man is Bassett. It was all I heard of Walter's side of their talk, and the only word he called out as he hurried across the yard, but his low-voiced example was clearly not enough to damp down his friend's volume.
– On guard duty? Says Bassett. So they got you watching the Deutch woman then. Spanking palfrey, I hear. (It is a kind of complement, I suppose!) Walter says something in his low voice.
– Deutch, Sweyzian, what's the difference? says Bassett. Again a mumble from Walter.
– Riot? Not been one of them in awhile.
– I am keeping my voice down, man! You want me to shout to prove it?
– Yes, saw Tomkin down the way. How I found you. Many men you got then?
– Well, you'll need more than that!
– You keeping her in or keeping others out? Both! You poor sodomite! (It is what he said!)
– How long? (Believe me, I strained to hear the answer to that, but no.) Eventually Walter persuaded Bassett to step out into the lane and disappeared with him. A moment later I saw the man Tomkin take up his place at the gate.
For all that he cannot tell the difference between a German and a Swede, the Bassett man made a good point when he said Walter would need more men to carry out his job properly. I wonder very much what Secretary Walsingham thinks he is about. Or perhaps his hands are shackled. There is a spur of the moment feel to this house arrest, Thomas. The flavour of a hot temper. Separate them! Tell neither where the other is kept. They have sworn to cleave to one another for better or worse, so, show them the worse. And make Gorges pay for his wife's imprisonment. (And here I am again, writing something I cannot let myself send.
No matter, perhaps you will read this at another time.) I fear Master Walsingham is obliged to carry out another's will in this matter of ours. Yet he is a man of strong will himself and Walter admitted our punishment had been planned, and for quite some time. I cannot match these things together.
Did we miscalculate, Thomas? It has been nearly a month since last I saw you, more than two weeks since they brought me down the river. Three long weeks and a half. Twenty-four days. And still I have no word of you or from you. It may be you write daily, as I do. Perchance you find yourself writing things, as I do, that it would be unwise to send. Or perhaps, like me, you have no one to whom you may entrust a letter. Worse, it may be that you have neither paper nor pen, neither light nor ink. I must find some way of sending my letters out. Walter is reluctant to help and Geoffrey Morris, who gives a surface polish of gentility to my imprisonment, is as reliable as the St Bride's weathervanes that point in four different directions whichever way the wind is blowing.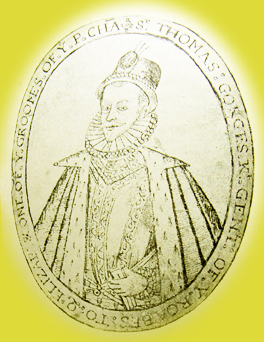 I tell you Thomas, life has settled into a pattern, but at times it seems a pattern without meaning. Oh, I try to see God's Will in it, I try to make sense of it, but it feels very like finding sense in the shapes of the clouds over the rooftops. There is a knight, a ship, a mountainous sunlit island, and that means a quest, a journey to a far foreign land. These shapes, they seem solid and real and invite my eye to explore them, but then the wind blows and they are all changed. The knight becomes a whale, the ship is a maiden spinning, the mountains are swept away, and what does that mean, pray?
There are times, days, when my life feels like the river mist. Was it for this we took our vows? This patterned patternlessness, this phantom life? Was it for this, in my youth, I travelled so far? Endured so much?
No, I shall not dwell on such thoughts. I shall think instead of happier times. I carry our child and I should like her – or him – You will want him to be a boy, I imagine her to be a girl. Is that not strange? Or perhaps it is the most usual thing in the world. I do not know. So, let me say our child. I should like our child to be bathed in joy, not cradled in uncertainty. I pray she – he – shall be born in a happy hour and filled with the light of God's Grace. And so, no more at this time, but may Almighty God have you in His keeping. Written at White Friars this mid-morning the tenth day of October, in the eighteenth year of our Queen's reign.
… for al he cannt tell betw germ an swed y basit sayth
well att walt needth men fr to carie thru is task …

"MSS B14 – Draft of letter" (excerpt)
The Gorges Tomb Manuscript, (Cathedral Library, Salisbury)
Autograph manuscript on parchment, dated 1576(?)
Presumed author: Helena, Marchioness Northampton
---
Links
All the posts on TheSupercargo related to Elin's Story.