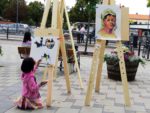 Plein-air means painting in the open air, and this is all going on in the street, so… A form of street art, right?
Public easels and free paint for passers-by on Wieselgrensplatsen, Hisingen on 14th September 2013. A part of the Lundby district's culture month. (As far as I can gather, Lundby's culture month ran annually between 2012 and 2015, but doesn't seem to be happening any more due to budget cuts.)
I had some trouble choosing the featured photo for today. The original post (on my now slumbering daily photo website GBG365) had two pictures – the one above and the one at the foot of this page. However, when I dug into my photo archive I found a whole bunch more. I didn't use them, I think, because of my commitment to the 4:3 aspect ratio. Both the other photos on this page benefit from cropping.
Also, it was a rather dull day and the originals are a bit sad, colourwise. I've tweaked these a bit to brighten them up a little.
Above: A forest of easels on the square and free acrylic paint attract passers-by to try their hand.
Below: One artist receiving some critical attention from another shopper.