My last writing diary entry focused on things I was learning from Muriel Spark. That means it's a couple of months since I last reviewed my blue notebook and took a hard look at my productivity figures. I've done that now and I'm a bit disappointed, but let's see if I can put a positive spin on things.
Productivity
It seems that, in July, I managed to write on 22 days of 31. By comparison, in June I managed 25 days out of 30. On the other hand I wrote 13,500 words in July but only 10,600 in June. This means my daily productivity in July was better despite the fewer days. That's good, no?
As I've mentioned before, when I write I do so often in longhand in a notebook. Later I transcribe into a computer. It is the transcribed words I'm counting (using the computer to count) and I do have a good many un-transcribed texts still in the notebook. The un-transcribed are often shorter things I haven't decided what I want to do with, or parts of longer texts that I haven't yet worked out how to fit in. What I'm saying is, the numbers of words in the previous paragraph is a minimum. I have written more.
And I'm not counting words written for my paid translation jobs, either. Though to be honest I spent much less time on translation work in June and July – with the exception of the Almedal week. (For non-Swedes, Almedal is a week-long political/cultural/social/business event. It's a kind of political fair or exposition that takes place annually at Almedal in Visby on the Baltic island of Gotland. One of my clients was participating and I was translating the Swedish blog articles they produced. You can see part of the English language section of their website here.)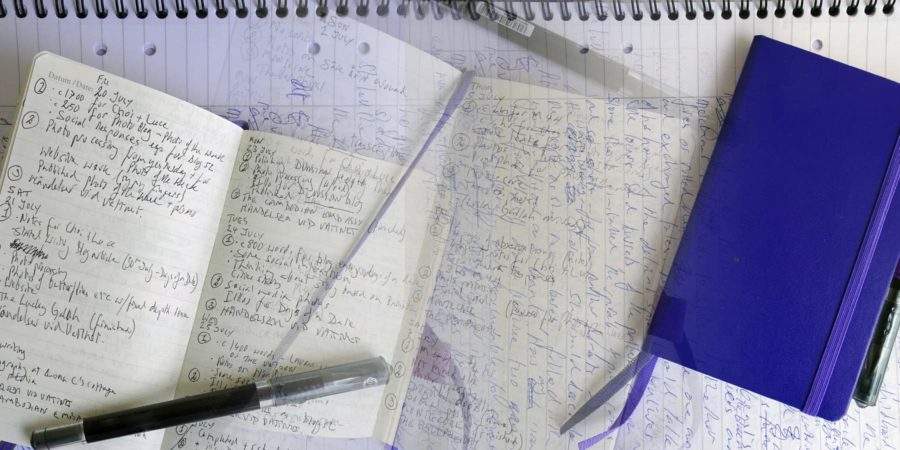 The Split
Paid work aside, my writing in July split mostly between my blogging here at TheSupercargo and a science-fiction story I'm working on. In June I put quite a lot of work into Elin's Story, but it seems I needed a break in July.
As you see, I've moved in the blog from a two- to a three-day publication week. I'm still not sure I can keep that up, but I have a plan and at least the sketch of an organisation, so we'll see. I was pleased to be able to use a Monday to publish, on my birthday, a little bit of memoir (Six Decades of a Date).
The science-fiction story is called Choi and Luce (that's the working title). I've been filing away at it since last summer when my writer friend Kim Kimselius introduced me to Wattpad. I decided I'd like to try my hand at a serial science-fiction story as far removed in the future from now as Elin's Story is in the past.
Choi and Luce
Choi and Luce follows the adventures of Choi Sam and Jane-Louise Tollymoor in a world 500 years in the future. The Earth is recovering from the ecological disaster and armed conflict that we seem on our way into today. Choi and Luce travel together in a Rugged Ambulatory Medical Unit – a RAMU – under the direction of an artificial intelligence that calls itself Trixie. (The RAMU is under Trixie's direction – Luce is not. The jury is out on Choi.)
Some areas of this future world are in a highly advanced technological state where human intelligence and artificial intelligence work alongside one another. Other areas remain – perhaps by choice – in a kind of early 19th-century rural idyll. Further out from the world's ten high-tech centres, beyond the circle of rural nation states, are the "wilderlands". Here human communities survive in a thoroughly pre-industrial setting.
Choi, Luce and Trixie are on a mission to contact and assist these far-flung communities lost in the wilderness that is Western Europe.
In typical fashion I decided I would not publish anything until I had a story written and ready to go… And a year later here we still are. The story is unpublished and like most of my longer pieces, as yet unfinished. But I do have hopes I might manage to have something put together by the beginning of September. Or maybe October.
🙂
What else is there to report?
Of letters and newsletters
I do occasionally get myself together enough to write a "proper letter" (usually to my mother), or a longer e-mail. It doesn't happen as often as I would like, and then people reply. I like the replies – of course I do – but I have a bad conscience about not replying in turn as quickly as I should. I think the worst is one I haven't answered since Christmas. I'll get round to them all eventually. Promise!
I'm also trying to make up my mind to start a newsletter coupled to the website. The idea would be to collect e-mail addresses and send out a mail to everyone who has signed up, say, once a month. The letter will include links to articles on the website that I've published during the previous month. (And perhaps to some relevant archive articles too.) Subscribers would get advance notice of – for example – the Choi and Luce serial when I publish it.
I'm also thinking of creating a photo calendar for 2019 with some of my better pictures. Maybe even two – one with Gothenburg photos the other with pictures from all over. This again might be something subscribers got early notice of.
It's still an open question, so let me know what you think. You can write a comment here or you can reach me through Twitter, Instagram or Facebook. Or you can use the website's contact form.
To the season of mists
Well, maybe it's time to bring this to a close. I'll revisit my notebook again in couple of months to see if I've improved my productivity. Right now I think I should be able to, but we'll have to see what the cool mists of autumn do to my resolve. (Though after this summer, the cool mists of autumn do seem rather attractive.)
Toodle-pip.
---
I'm also publishing this article for the #Blogg52 challenge.
Ah, the enthuiasm of youth. Three years down the line and Choi and Luce is still unfinished. That newsletter remains but a very faint glint in the tunnel of darkness stretching to an unknown future. But I do have a subscription form on the site now, so some small progress. [6th Nov 2021]
---
Read more …