An evening of scary monsters, strange objects, and a night out at several museums which have stepped "out of their usual context" for the evening
Once a year the Museums of Brussels get together on a Saturday evening to hold a party: Museum Night Fever. There are 24 involved this year. True, some are more committed than others to the party aspect of the event. Still, even those museums that simply open late without offering anything extra seem to attract crowds of visitors. Perhaps the visitors bring the party feeling along with them.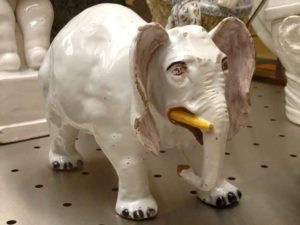 There is a flat rate (€14 a head) to get in. This is a financial saving only if you have the stamina to get around more than two or three museums. And to get around to more than two or three in the evening. But saving money is not really the point of participating in an evening like this; the experience is.
A refreshing challenge
On Saturday, Mrs SC and I started out at the City Museum in Grand-Place. This was interesting especially for its models of the city, and the maps showing how Brussels has grown over the centuries. Particularly interesting, we thought, was the model of the early medieval city (c1200), showing how it looked at the time the first city walls were built. Somebody had a lot of fun building that.
I don't know how trustworthy the model is. (Though, presumably, it's at least truthful to the knowledge of the early city historians had at the time the model was made.) Given that, it was surprising to see how much empty space the city walls enclosed. As my wife observed, it looked a lot like a Swedish ring fort – a fornberg. Similar in particular to Eketorp on Öland. From illustrations in books and too many film and TV interpretations of Robin Hood and his Merry Men, I'm used to imagining medieval cities packed to the walls with houses, with narrow twisting streets and roofs climbing above roofs up to the sides of the castle keep. Seeing grazing land and, effectively, market gardens occupying most of the space within the walls of early Brussels was a refreshing challenge to my preconceptions.
Shifty eyed lion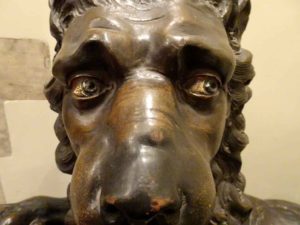 As the model is under glass which the museum's lights glare off, none of my photos turned out to be worth sharing. In fact the only pictures fom the City Museum that came out were of some of the model animals and people on display elsewhere around the museum. A faience elephant, a lion with shifty eyes, two burgers. These were not the scary monsters, though.
After the City Museum, we thought we'd try to visit the Royal Library. This is a place we've walked passed often, but never yet been inside. The queue was ridiculous. It was the same story at the Museum of Musical Instruments. So, OK, we'll take a tram to the Botanical Gardens, we decided. But no tram came. So we walked – through the wild wind's loud lament and the bitter weather.
That last sentence may be overdoing things, but it was a long walk in a cold wind.
Bonom at Le Botanique
Once we got to Le Botanique, though, there was a good pasta meal to be had in the restaurant and we heard the overspill base sounds from a rock concert in the Orangery. It turned out to be a Swedish singer, Seinabo Sey, and when we mixed with the crowds coming out after the concert, they seemed well pleased. (Which made at least 50% of our party quite happy.)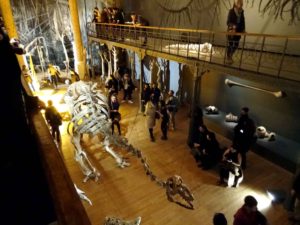 Then we took ourselves into the Museum Night Fever special event – a modern art happening/marathon performance piece by a Brussels-based French artist, Vincent Glowinski whose nom de graffiti is Bonom. He was once seen as Brussels' answer to England's Banksy, until the police caught him red handed. Well, aerosols in hand perhaps. (That's one story – Glowinski himself tells another – see in this interview.) Since when he has been more – but on the evidence of Saturday night not much more – of a conventional artist.
Scary monsters
In a gallery of the Botanical Gardens – once designed to hold plants – he had filled the space with scary monsters. A collection of oddities: created skeletons of pre-historic creatures (or creatures inspired by prehistory); ceramic objects of various sorts from shells, coins, tokens and bones to what appeared to be pages from his sketchbooks; larger pieces in plastic resin, silicon, bamboo, nylon, sand, clay.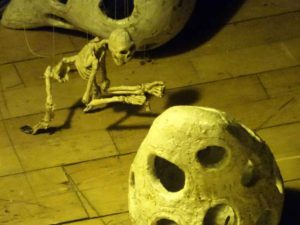 The skeletons were animated and he had a bunch of assistants – young art students I guess – who made them dance. The assistants also played single-mindedly with some of the smaller creations, walking them around the free-standing plant-sculptures, flying them around the gallery and "investigating" visitors. There were also a couple or three who had specially shaped mirrors or specially constructed eye-pieces. These people went around persuading visitors to hold the mirrors up to their eyes, distorting their vision, and then led them gently around the gallery to experience an even weirder version of the exhibition.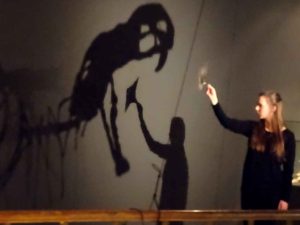 Lights and shadow
Light in the gallery came from a few spot lamps, so it was very bright in places, very dim and mysterious in others. Not so much in the way of glaring surfaces though, but lots of sharp shadows. Several of my photos came out rather well, I thought. And even those that didn't come out sharp still give something of the flavour of the exhibition.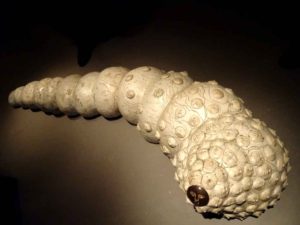 It was still cold and still windy when we said farewell to the scary monsters, and there was rain or even sleet in the air. We had talked of going on to the Cartoon Strip Museum after, but we chickened out. We caught a tram home. On the way, we passed the queue for the Musical Instruments Museum. It looked almost as long as when we saw it earlier. We congratulated one another on not having stood there all night.
---
I wrote this article for the #Blogg52 challenge.
Originally published on the separate Stops and Stories website. Transferred here 8th February 2017.