For 30 years my sister lived in London and for me a visit to Britain was synonymous with a visit to London. Two years ago she and her husband moved to a little village in Northamptonshire to be closer to our mother and suddenly it was no longer so easy to visit London. Suddenly I found myself in the same predicament as most tourists – looking for hotel rooms, comparing prices, trading comfort for convenience. You don't know what you've got till it's gone.
Storytelling  – the state of the art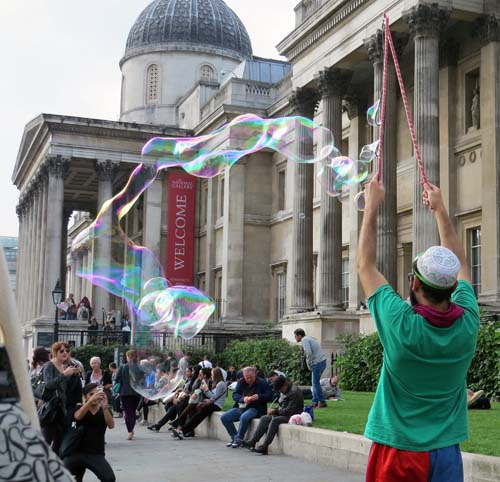 In September I had a three-week break from work and spent part of the first two weeks on my annual trip to Britain. I visited Northampton and Northamptonshire, various points in London, and Oxford. Here are some of the literary-related highlights.
In Northampton I continued the series of interviews with my mother that I started two years ago. An independent and very clear minded 92-year-old, my mum is telling me and my digital recorder the story of her life in hourly instalments. On previous visits we've covered the first 20 years of her life; on this occasion we took the story from 1941 – when she joined the WAAF during the war – up to 1957 and her meeting with my father when they were both 35.
("What did you see in him," I ask. "Oh," she says, "he was a Greek god!" So – I didn't get those genes then.)
I don't know what I'm going to do with this ultimately, but the current plan is to transcribe Mum's memories and return them to her for corrections and additions. Although she's eager to talk and remember, she says occasionally (I have the recording) "I don't know why we're doing this. Who would be interested?" But I'm interested and my sister is interested and I think other people would be too, though whether the recordings simply take a place in an archive for future historians, or whether they'll feed into a biography or a novel I can't yet say.
Torn between book circles
My sister is still trying to find her feet in village society. She is torn between no less than two book circles, though she doesn't seem terribly enthusiastic about either of them. In the one, she joined first the books they've had to read are not to her taste. She showed me: Hunger Games. I know the Swedish translators, I boasted, but she wasn't impressed. Young adult science-fiction. Not her thing. On the other hand, the alternative circle seems mostly enthusiastic about life-style books: gardens, home-decorating, cooking. These are all subjects she enjoys, but she doesn't really want to read books about them. Jane Austin, she sighs, George Elliot. Virginia Woolf!
Printed books
Despite all the hype I really don't see any sign that printed books are going out of fashion. I visited the Waterstone's shop at Trafalgar Square. There's a small – relatively small – shop at street level, but you go down some steps to a basement that stretches away to far distant corners. At Oxford I visited Blackwell's flagship store where again you go down some stairs from the interior of a narrow shop to find yourself in a sculptured space, terraced on different levels, buried beneath one of the College quads. Books not only lined up on shelves but piled in the aisles. The start of term and time to buy course literature – and all of it in print on paper.
Back in London, the massive, new Foyles bookshop at 107 Charing Cross Road also testifies to a confidence in the continuing value of the printed word.
To be sure, on the underground I saw more people reading in their Kindles and surf pads than I saw reading books, but I saw a lot of people reading books. George RR Martin continues popular.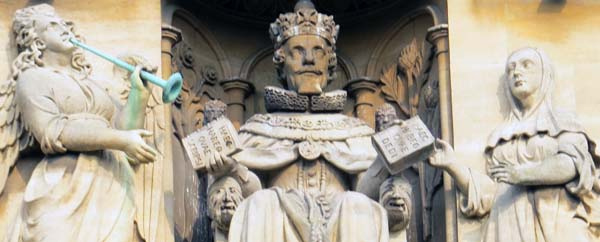 Story Museum
Printed or not, stories and storytelling seem to still be an important part of everyday life. How else to explain the newly opened Story Museum in Oxford? There was an article about the museum on the BBC's website earlier in the year and I decided I would go and see it if I got the opportunity. It's not that easy to find, and having got lost once I had to ask at the tourist information centre.
"Oh," said the woman I spoke with, "you'll love that! Look out for my old teacher Philip Pullman dressed up as Long John Silver!" That's something that can only happen in Oxford.
The museum had launched with an exhibition of photos of children's authors dressed as their favourite fictional characters. Hence Philip Pullman as Long John Silver and [then] Children's Laureate Malorie Blackman as the Wicked Witch of the West, whose pictures I saw. However I missed Neil Gaiman as Badger from The Wind in the Willows. Actually I seem to have missed most of the museum. What happened was that I wondered through a doorway into a courtyard and then into an exhibition hall where a class of very enthusiastic five-year-olds and their teachers seemed to be on a guided tour. Not wanting to disturb them I took a quick look around and sneaked out again. It was quite attractive, but it didn't seem to be very big.
Ain't seen nothing
Telling people after that I'd visited The Story Museum, I realised from their reactions that I hadn't seen anything.
"Did you see in The Lord of the Rings section how if you look to one side you suddenly see a the wardrobe from Narnia?"
"What did you think of Badger's home? All the things that you can look at and inside and touch?"
I'm clearly going to have to go back.
And finally I must again mention the interview I had with Michelle Thomas at Crystal Palace railway station on the last day of my visit. Next week – I'm putting my head on the line here but – next week this blog entry will be devoted to that. [It never happened. Sorry Michelle 🙁  May 2019]
---
This article was written for the #Blogg52 challenge.