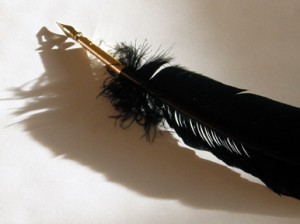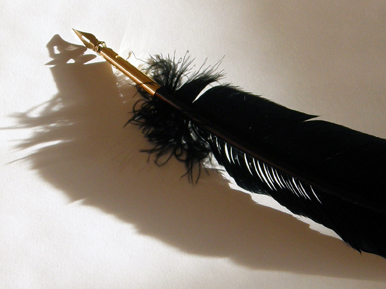 I'll get on to the Next Big Author in a moment. First let me update you on my writing. I see from my spreadsheet that I managed to write for an average of nearly 3½ hours each day in March. I averaged about 379 words per hour. That doesn't look like an awful lot I know, but it was an improvement on both February and January.
The main reason I didn't work more days in March is down to my mother. Mid-March I took a week's visit to London to celebrate my mother's 90th birthday. I got back home on the 22nd. Almost immediately I started working on the latest rewrite of the first 7000 words of Elin's Story. I was able to submit it to The Next Big Author by the end of the month.
The Next Big Author
The Next Big Author competition is described on its Internet site as the "February 2012 Writing Competition". The period for submitting entries was 17th– 31st March. Results will depend on the score each text has attracted by the end of April.
If I've understood everything correctly (and I'm only 90% sure that I have) "The Next Big Author" is in part a ploy to promote an Arts Council financed Internet site called YouWriteOn. At least, one has to be a registered user of YouWriteOn to take part in the competition and everyone already registered is automatically entered into the competition. The prize – for the top ten most highly rated novel extracts – is to have your text read and analysed by a professional publishers' reader at the Little Brown Company.
What's involved in this competition? First of all you have to register and submit your story to YouWriteOn. After you've posted your text, you have to accept and review a submission by someone else. Meanwhile your text is presented for review to another person who has also registered to take part. For every review of someone else's text that you write, your text is presented to another person for review. The idea is to collect at least eight reviews from different people. (You need eight reviews before your text is eligible for the YouWriteOn charts.)
YouWriteOn
Of course I hope to be one of the ten prize-winners at the end of the month. Besides that I'm looking forward to reading the feedback I get from my reviewers. After all, they're all people in the same boat as me. People writing creatively and hoping to become authors. Up to now I've not gone out of my way to solicit reviews. Though the few friends and family who've read bits have been encouraging, I've not had much feedback from people I don't know who have no reason to see the best in the text.
I'm a bit nervous about the feedback I'll get, truth to tell. Nervous, but excited too.
As part of any review you write for YouWriteOn, you have to mark each text on eight different elements. (These are Plot, Dialogue, Setting, Characterisation, Use of Language, Pace and structure, Narrative voice, Theme). There's a five point scale for each element. So the top mark that any reviewer can give to any text is 40 and the bottom mark is 8. I'm going to guess that the marks one receives for the eight plus reviews are averaged out, since I see that it's possible to try to improve your score by removing the marks of one reviewer for every five reviews you receive. In other words it's not the number of reviews that you receive after eight that matters. What matters is the score that each reviewer gives and how that affects your average result.
After a time – after you have been reviewed by several different reviewers – you hope that your overall score will begin to reflect an accurate consensus of the quality of your work. You also hope that your score will be sufficient to put you in the Top Ten.
Reviews
In order to get at least eight reviews I have to review at least eight texts by other people. When you accept a text to review, you have four days in which to review it. In return you're promised, that if you review within about 36 hours, that your own text will have a better chance of being given to someone else to review. I posted my story on Friday, 30th March, and at the time of writing five days later, I've reviewed seven. One more to go!
I have absolutely no idea how many people have entered texts for this competition. Because YouWriteOn runs all year, I guess a couple of the texts I've been given to review were posted some time ago. But four of the seven were posted in the last three days of March, so there are some hoping to be The Next Big Author.
Competitors
So what do my competitors look like?
This is going to sound really obnoxiously self-satisfied, but… Of the seven texts I've reviewed so far, only one of them is of a similar quality to my own. I don't think I'm blind to my own limitations as a writer saying this. I really don't!
One of the reviewed texts was (I promise you!) barely literate. Three others were peppered with spelling and grammar mistakes and misused words. (And two of these were written by people with cloth ears for dialogue). One text was written by someone whose language seemed lifted from American TV series for teenagers, full of clichés and stereotypes. One text was well-written but … well … boring.
And one, one was a gem. Really well-written with rounded characters, a fascinating setting and an interesting idea. I'd be happy to share a place in the Top Ten with that one, and not terribly disappointed to be pipped at the post by it. But the shame of being beaten by any of the others!
Elin's Story
Elin's Story has received two reviews so far. I'm holding myself back from reading them till I have a clutch of five or six.
If you're interested in reading my current version of Elin's Story this link should take you to the right page: http://youwriteon.com/books/bookdetail.aspx?bookguid=62edaee3-9612-4db7-817a-cc20d4378bc4. If that doesn't work – go here http://youwriteon.com/search/ and search for ELIN'S STORY. That should find it.
If you're not registered with YouWriteOn, then all you can do is read the story. If you are registered you can see the one page summary too … and write me a review. (Hint ;-))
Ah, don't take that hint seriously. See here. [This para added 8th April 2012.]
OK, enough. Cheerio for now!
---
This entry also posted on my blog at the Written Word Ning.