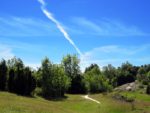 Two paths at the Skallgrusbank in Sillviks naturområde – the one through the white chalk-like soil, the other a dissipating contrail. With a little imagination you might see one as a continuation of the other. (I am resisting the urge to add an uplifting slogan.)
I photographed this originally on 14th June 2014 and published it at GBG365 two days later.
Industrial landscape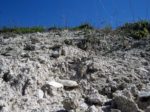 Skallgrusbank means "shell gravel bank", so it's not chalk (which is an unusual rock hereabouts) but it's definitely chalk-like. It's made of the remains of millions of small shellfish that lived and died here about 10,000 years ago when this was a shallow bay of the sea. But the land rose above sea level and the shell gravel was never compressed into chalk. Look closely and you can see pieces of the shells that have survived.
Despite the bucolic appearance of the landscape now, Silvik's Nature Reserve actually preserves an industrial landscape. The shell gravel was mined here from the late 1800s for various purposes. According to Göteborg city's brochure on the subject (Swedish language PDF here), the shell gravel was most extensively exploited between 1928 and 1933 when it was dug, sifted and crushed as an ingredient in chicken feed. Apparently it was still being worked as late as 1980. Now the area is humped and pitted, as it was left when the pits were abandoned. The grass hasn't yet managed quite to turf over all the damage.
Despite the exploitation the shell gravel that remains gives a special quality to the soil here. Just as in chalk landscapes (like the South Downs in my home area of Sussex), the meadow flowers growing here seem to have a brighter hue. That holds for the buttercups and daisies as much as for the Blåsippor (Anemone hepatica – liverwort) or Kärrknipprot (Epipactis palustris – marsh helleborine) particularly mentioned in the brochure … and which I have not yet managed to photograph in situ.