I read recently that Microsoft is discontinuing sales of Windows 7. Not all versions of Windows 7, they'll continue selling the business version for a while it seems. But they're trying to steer people over to Windows 8.
Windows 8 is HORRIBLE!
My experience of Windows 8 has been so negative that I had already decided to stick with Windows 7 until Microsoft realise the idiocy of their new operative system and make something which is not actively user-hostile. If I have to learn to use a new operative system then I'll switch to Apple. It's just that MacBooks are so expensive.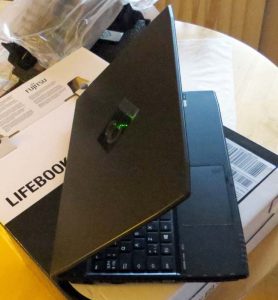 Anyway, the Microsoft news helped fertilise a growing idea that now was a good time to buy a brand new computational device – a new (cheapish) laptop. I'm away to Brussels soon, I'm going to have time to write (that's the plan), so why not celebrate with a new, dedicated workhorse? I've bought myself a Fujitsu, with an i5 Intel chip and a four core processor and I've splashed out on 16 GB of RAM. (And the OS is, yes, Windows 7.) So now I need to fill it.
I've bought a copy of Dragon 13 – the latest upgrade to the dictation programme that I use. It's "15% more reliable than Dragon 12" – whatever that may mean. Perhaps it means it's more likely to print a full stop than to write the words "well stop" every fifth time I say it. Hope lives eternal.
I'm also going to install the latest edition of Scrivener from Literature and Latte, the software I find most useful when I'm writing. It's a minor irritation that I can't dictate directly into Scrivener with Dragon, but I'm going to have to install either Word or Open Office anyway and Dragon plays fairly nicely with them. (I'm dictating this with Dragon 12 into MS Word.)
Useful programmes for the Brand New Computational Device
So, those are the core programmes I need. The next question is, what else?
What do you think I ought to try?
A nice programme for mind mapping would be useful. Has anyone tried using Free Mind? What about Scapple?
A basic programme for sketching would also come in handy. I own a sketch tablet from Wacom and I'm going to take that with me. The new computer is not great on photo processing. It doesn't have a separate graphic card. But I like to doodle sometimes so does anyone know of a programme they can recommend?
What about photo processing? Obviously I won't need anything as advanced as Photoshop, but it would be nice to be able to crop and adjust photos in a basic way. What's the photo processing software you swear by?
What else? What other software do you like to use? For what purpose? Do share!
---
This article was written for the #Blogg52 challenge.
[
In the end I went with Scapple for mindmapping, Inkscape – not really for sketching but great for vector drawing, and Gimp for photo processing. 3 May 2019
]