The chirupping of a cricket in Gothenburg's Antique Halls is a puzzle, as I try out the writing-friendly qualities of the Latteria café.
Covid before and after
Whatever the rest of the world thinks it knows about how Sweden tackled the Covid-19 pandemic, we had our restrictions and limitations. We didn't have any lockdowns as such. Most restrictions on the general public were recommendations rather than legal requirements. But there was a lot of working from home. The cities became very quiet.
Places where large numbers of people might gather (theatres, cinemas, stadiums) were closed. Bars, restaurants and cafés could continued to open, but with restrictions on the numbers of customers allowed, many shut. In those that continued to operate, customers had to be served seated at socially distanced tables. No standing at the bar for a glass of something.
Before Covid, it was my practice to take myself off a couple or three days a week to a café where I could sit and write. I had my favourites, places that weren't crowded, that didn't play loud music or talk-radio. Places that served a decent cup of coffee and that didn't mind me spreading myself over a table with my notebooks and pens and various pairs of glasses.
All that was relegated to my brain's recent-memories shelf for the last year, but it's coming back to me now.
Restrictions bye-bye
Over the summer, Sweden's restrictions, such as they were, were gradually relaxed. Yesterday, at midnight, the last of them expired. So it's back to normal. In theory. It turns out that in the interim some of my favourite cafés have also expired. Or changed management perhaps.
So the last couple of weeks I've been on the look out for new places. Yesterday, I think I found one.
The Antique Halls (Antikhallarna) at number 6 on Västra Hamngatan in the centre of Gothenburg, have been there for nearly as long as I've lived in Sweden. So more than (pause to count) 35 years now. (Oh my!) They've been closed for refurbishment on and off and undergone quite a lot of changes in the 21st century though. Perhaps that explains why they've not been on my radar.
I have been in there at least once in the last 5 years or so. (There's photo evidence on this page.) But I've not be a regular visitor. My sole reason for visiting yesterday was a shopping order. One of the thirteen shops in the Halls is given over, not to antiques but to the The British Shop. I was looking for a bottle of Rose's Lime Juice Cordial and they had finally received a delivery. The shop started up in 2019, so the owners have had to cope not only with the challenge to trade that Covid has been (and still is), but also with the continuing fall-out from Brexit. That Rosie and Paul are still there, still carrying on, is a tribute to their tenacity.
Opening hours
After buying my Rose's LJC (and stocking up on hobnobs and chocolate digestives, neither of which are easily found elsewhere). After having walked all the way into town over the new bridge. I thought I deserved a sit down. I bought myself a cup of coffee from Latteria, the Antique Halls café, and sat at a free table.
Antikhallarna are worth a visit if you're in Gothenburg. Not so much for the antique shops (although the shops are interesting, they have erratic opening hours), but for the interior. The building is a former bank, built in the late 1800s. A major renovation in the 2000s stripped back the accretion of decades to reveal the original Art Nouveau (jugendstil) decorations.
I should probably say both The British Shop and the café have rather more reliable opening hours than the other shops.
I call them shops, but they are really more like kiosks, lined up around the bank hall. Except they have windows and displays and even a little floor space inside each. So, if you're unlucky enough to visit when all the shops (bar two) are shut, you can still look through the windows. The shops trade in stamps and coins, gold, silver and semi-precious stones, clocks, watches and jewellery, "pre-loved" clothing, and a certain amount of small furniture, statuary, ceramics.
My first job, before I went up to university, was in an antique shop at home in Brighton. I have an abiding interest in the trade and I realise the Antique Halls must have the biggest concentration – quite possibly the only concentration – of antique shops in Gothenburg.
Antikhallarna
The atrium of the Halls is wide enough for a haphazard collection of tables and chairs in various groups, all for café customers, and airy. Above, the interior reaches up two floors to an arched skylight that runs the length of the building. I took my coffee and found a table at the end opposite the entrance. A section of the hall raised up a few steps above the rest, like the chancel of a church. (When this was a bank, was this where big business was conducted? Where stood the altar of Mammon?)
It wasn't exactly quiet there, but there was no music, and the sounds – of trade and conversation – were muffled rather than amplified by the space. Although it was lunchtime, or just post-lunchtime, and the café still had what looked to my eyes like plenty of customers, there were also plenty of free tables. I sat and wrote.
Cricket
At the next table, across from me, two elderly ladies are eating lunch. They have shrugged out of padded jackets and unwound scarves are draped over the backs of their chairs. It's not that cold, surely? I was sweaty when I got here after walking in over bridge across the river. It looks like the two of them have been doing some serious post-Covid shopping. They are buttressed around by bags on the floor and the chairs either side. One gets up to return to the café counter for something.
As she passes me, I think I hear a cricket singing. I can hear the oven in the café bleeping for attention, and that is louder, and my ears clearly identify where it's coming from, but the cricket's chirrup is muffled and I can't place where it is. Or even if I'm really hearing it. Maybe I'm imagining it?
But I see the young couple down the step of the chancel in the nave of the hall, sitting up at their table, and looking around them too. Is it possible a cricket has come into the building? It's a bit late in the year for our latitude, but I suppose they might still be around. But where would it have come from?
The other elderly lady behind her battlements of bags is shifting about uncomfortably. She's heard it too. Her friend returns, knives and paper napkins in hand. Putting them down, she starts to rummage around in her handbag, and then in the various pockets of her coat. She finds her mobile phone, takes it out and immediately the cricket's singing is clear and bright and fills the atrium. It's her ring signal. I find myself smiling, and when I look round at the young couple, they grin back.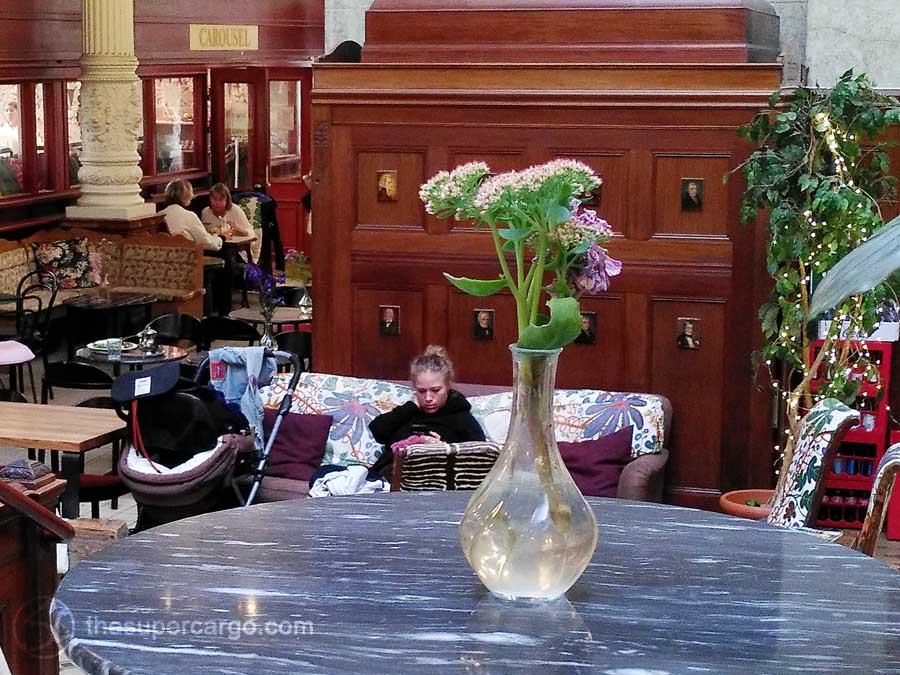 ---
Read more …