With hindsight, visiting England in the time of the coronavirus was not perhaps my best idea. But it gives me the opportunity to share this photo essay.
March 15th is my mother's birthday. This year she was 98. I visit England to see her every year and often try to make my visit for her birthday. The more so now she's so close to her century. This year I'd planned my visit and bought my tickets weeks in advance, long before the first news of the coronavirus.
As the date for my flight drew closer, the news out of China, then Iran, then Italy and Spain brought the Dreaded Lurgy closer on a daily basis. Should I risk travelling? Should I cancel? My flight was on 11th March and at that point there were no official restrictions or even serious warnings, at any rate not in Sweden or Britain. So I decided to fly.
A London walk
I flew with Norwegian direct to Gatwick airport and broke my journey in London. I can't say London seemed particularly changed by the coronavirus wave I suppose we all sensed breaking over our heads. The city was still busy. Commuters were still filling the tubes, tourists were still walking the streets. I heard French, Spanish, American English, Chinese, Arabic and various Scandinavian languages. Some people wore masks, but not so many, not really.
In truth, I liked it. London was bustling, but it wasn't crowded. There was traffic on the streets, but traffic that flowed.
I left my bags at Euston Station's left-luggage office and took the tube, southbound on the Northern line, coming up at Monument.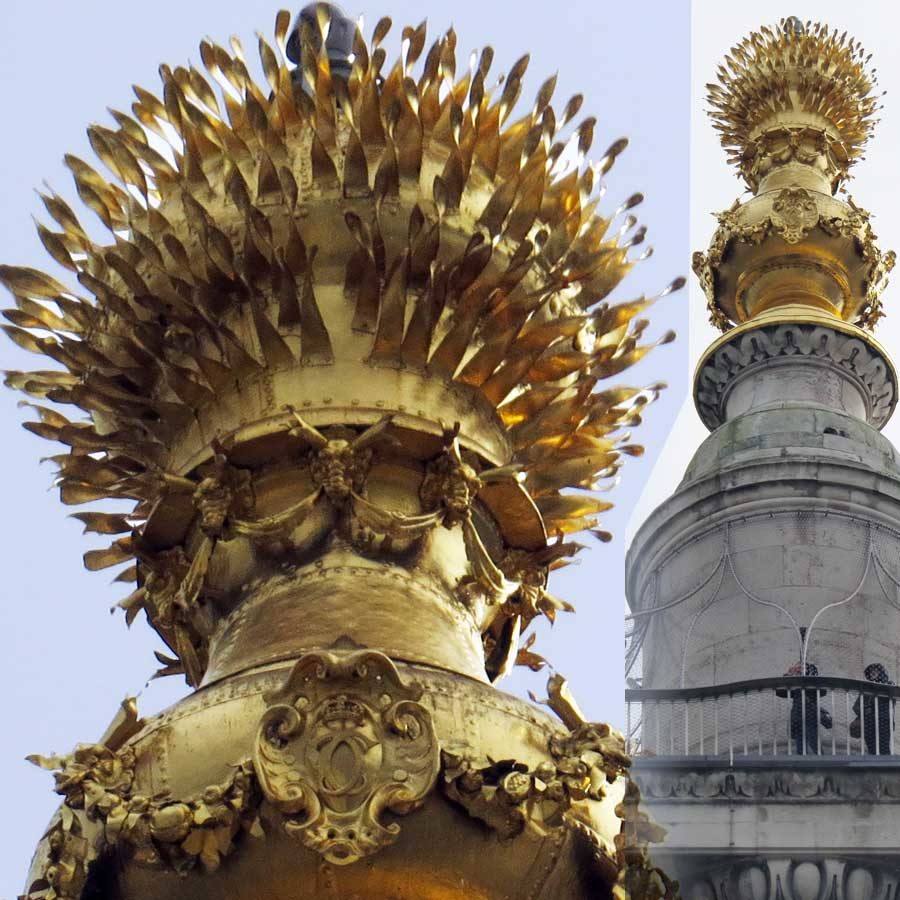 Then I went for a photo-walk. April weather in March: from spring-like sun to a freezing wind under dark clouds in the space of a few minutes. Crossing London Bridge I was caught in a hail storm which was a cold surprise.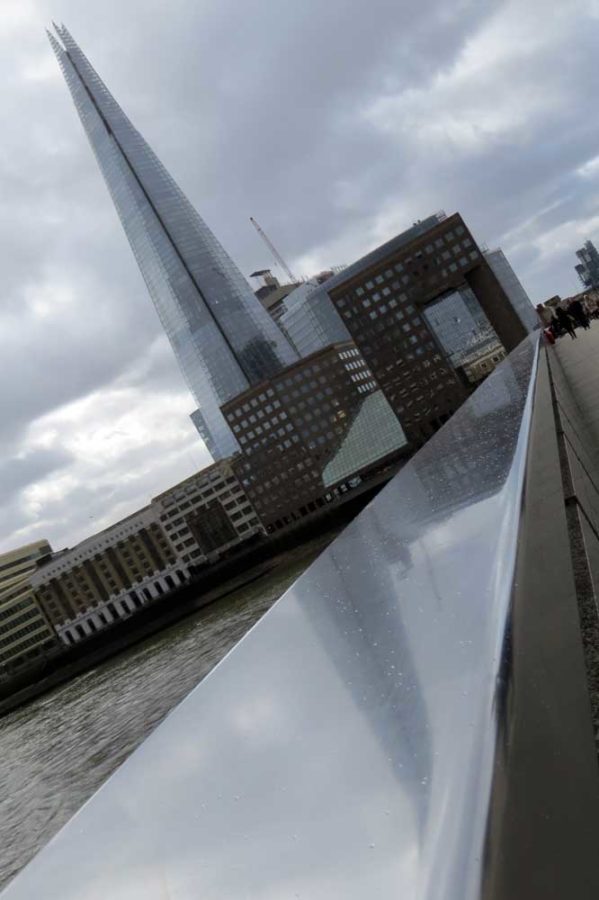 Southwark Cathedral
Walking along the south bank of the Thames towards the Tate Modern, I stopped off at Southwark Cathedral. I've often passed by, but this was my first time inside. There's a £2 charge for a photo license, so I paid up and got in out of the weather. A school band was rehearsing, kettledrums and brass. Then some schoolgirls practised reading short pieces about inspirational women. I suppose they were preparing for a school-related service later in the day. A sign asked me not to take photos of children, so I didn't.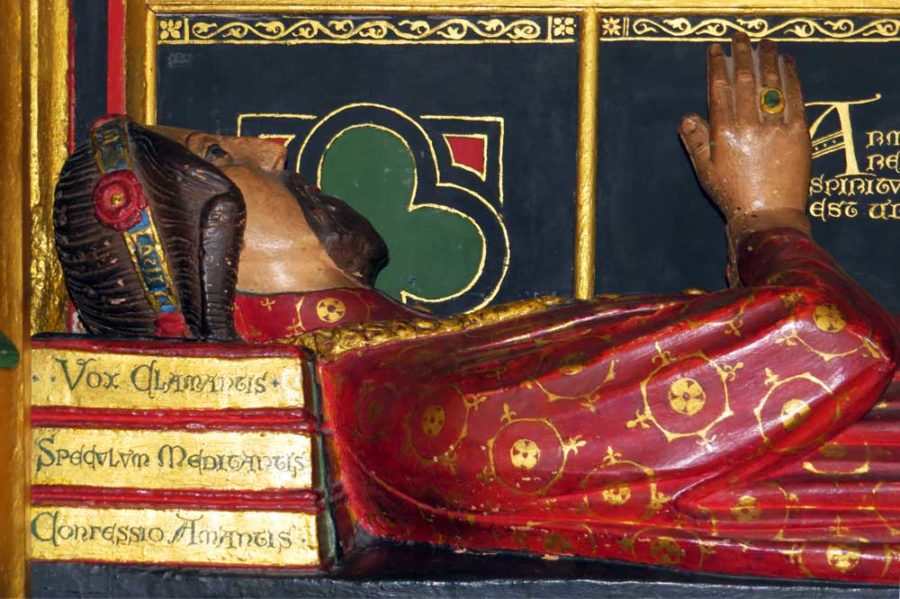 There were other subjects for my camera. Geoffrey Chaucer's friend John Gower, his head resting on the three books for which he was famous. A striking carved effigy in wood of a Medieval knight on his tomb. A side chapel dedicated to John Harvard, founder of Harvard University in the USA (he was baptised and lived here in Southwark). An odd looking alabaster sculpture of a prone Shakespeare with his finger in one ear. The memorial to the dead of the Marchioness.
After my photo tour, I tried out Southwark Cathedral's tea shop (recommended) and subterranean toilets (also recommended). Though like so many public toilets, it's hard to use them and keep your recently washed hands clean when you leave. Too many heavy doors demanding you pull them open.
To St Paul's
Back out in the open air, I carried on along the river towards the Tate Modern. I was outside the Globe and had just passed a bunch of teenage tourists, French I think, when I heard them exclaiming and laughing in high-pitched excitement. As I looked back, the very localised hail storm that had just swept over them struck me too.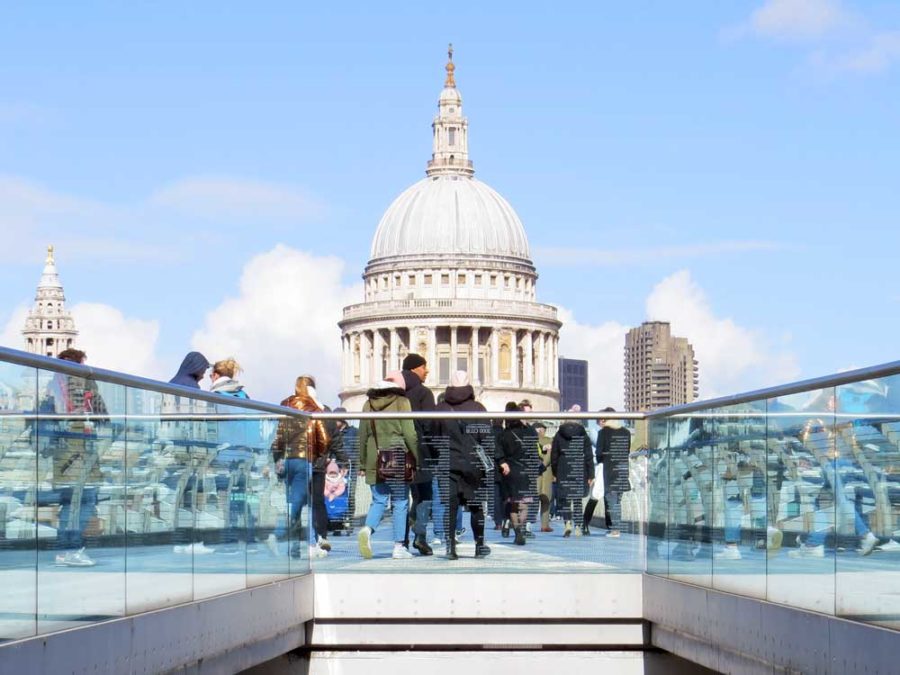 I walked back across the river via the Millennium Bridge and up to St Paul's. There were flowering cherries in St Paul's Churchyard and a sign asking a question.
Beyond the Cathedral, an installation of thoughtful angels in little swings hung over a traffic island.
By now I was pretty tired, so I took the tube back to Euston, checked out my bags and settled down to wait for my onward train.
The coronavirus approaches in seven-league boots
Mum's birthday was a success, but as the birthday celebrations approached, so too did the coronavirus – and all restrictions and limitations it caused. I was beginning to wonder whether I would be able to get home again. I'd allowed for a couple of days holiday after the birthday to spend in London. But how much fun would that be if all the places I might want to visit closed down? And would my flight still be available?
"Well, at least London won't lockdown! At least the tube and the railways will continue to work normally," my family reassured me. I was less confident. In the end I took myself back to Gatwick, to a hotel room there, to be on the spot in case I needed to change my flight.
It was probably just as well. Better for my state of mind, even if in the end I didn't need to change my flight. The train down was noticeably empty, and the tube noticeably less populated than on my way up.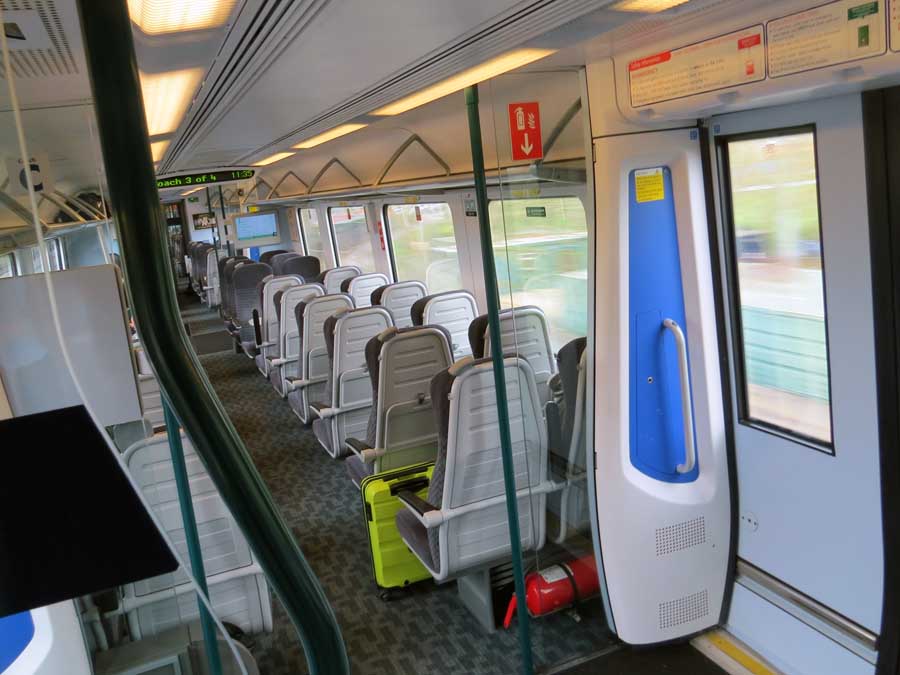 And a day or so after I got home, tube and rail services were cut to a minimum and now, less than a week after I returned, all Norwegians flights out of Gatwick have been suspended.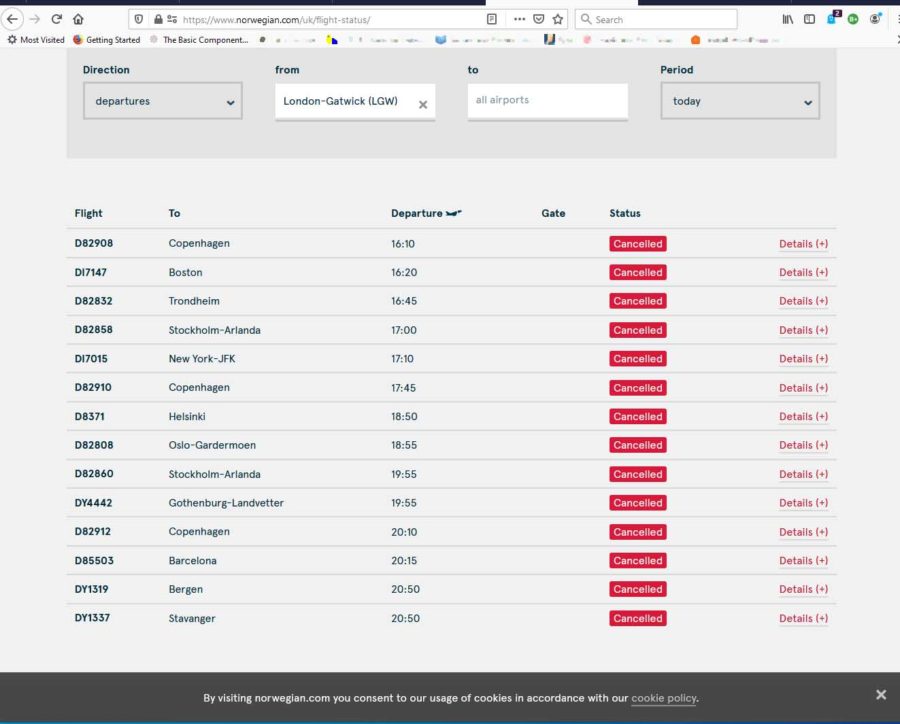 I came home to illness. Mrs SC had a flu and I went down with a kind of cold. Whether it was the coronavirus and Covid-19, I can't say. It didn't check all the boxes by any means, though between the two of us… She had the temperature, I have the cough. On the plus side, I don't seem to have infected my mother, so whatever I have I probably picked it up on my journey.
Anyway, that's what I did in the time of the coronavirus!
---
Read more…