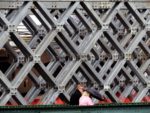 While a new tram bridge is being built, a temporary bridge has been constructed to carry tram tracks over Säve stream – that's the bolted-together girder structure that fills the most of this picture. In front, two people are crossing Gamlestads bro, a footbridge from the 1930s.
This week's photo I originally published on 24th February 2014 on my now slumbering daily photo blog – GBG365.
Monochrome grey-green-ness
There is something I find very attractive about this picture. The mechanically repeated diamond structural pattern, the bolts and plates and the monochrome grey-green-ness. At the same time the little fleck of humanity – two diminutive foreground figures not quite sharing the one umbrella. (In fact I'm a little worried for the man. He looks just the right height to get poked in the eye by one of the umbrella ribs.)
As I recall, this was an exceptionally miserable day. Cold, wet and not a little windy. I had intended to take photos with a gang of other photographers in the city centre, but the weather was against us. However, as I'd forced myself out of the house, I decided I would carry on alone. I took the camera over to Gamlestaden. This is a suburb that has passed through several ups and downs over the centuries.
Nya Lödöse
Most recently, in the late 19th and 20th centuries, Gamlestaden was the home of SKF (Svenska Kullagerfabriken – the Swedish Ballbearing Factory). Swedish ballbearings were one of the industrial products that put Sweden in the international forefront of engineering at the time. But much longer ago than that, in the 1480s, this was the site of Sweden's westernmost trading port Nya Lödöse.
When the new city of Gothenburg was established in 1621, the people of Nya Lödöse were encouraged to move there. They resisted, so the King issued an commandment that effectively closed Nya Lödöse and forced everyone to move. That was in 1624. From the perspective of Göteborg, Nya Lödöse was "the old town" – which is what Gamlestaden  means, and that's how the area got its name.