Yesterday was Mardi Gras – Fat Tuesday (Shrove Tuesday). Belgium is a Catholic country and I know it's a Catholic tradition to celebrate Mardi Gras with a carnival so I've been on the look out for one here. I've certainly seen signs that carnivals take place, but I always seem to miss them. I only learn about them after the event. This year, I thought, this year I will photograph a Brussels Mardi Gras carnival.
And, as you see below, I did. Eventually and by the skin of my teeth.
As I'm no longer particularly religious, the days leading up to Lent, and indeed Lent, itself always come as a bit of a surprise. It's a moveable feast (or fast) and shifts around depending on Easter. So that's one problem – never being sure when Mardi Gras is going to fall. Of course, I do have the Swedish word Fättisdag printed in my diary against 28th February. I suppose that's a clue, Fättisdag being Swedish for Fat Tuesday. I should perhaps have realised. But I didn't.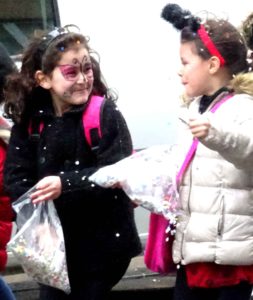 On Saturday my local supermarket surprised me. Several of the staff were dressed in pantomime clothes or were made up as clowns. They were also running a photo competition for kids who came to the store also dressed and made up. As I wandered around the aisles, collecting my shopping, I slowly put two and two together. I realised I'd seen the adverts for this event up in the store for a week before – and that they included the words "carnival" and – now I thought about it – perhaps also "Mardi Gras".
Sometimes I'm just very dense.
On Sunday RTBF – Belgium's French language TV channel – carried reports from the first day of the Mardi Gras in a Binche. (Binche is in French speaking Wallonia to the south-west of Brussels.) I also heard about a carnival in Aalst in the Flemish-speaking part of Belgium to the north-west of Brussels. But in Brussels, not so much. Apparently Mardi Gras isn't celebrated here. Or not actually on Mardi Gras at any rate.
I fear I spend too many words in this blog complaining about the availability of Brussels tourist information. I won't do that this time. Instead I'll just say that – after some effort – I was able to track down a carnival event actually scheduled to take place. It would be in the Brussels municipality of Laeken. The Quartiers of the district would be parading through the streets and everything was going to start at 1 o'clock.
It wasn't till 12.45 that I got out of the house. I knew it would take me at least 30 minutes, perhaps more, to get to Laeken. I could see the grey clouds piling up for the rain the meteorologists were predicting. The wind blew cold. Still, I ignored all the contrary voices in my head. This year I was determined. And of course, at this point I'd invested so much effort into the photo expedition it would feel very silly not to carry it through.
I emerged from the metro station at Bockstael just as the heavy, cold drops of rain began to fall. With my trusty print-out from Google Maps, I threaded my way through the streets and quite quickly found my way to Place Willems. I could hear a band – or at least, I could hear drums, which I took as a good sign. I followed the sound and arrived just as the procession left the Place.
It was a bit of a surprise to find the Laeken Mardi Gras was actually a children's carnival. Groups of junior school kids representing the different Quartiers. They were high on energy and enthusiasm and they weren't going to let a little rain or wind dampen their spirits. Parents and teachers and a few police marched along with them. The adults seemed to be enjoying themselves too. Mind you, sometimes their expressions gave the impression they were enjoying themselves in a grimly determined sort of way.
It was good to see them and I'm pleased I could take the photos, even if the light was so poor many of the pictures are out of focus or grainy with underexposure. Or both. I've tried to trick them a little in Gimp.
The carnival parade was past in about half an hour, and I was pleased to head back to the Metro station and nice warm train back to town. I hope the kids and adults in the parade had bowls of hot chocolate or hot soup to look forward to when they got to the end of the parade.
---
I wrote this article for the #Blogg52 challenge.