Harebells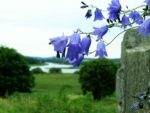 A spray of harebells photographed at Ragnhildsholmen on Hisingen in Gothenburg. I originally published this photo on the GBG365 website on 6th July 2014, the day after I made it.
Harebells are called bluebells in Scotland and blåklocka in Sweden). Their botanical name is Campanula rotundifolia. What the English call bluebells – the woodland spring flowers you see further south in England, and in France and Belgium – are smaller. They are a different flower, quite simply: (Hyacinthoides non-scripta).
[I've just discovered (thank you, Wikipedia) that "harebell" is not so common a name for these flowers as I always thought. Though the entry linked above does suggest "hair-bell". Fortunately the
Wildlife Trusts website
has
my
spelling.]
Ragnhildsholmen
I took the photo at Ragnhildsholmen. This is the ruin of a late Viking age/early medieval castle on what used to be a little island (holm) on the north shore of Hisingen. Behind the flowers to the right you can see a bit of the castle wall. In the distance is Norra Älven – the northern arm of the Göta River that cuts Hisingen from the mainland.
The castle at Ragnhildsholmen – it's called Miklaborg ("the big castle") in the archives – was probably built in first half of the 1200s. This was Norwegian territory at the time. The castle was built (or strengthened if it was already here) on the orders of Håkon the Old (king of Norway 1217 to 1263). According to the Icelandic Annals, King Valdemar of Sweden and his Queen were house guests here in 1257. The castle was built to protect the nearby trading port of Kungahälla (now Kungälv) and saw a deal of fighting between Norway, Denmark and Sweden.
It seems that the castle burned down sometime in the early 1300s and was abandoned. Its stones were pillaged for the construction of Bohus fortress a little further up the river.
Nowadays Ragnhildsholmen is a peaceful spot. Fun to explore and photograph and (if the weather is good) a great place for a picnic. On weekend evenings early in the summer, bird enthusiasts come here to listen for nightingales.