The jazz heroes of Saint Joos
( You'll find a gallery with all the illustrations – and a few more – here.)
Belgium has a reputation for jazz. At least in Belgium's own mind. Belgians will be quick to remind you that "they" invented the quintessential jazz instrument. Well, to be sure, Adolphe Sax was Belgian. But in 1846 when he patented the saxophone he was living in Paris. Also he intended his instrument to be used by marching military bands. The jazz saxophone didn't really become a thing until the 1920s.
Okay, the saxophone isn't the only claim Belgians have on jazz. Even somebody as ignorant as I am of this music form has heard of a couple of Belgium's big-name contributions to the jazz pantheon. Toots Thielemans (who I know of as a harmonica player) was Belgian before he became American. And Django Reinhardt, the demon gypsy jazz guitarist, turns out to have been born here.
On the road to Louvain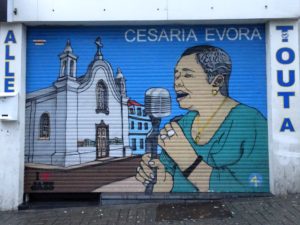 History apart, there is a flourishing modern jazz scene in Brussels. If this is your preference you're pretty well served. Even if you're not particularly keen, you still find yourself stumbling across jazz references wandering about town. Never more so than along the first stretch of the Chausée de Louvain/Leuvensteenweg between the Madou metro station at Place Madou and St Josse Place.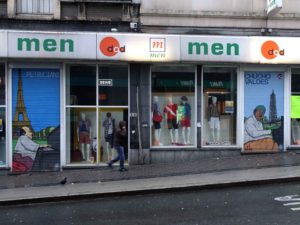 This is a well-trafficked though rundown shopping street on the edge of the European quarter. It's just inside Belgium's smallest and most densely populated municipality, Saint-Joos-ten-Noode. During the working day, you probably won't see anything so much out of the ordinary, but walk down here in the evening after the shops are shut, or on a Sunday, and you're confronted by a gallery of jazz musicians.
Roll-down art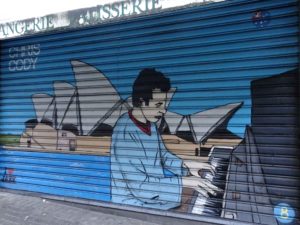 The pictures are painted on the roll-down metal blinds that cover the doors or the whole display windows of some of the shops. The portraits show an international array of stars, each playing their instruments. Behind each is something "typical" of their home country – the Eiffel Tower, the Congress building in Washington DC, the Sydney Opera House. I'm not sure how many there are, but when I went to take photographs for this article at the beginning of November I found eleven. (Though the pictures are numbered up to eighteen.)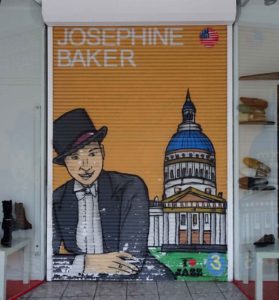 As I've implied, I'm not a great jazz aficionado. I don't actually recognise the names of any of these musicians (with the exception of Josephine Baker). But several of them are quite obviously jazz musicians. Here is Terumasa Hino blowing his horn in front of Mount Fuji. Here is Manu Dibango playing his sax in front of what appears to be a spiral playground slide. And here is Nils-Henning Örsted Pedersen plucking his double bass in front of a seal. No, sorry, it's the Little Mermaid in Copenhagen harbour.
Sarendip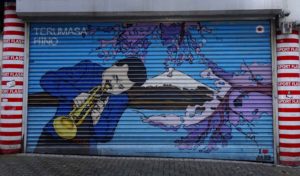 A couple of the pictures include an Internet website address: sarendip.org. Follow the link and you find the website of a street art collective, Sarendip. They look as if they were quite active a few years ago. The most recent entry on their website, though, dates from 2012. There are two entries from September 2011 titled "St-Jazz Ten Nood" (sic). It isn't entirely clear to me what the website is trying to say. However, I think the pictures were created to commemorate the twenty-fifth anniversary of a jazz festival – Saint Jazz – that takes place annually in Saint Joos every September.
Well, these are the remnants of that commemoration. I'm guessing that some of the pictures have since been removed – the blinds replaced – but it's impressive that the ones that remain have escaped being graffitied over. Honour among graffiti artists perhaps. How long will the pictures that remain last, I wonder.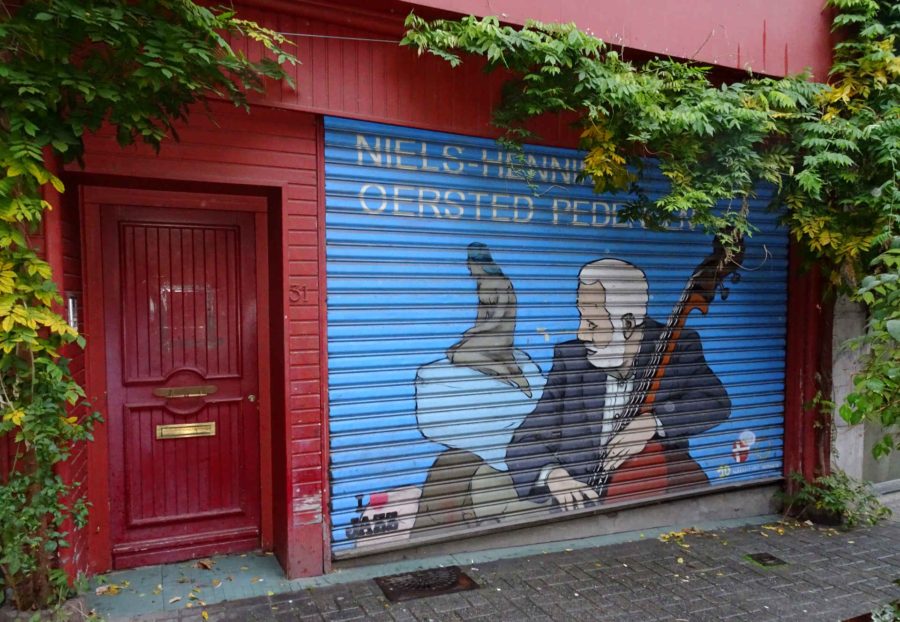 ---
I wrote this entry for the #Blogg52 challenge and produced a shorter version in Swedish for Bladet – the magazine of Svenska klubben in Bryssel (the Swedish Club in Brussels).
I originally published this article on the separate Stops and Stories website. Transferred here 9 Jan 2017.
You'll find a gallery with all the illustrations – and a few more – here.