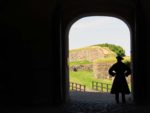 A guide at the Nya Älvsborg fortress silhouetted in the gateway to the castle. She was wearing a blue woolen Karoliner greatcoat with polished golden buttons and a bunch of heavy keys on her belt, a tricorn hat and boots. On this sunny day she must have been really hot.
I took this photo on the 6th July 2013 and published it the following day at GBG365.
The Karoliners were the soldiers of Sweden during the reign of King Karl XII. The name Karoliner comes from the Swedish spelling of Carolus – Karl or Charles in Latin. (The same root as the Carolinas in the USA.) A warrior king, Karl XII ruled Sweden between 1697 and 1718. During his 22 year reign Sweden was in a state of war  for 19 years. During the Great Northern War Sweden fought with all its neighbours from Russia in the east to Denmark and Norway in the west.
Nya Älvsborg is the island fortress at the mouth of the Göta älv (the Göta river). It was built to bar the way into Gothenburg for seaborne invaders. In 1717 a Danish fleet laid siege to Nya Älvsborg. The fortress, poorly garrisoned by no more than 350 Karoliners commanded by Colonel Johan Lillie, held off the much superior Danish force under heavy bombardment. Afterwards, the Lillie family adopted the motto: De danske plocka inga svenska Lillier. (More or less: Danes can't pick Swedish Lilies.)
A year later Karl XII died (perhaps assassinated, perhaps by one of his own Karoliners) on a battlefield in Norway.
During the summer months nowadays, there are tourist trips down the river from Gothenburg to Nya Älvsborg. Once there, a little group of guides in historically accurate dress take you around and tell the story of the fortress. Back in 2013, on the day I was there with Mrs SC and her 10-year-old nephew, they performed with drama and panache. They didn't mind being photographed either.