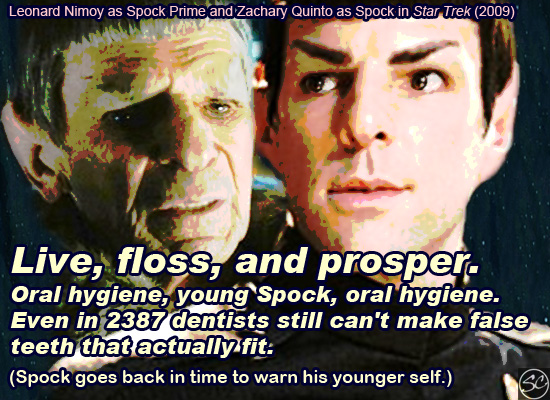 The second DVD out of the box as I work through my birthday present to myself, is JJ Abram's Star Trek from last year (2009).
Taking this film as my subject here also gives me an opportunity to brush off and republish my original review. ('Review' doesn't seem quite the right word, but judge for yourself here.)
Star Trek is a film with a wonderful flora of quotes, but so many of the good ones are in-jokes for fans of the original series. I choose to illustrate instead one of the most puzzling features of the future. The lack of development in prosthodontics.
Poor Leonard Nimmoy, the original Spock, reappears (through one of those handy wormholes in the time-space continuum that Science Fiction films thrive upon), sucked away from 24th century, and masticates his lines through what appear at times to be rather ill-fitting dentures.
In my imagination I hear him advising his younger self.
Live, floss and prosper.
Oral hygiene, young Spock, oral hygiene. Even in 2387 dentists still can't make false teeth that actually fit.
————————————————————————————-
The Internet Movie Database page for Star Trek (2009) here.
The official site for Star Trek (2009) here.