Reporting on The Next Big Author competition and how the extract of Elin's Story that I posted there fared.
If you read my previous entry At the Quill, then you'll know that I submitted the first 7000 words of my novel Elin's Story to an online competition called The Next Big Author at the end of March.
It's been a month now and the competition is over (and I didn't win). So, it seems like a good moment to review the competition and the reception that Elin's Story received.
I'm going to break this into two parts. In this blog entry I'm going reflect on The Next Big Author Competition itself. In the subsequent entry I'll take a look at the comments and score that Elin's Story received.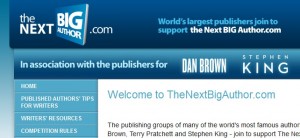 Okay, The Next Big Author is a competition. It's run in co-operation with an Internet site financed by the British Arts Council called YouWriteOn.com. YouWriteOn.com is an Internet site that allows participating writers to submit up to 7000 words of a novel, or a full short story, and have it peer-reviewed by other participating writers. The whole process is free of charge. I'm still trying to work out whether it is entirely charitable, a sink for UK tax money, or whether they actually make money by selling publish-on-demand services.
I'm a little suspicious because there are certain elements of the site and of the competition which don't feel exactly kosher.
For example, the Next Big Author has its own Internet site. However, it channels people to YouWriteOn.com in a way that is a little reminiscent of some Internet spam sites. The Next Big Author competition rules say entries need to receive "4 reviews and ratings during April 2012 to enter the YouWriteOn.com story charts". But the rules on the YouWriteOn.com site say you need eight reviews and ratings to enter the charts.
The system that YouWriteOn.com uses assigns your text randomly to another participant. Then it randomly assigns another person's text to you to review and rate. You have four days in which to write and submit your review. Once you've done so, your text will be randomly assigned to another participant within 24 hours.
If you read my previous entry you'll know that within five days of my submitting Elin's Story I managed to review seven or eight other people's texts. I could expect 7-8 reviews of Elin's Story in return . I was expecting other people to be as quick off the mark as I was, but that was not my experience. Instead each of the reviews that I received in April took the reviewers three or four days to write. The system waited 24 hours between receiving a completed review and sending my story out for review again. You understand that I was frustrated to get to the end of the month with only seven reviews.
Elin's Story never even entered the charts in time for consideration in The Next Big Author Competition.
Possibly I was unlucky. In the last 10 days since the end of April I've received four more reviews. The story has entered the charts now (it's riding at 27 at the moment, tied with 18 others).
So, a bit of a disappointment. On the other hand, the competition did give me the motivation to put together a longer piece of text and make it public. It also gave me feedback from a variety of readers which I will take a look at in my next blog entry. And, actually, placed 27th (even though tied with 18 other people) isn't so very bad.
I've decided to leave the extract from Elin's Story up on the site at least until the end of this month and see if new reviews and ratings might lift it a little higher.
---
Interested in the winners of The Next Big Author Competition? Go here!
Interested to read the extract from Elin's Story on the YouWriteOn site? Go here and click on "I want to read sample chapters from this book".
This entry is also posted at my blog onThe Written Word Ning. [No longer extant.]
---
Revisited and revised for spelling and SEO fine-tuning 29 Dec 2016.